Returning to work a long weekend makes me want to put a little more effort into my work outfit! It seems more fun to catch up on work, when you're looking and feeling cute. It definitely can't hurt!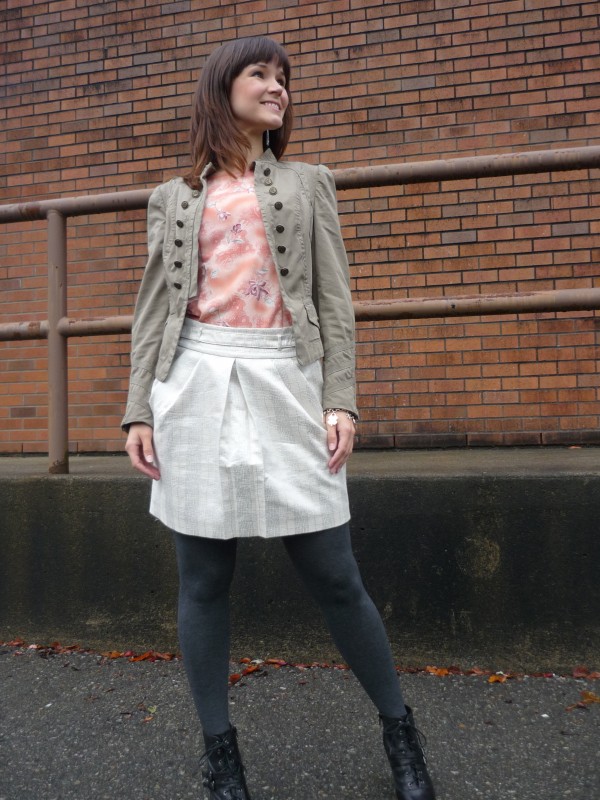 What I'm Wearing:
Self-Stitched Blouse: Pendrell from Sewaholic Patterns (soon to be released!) in pink printed polyester. This was one of my test garments but it turned out cuter than expected!
Jacket: Zara, purchased in February 2010
Skirt: Club Monaco, purchased recently
Boots: Dolce Vita, purchased this Fall from Winners
Q&A:
Q. What happened to Day Six? Where's the outfit post?
A. I wore something self-stitched, honest! I wore this top from May 19th, with a pair of jeans and a sweater. But I left my photo-taking too late and absolutely none of them turned out. For some reason, using the flash made the photos blurry and smeary. (Must learn how to take indoor and night photos, as it will be dark by the time I get home, very shortly…) So I hope you can take my word for it!
Q. What's the best part of today's outfit?
A. The mix between military/masculine and pink/floral/feminine. It's such a great combination! Shiny skirt plus tough lace-up booties. Pink print plus olive-green military coat. Love the contrast!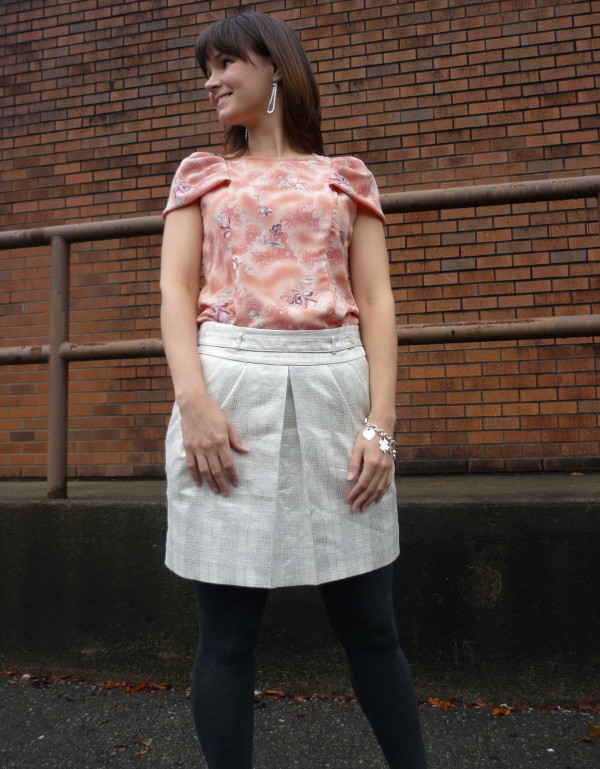 Q. Where did you go today in your Self-Stitched outfit?
A. First to work, and then out for dinner & coffee with a girlfriend. It's nice to be comfortable in the same outfit all day, and not be desperate to change the moment you get home. I secretly love that it's tights-and-boots weather!