Here we go – presenting my first Self-Stitched outfit for September's challenge! (Can you believe I'm wearing tights already?)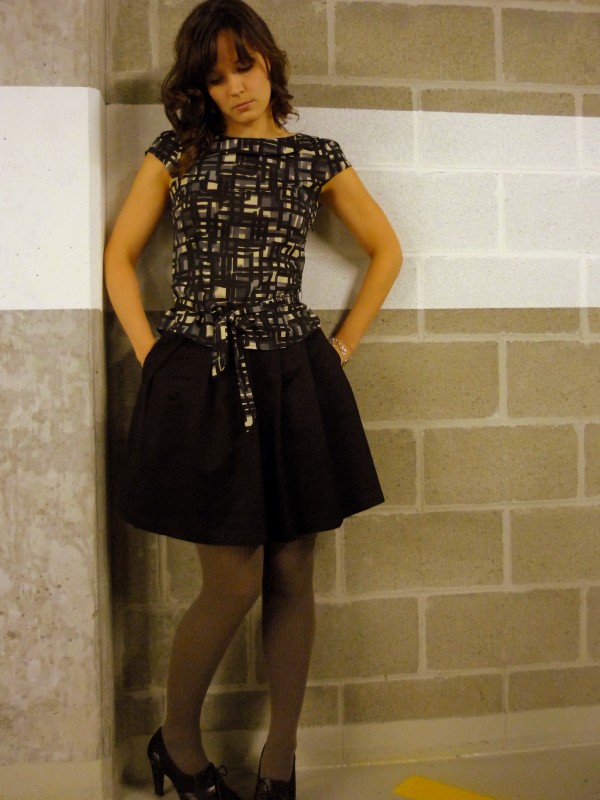 What I'm Wearing:
Self-Stitched Skirt, McCalls 5803 (now out of print)
Blouse: H&M, from my sister's closet
Tights: Gap (I think!), bought last fall.
Shoes: Ellen Tracy, bought at Winners last fall
Click to read more about this skirt or see it in more outfits!
Q&A:
Q. Why the questions?
A. I wanted to make these posts more fun by answering questions I imagine you having about today's outfit. If you have an idea for a question, let me know!
Q. What's the best part of today's outfit?
A. The pockets in the skirt! It's great knowing you can stash something quickly – money, lipstick, car key – and know it won't get lost in your purse. Also, I'm glad I dressed in layers. When I woke up this morning it was cold and cloudy, but by the time lunch rolled around it was sunny and mild! You never know what the day will bring, Vancouver weather is quite unpredictable.
Q. Where did you go today in your Self-Stitched outfit?
A. First to City Hall, then to work. The comments I got from coworkers were 'Wow, you look like Fall!' and 'Cute shoes!'
Q. Why are you showing us a skirt pattern that's out of print? Isn't that a bit mean?
A. I'm sorry! It is a bit cruel, but I like this skirt as it's one of my few wardrobe basics I made. You may see it a few more times this month! So many of my handmade items are loud prints and bright colours, this piece is much easier to coordinate. I am planning to make a similar skirt for my pattern line, considering it's become such a staple for me!
Q. Speaking of the pattern line, any updates on Sewaholic Patterns? What part are you working on now?
A. I'm working on a ruffled option for the Pendrell blouse, so far it's looking really cute. I hope to have something to show you next week! Also, several of you asked to see the back view of the first one, so I'll get some shots ready to share as well!