I love a lazy Sunday – I didn't get properly dressed until we went out for dinner! I don't have any self-stitched loungewear (yet) but it's on my long, long list of things to make. Today was Mr Sewaholic's father's birthday, so I dressed up a bit! Lots of shine today.
What I'm Wearing:
Self-Stitched Blouse: Pendrell from Sewaholic Patterns (soon to be released!) in royal blue silk
Skirt: Club Monaco, purchased recently
Boots: Aldo, from my sister's closet
See the blouse in the original Sewaholic Patterns announcement here!
Q&A:
Q. What's the best part of today's outfit?
A. It's shiny! Who doesn't like a little sparkle? It's super easy to wear, as it's just a pullover blouse and a loose fitting skirt, but because of the fabric choices it's dressy enough for dinner. The skirt has pockets, too. Definitely an essential feature to my own skirt design!
Q. Where did you go today in your Self-Stitched outfit?
A. Out for dinner with Mr. Sewaholic's entire family, to Da Mario's in Vancouver. Italian food – yum! Before dinner, we went for a walk around the neighborhood and ended up at a playground – a perfect place to snap some photos!
Q. What did you have for dinner?
A. I had gnocchi with meat sauce – doughy and delicious! This outfit left plenty of room for food, which makes it a success in my books!
Q. Can we see the back view of the blouse?
A. You bet! Here are a few more shots of the Pendrell blouse:
Back view above, side view below. Looking at these photos now, I'd like the blouse tucked into a higher-waisted skirt..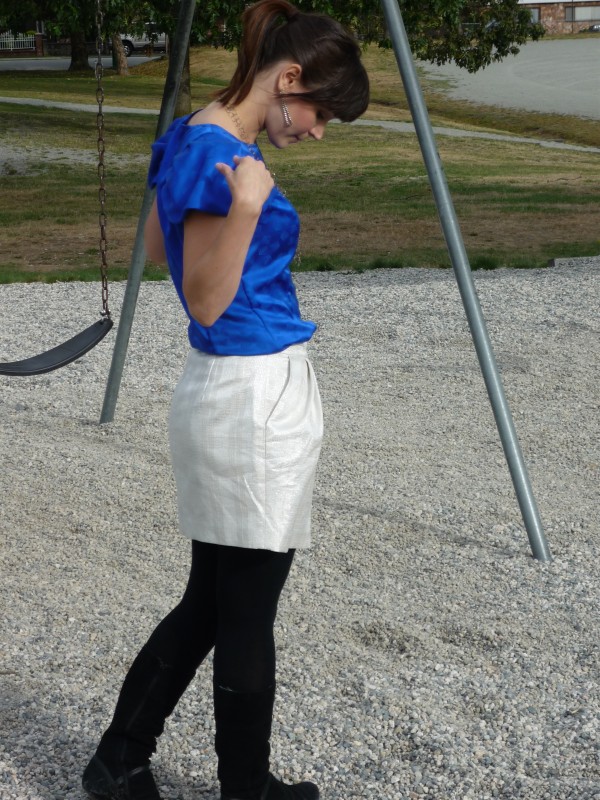 Serious face in the next photo, but a great shot of the blouse!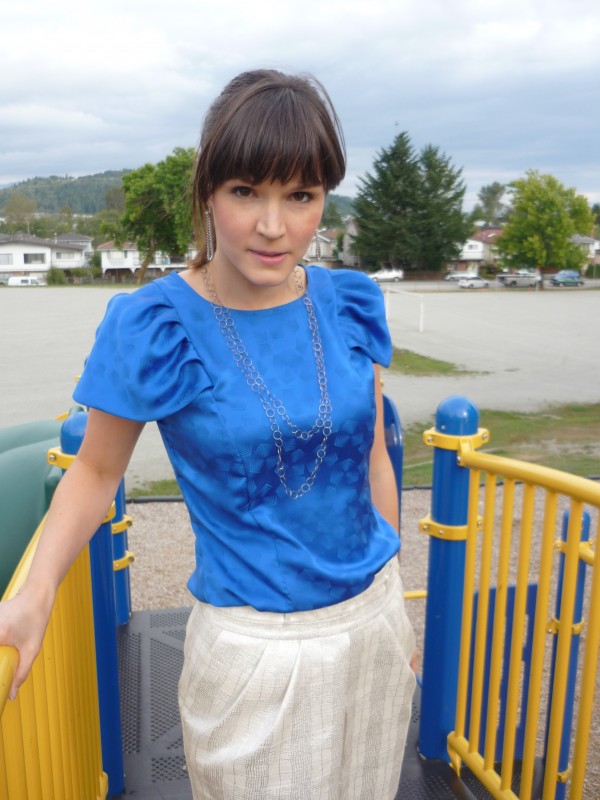 And a little fun on the playground, too!