Whew, it's over! I have to admit the first thing I feel is relief. It's hard work taking photographs of yourself and writing interesting things about your outfits everday! The weather, the workday and the daylight all contribute to photo success or failure. (How am I going to manage blogging in the wintertime? Do you guys all switch to indoor photography?)
Like I did for Me-Made-May, I created a little Month-in-Review collage: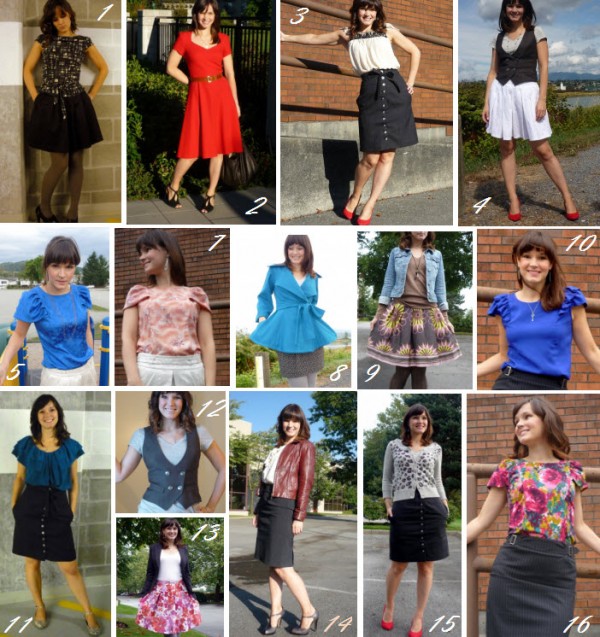 Favourite outfits this month: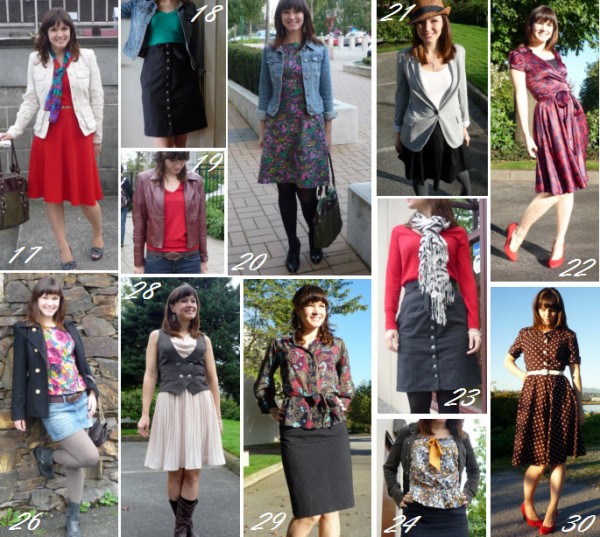 Least favourite outfits:
What did I learn?
I found this challenge harder than Me-Made-May! I guess it's true what they tell you in school – preparation is key! And having an organized closet helps, too. Partway through the month I started to re-organize my closet but never finished, leaving a pile of clothes in front of the closet door, which I had to step over every morning. What a pain!
I reached for the same things over and over this month: my Beignet skirt, my glencheck vest, my black 'Armani' skirt. It was basic items that got me through the challenge – and yet basics are the things I make the least! I'm so attracted to prints and bright colours to sew with, but when it comes to getting dressed, basics are what I reach for.
I also learned – not that I didn't know already – how critical we can be of ourselves. Especially when forced to look at self-pictures every day. I started to examine the way my jeans fit, the shoes and purses I picked, and oh, the hair! I ended up getting my bangs trimmed twice in September so they wouldn't look strange in photographs, and I put way more effort into doing my hair in the mornings because I knew I'd be taking photos. Although, if you think about it, every day you present yourself to the world, shouldn't we put the same care into every day, regardless of whether we'll be on camera or not? (But it's so much work!)
Well that was a ramble.. what I mean to say is, self-examining is hard. So congratulations to you who were part of this challenge and spent the last month looking at yourself, sharing the clothes that you made and putting it all out there – you and your handmade wardrobe.
So what's next?
A big closet purge! It's time to go through and pack away summer clothes, donate anything I haven't worn or don't like wearing, and reorganize what's left. The goal is to work towards keeping nothing but awesome items in my closet. (I'm going to keep awesome in my mind when cleaning out the closet. Does it pass the awesome test? If not then it's out!)
Working towards a Self-Stitched Life. Figure out where the holes are in my wardrobe. And then fill the holes with more handmade items! Ideally, I'd like a wardrobe full of beautiful, well-fitted handmade garments. Even if that means I own less clothing, but better quality items.
Of course, the launch of Sewaholic Patterns! I've been working night and day to finalize the patterns, the instructions, and the envelopes. And I'm happy to announce the Pendrell blouse is still on schedule for the end of October! It may be the very last day of the month but I'd rather have everything perfect than rush and settle. (Wouldn't you agree?)
PS. Don't forget to add yourself the Sewaholic Patterns mailing list to be in the know: click here to sign up!
For more Self-Stitched September outfits: check out my SSS Flickr Photostream here!