Sunshine – yay! Not only did I skip the jacket (and tights) today but I have lovely sunny photos today. Shiny!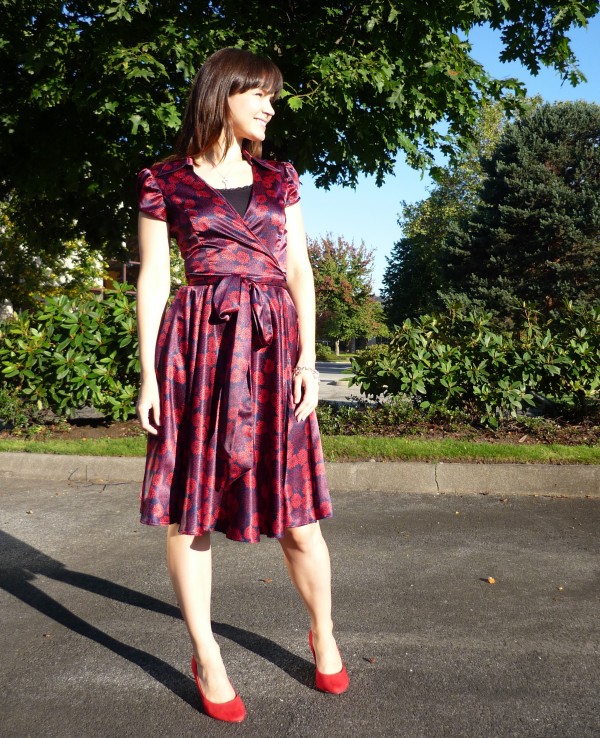 What I'm Wearing, Day 22:
Self-Stitched Dress: McCalls 5314, out of print sadly! It's a great pattern if you do manage to find it. I made this dress over three years ago out of a stretch satin print.
Shoes: H&M, bought this fall
Camisole: RW & Co, bought last fall.
See the dress in more photos here!
Today's outfit is an example of wearing something purely because it's Self-Stitched, not because it's what I would choose to wear today. Did I want to wear a shiny satin today? Not totally, but I needed something clean and self-stitched. And I swear, the shoes look better with the dress in real life.. in the photos they look a little matchy-matchy!
In this next photo I am trying to demonstrate the swingy-ness of the skirt by spinning around, but the self-timer kept catching me in the same position here. Swingy skirt photos require a real photographer!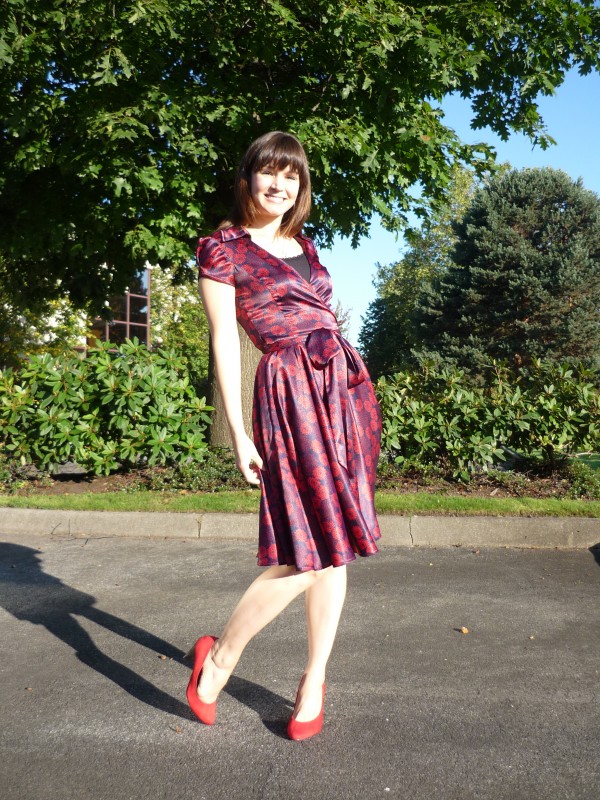 It was a great success because after work I dropped by Fabricana, my local fabric store. I love showing up there in something I made! It's almost like I'm saying 'See, I do finish projects, and wear them, so I'm totally justified in buying more!'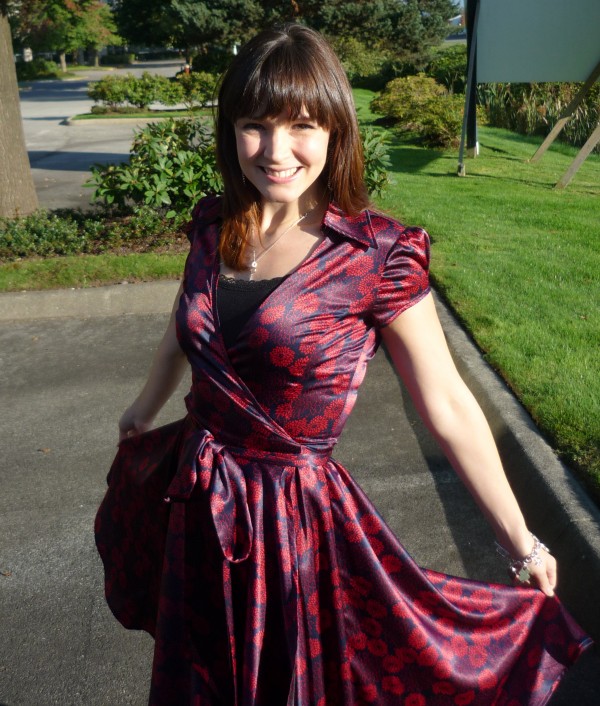 Do you wear things you made to the fabric store to show them off? Do the salespeople notice? Or are they oblivious? I'm lucky to have a great local store where people ask me about what I've made and how it turned out. So I purposefully wear my self-stitched clothes when I know I'll be dropping by. Maybe that's just me?
Oh and THANK YOU for all the great suggestions on where to buy tights on yesterday's post.
I will report back after testing some of your ideas! I forgot to say I'm in Canada… no Tar-jay for me unless I made a trip across the border. That Sock Dreams site looks awesome! Wool tights! Or for those who get itched by wool: cotton-lined wool tights! (Now that I've got to try.) Can we talk about tights again or would you rather just hear about sewing-related topics?