Today's Seamstress Spotlight is featuring Sarah and her Fraser Sweatshirt! When I spotted this make online, I was immediately jealous of how cool Sarah looks in her black quilted knit sweater, jeans, and sneakers. It's an awesome everyday get-up, so it's no surprise that Sarah considers her new sweatshirt a staple. She kindly agreed to answer some of our questions for you guys on the blog! Here she is…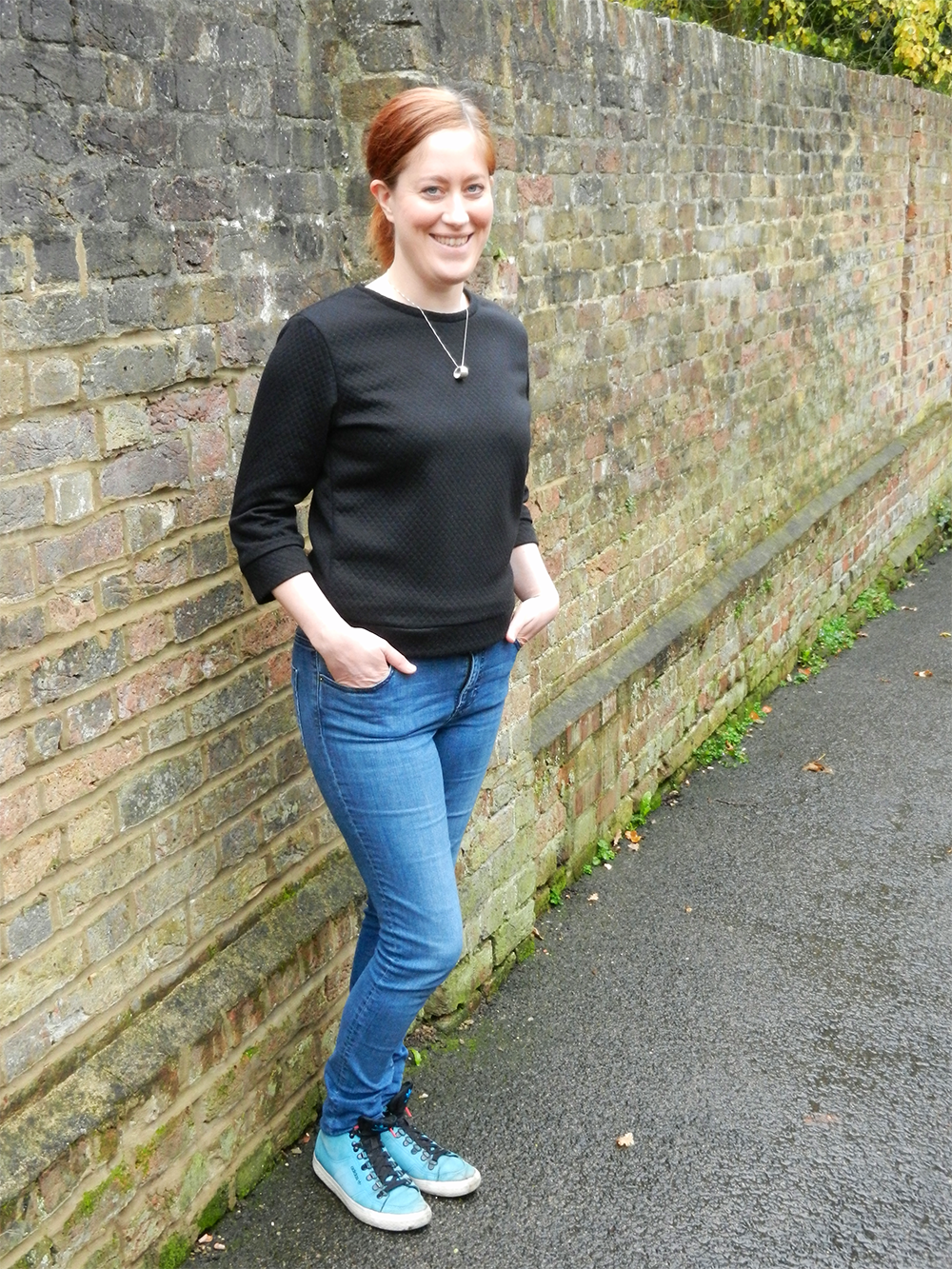 Where can we find you online? 
You can find me on my blog – Sewing Beautifully. I regularly post finished items on Burdastyle, Kollabora, Pinterest and I am just starting out on instagram… a bit late to the game there!
How and when did you learn to sew? 
My Mum always used to sew pretty dresses for me when I was younger and some of my earliest memories of my wardrobe are of party dresses she made that I adored. I never met my Grandmother (my Mums Mum) but I have a maxi dress of hers hanging in in my closet that is entirely hand sewn and it's beautiful – and as a bonus it fits like a glove! They definitely inspired me to choose this craft when I was looking for something to fill a creative void in my life and a need to do something more with my spare time about 5 years ago. I found a cheap locally run class and after a few lessons and understanding just a little about how to sew items together I went out and bought a machine for £50 and ran with it, just trying loads of stuff on my own until I felt I could walk out the door with something on that I had made. The rush of knowing I had put that item together myself was way more exciting than shopping in a store could ever be. I was immediately hooked and bought a better machine – my beloved Janome BCC30 – within about 6 months which I still use today.
How would you rate your skill level? 
It depends on which day (and which sewing challenge I am attempting that day!). Overall I would consider myself an intermediate sewer although I really have so much still to learn, so many skills still to conquer. But that's what I like about sewing, it can continually push you with every project if that's what you want. I love sewing beginner projects as much as more advanced patterns – it just depends what it is and what I fancy making. Sometimes the aesthetic/ practical need for something is more important than the skill level of the pattern. The thing that has changed for me over time is the confidence in my sewing and the quality of my finished projects; my sewing is definitely better than it was a year ago. Practice makes perfect! This sweatshirt in particular is the first knit project I have approached with a sense of confidence following trying to sew more knits over the last year. Normally I am so nervous about knits that I admit to avoiding them as they never turn out as well as I would like but this pattern is so simple to follow which is a real bonus and it takes the fear of sewing with jersey away.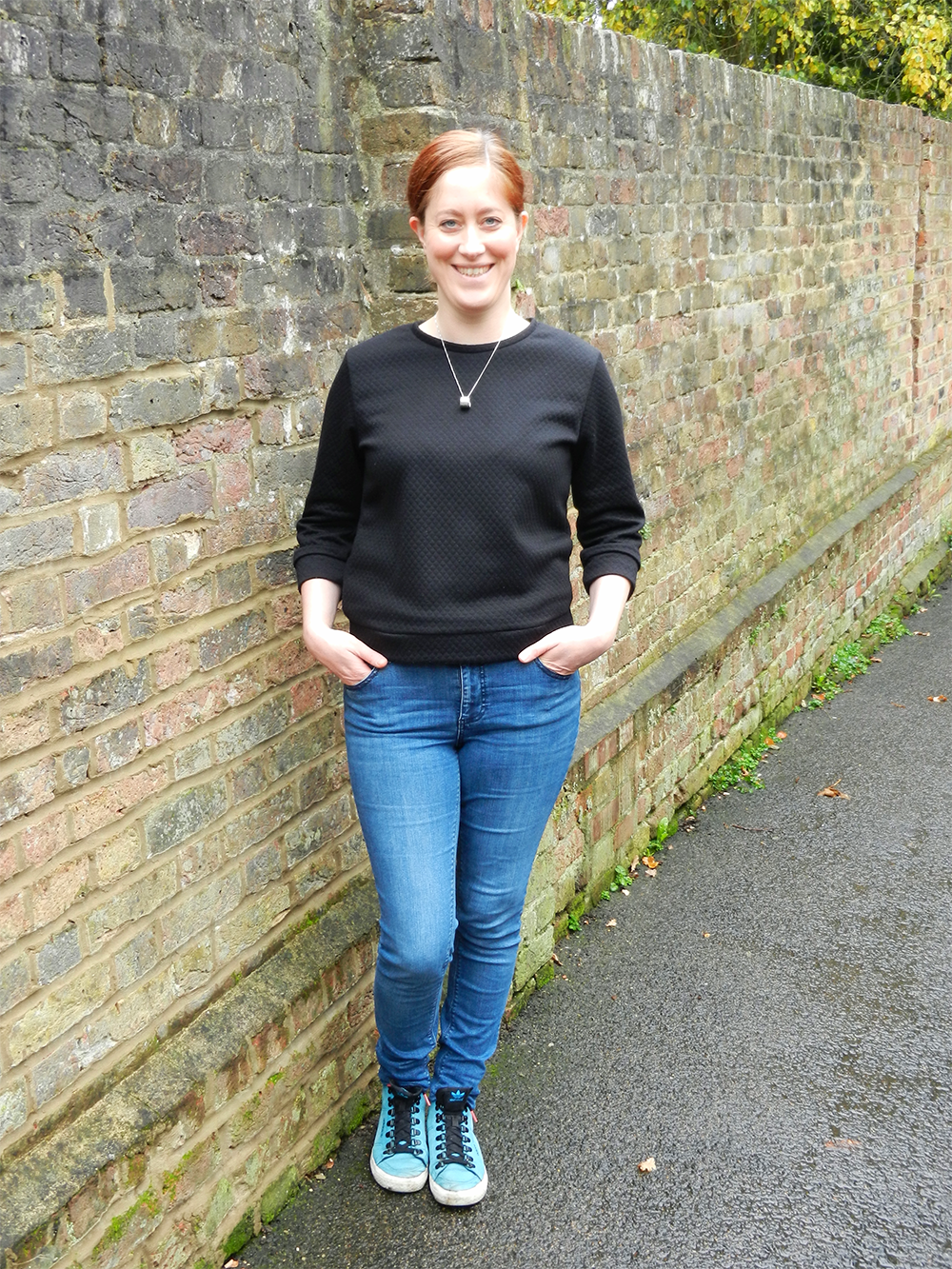 Pattern: Fraser Sweatshirt
Fabric: 
The fabric I used to make my Fraser Sweatshirt is a thick jersey which looks like it's been quilted into small diamonds. I found the fabric on one of my favourite online sites, The Fabric Godmother. It's a really good quality thickness, it did fray a little but its sturdy enough to have kept its shape well after being worn and washed and it's warm.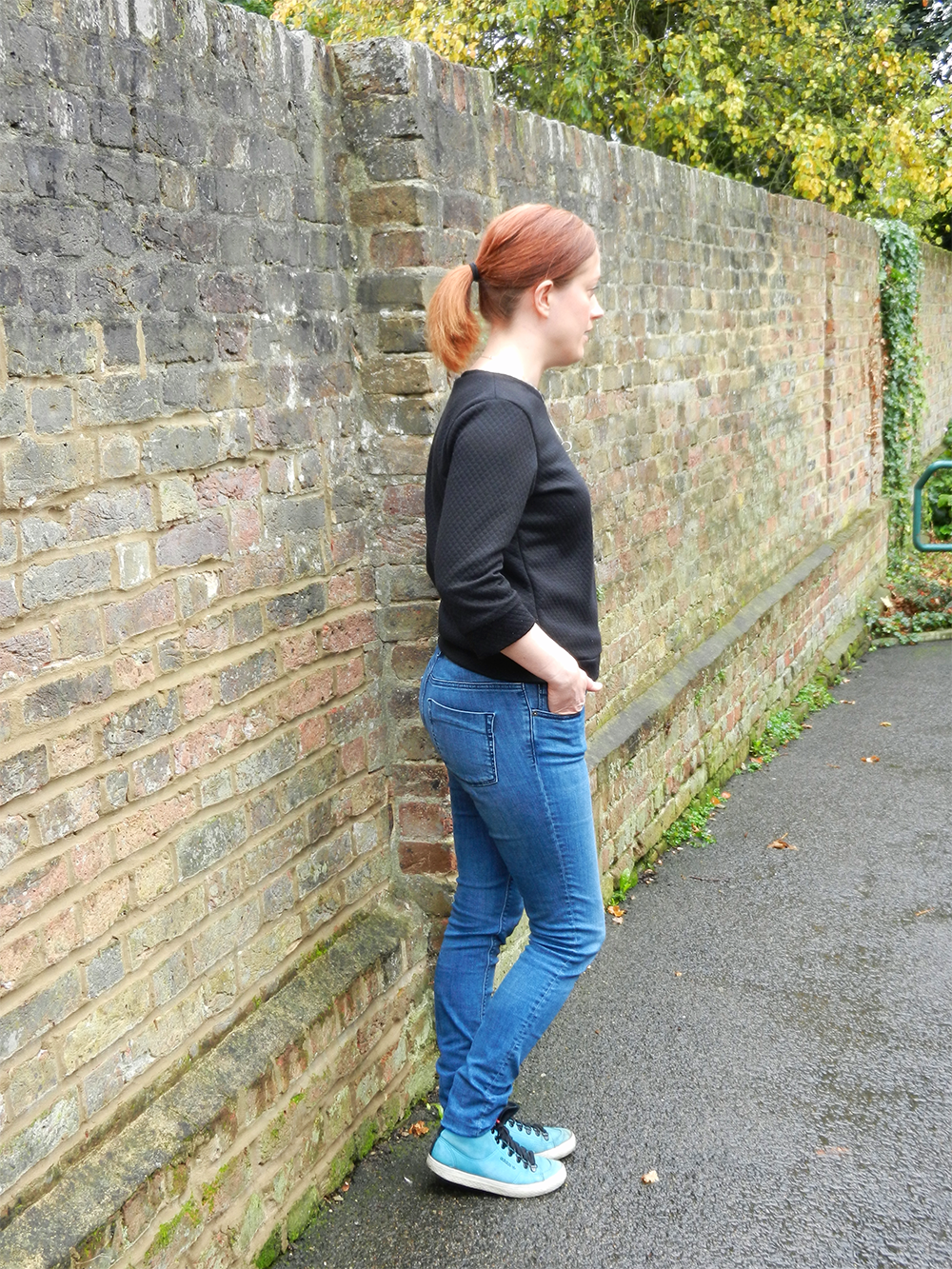 Tell us about your make. 
This is a staple item in my wardrobe and it filled a void I had for more casual autumnal/ winter clothing. I had to grade between a 12 around the bust and down to an 8 at the hip which looked a bit odd on the pattern but it came together quite well. Sewaholic patterns are made for pear shaped ladies, something I had always thought of myself as but I don't completely fit the sizing chart so I had to make some adjustments.

The sweatshirt only took a few hours to finish including putting the PDF pattern together – it was super quick. The pattern helpfully tells you what pieces to put together to make the version you want which means you don't have to take ages putting everything together in one go – a definite time saver. The version I chose to make, Version B with the three quarter length sleeve, was admittedly the least tricky of all of the style options but it was quick to cut out and put together. The fabric I used was sturdy enough not to be a pain when I was cutting it – usually I find just trying to lay a knit fabric out takes eons before I even start to cut or sew the pieces together!

What I really liked about this pattern was that you didn't need a serger to make it and the instructions are very easy to follow. I did however have to neaten the edges of my fabric to keep them from fraying but I think it makes the guts of my sweatshirt look as pretty as the outside. I also like the use of the self fabric for the collar and cuffs. It is something I have seen on other sweatshirts but it makes the whole sewing process really easy and means you don't need to worry about easing in elastic cuffs. It makes the sweatshirt look contemporary as well.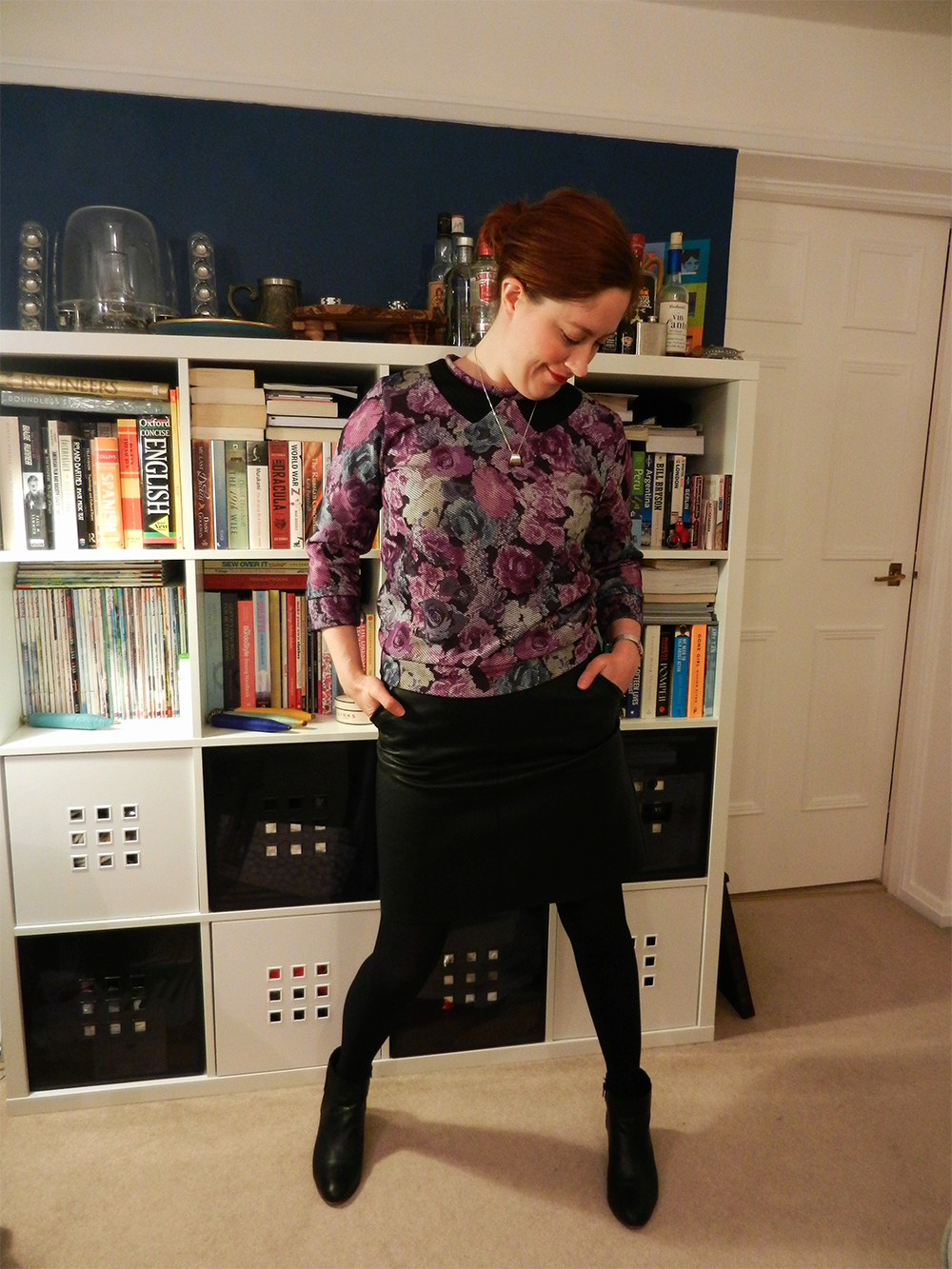 I have already made another Fraser! I like to call it my granny chic top as it's in a big purple floral jersey and I have just posted about it on to my blog. I made the version with the inset collar and I think it's really pretty! Other than making the remaining version from the pattern packet I saw someone in a lovely sweatshirt (shop bought) which had two folds at the top of the sleeve to create a pleat and I also thought that would be a nice touch on a plain Fraser to add a little detail or you could add some nice embellishments, maybe lace or letters or some quilting. I have a feeling I will be making many more of them. I love this pattern!
I love the idea of embellishing View B of the Fraser Sweatshirt. I found some inspiration for that here, here, here and here! Jen from Grainline also did an awesome appliqué tutorial for her Linden sweatshirt pattern.
We love both of your sweaters Sarah!