Today we're featuring Allie Pesch and her amazing Pacific Leggings! I love the bold fabric combination, and it's great to hear they are getting in some running mileage! Here's Allie…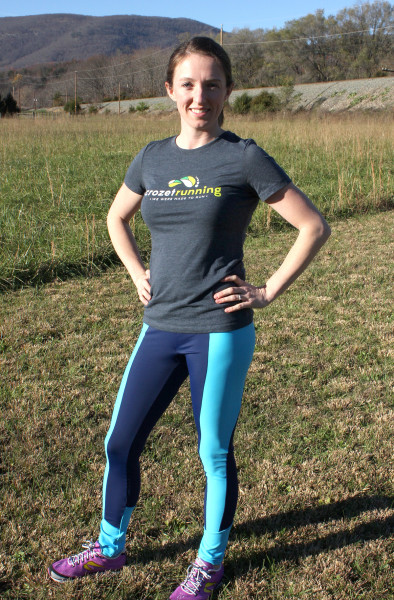 Where can we find you online? crozette.com, instagram.com/crozette, flickr.com/photos/crozette/
How and when did you learn to sew? 
I learned a few things from my mother growing up, but mostly taught myself through patterns and blogs. I've been sewing consistently for the past 7 or 8 years.
How would you rate your skill level? 
Intermediate… pretty confident but still plenty to learn and improve!
Pattern: Pacific Leggings
Fabric: Tricot nylon/spandex blend from imagine gnats.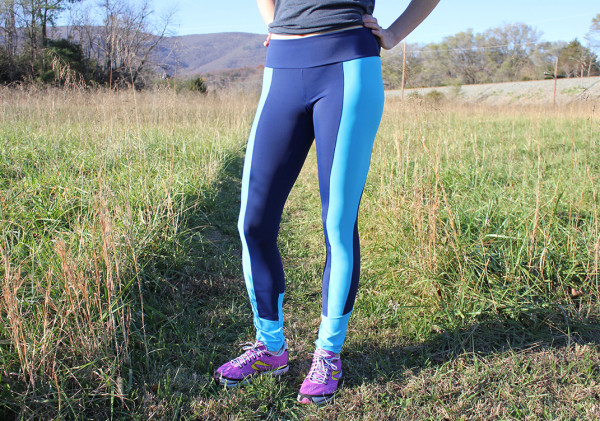 Tell us about your make. 
I sewed view B in size 6. The only modification was to shorten them one inch at the shorten line because I didn't want too much extra fabric around my ankles. I made these for running this winter in our chilly Virginia early mornings. The fabric isn't quite warm enough for below freezing cold days, but I have been happy with how well they stay in place and have already worn them for many runs, even as long as ten miles. While my iPhone 6 fits well in the pocket, it is too heavy to run with it in there as it pulls the waistband down. Handy for a car key or ID though. I used my serger for most of the seams (after basting on my regular machine) and much prefer the look of those seams to the ones I only zigzagged, such as the gusset and center front. The gusset was the trickiest part—I had never sewn a diamond gusset like that and especially not with such slippery fabric. I would still love for someone to walk me through it, but it came together pretty well. Since I made the most complicated view and this fabric likes to move around, tracing and cutting took a while, but the sewing was quick and the whole project was done within a few evenings' work. I recommend the pattern to anyone brave enough to sew their own athletic clothes. It's easier than it looks and very satisfying!
Thanks Allie! Love your leggings. We're working on a tutorial to walk you guys through sewing the crotch gusset, that's coming soon. (Update: here it is!)
If you'd like to read more Seamstress Spotlight posts, you find them all here!