Hey everyone! So excited to Sew-Along with all of you guys again! If you missed yesterday's post, I'm hosting another Sew-Along here, this time for the Crescent Skirt. We'll aim for a start date of April 18th, as that works for most of you. I will post the fabric requirements and envelope back this week, so you can get to the fabric store!
This has been an awesome week already and it's only Tuesday. I have some really exciting news to share with you shortly, stay tuned!
Also, thanks for all the great comments on the Bound Buttonhole tutorial. Yes, you can make them yourself. It's easy if you take it slow, make a practice buttonhole first, and sew down those triangles carefully. I will follow up with a post on what happens to the inside of the buttonhole, when I get to that part on my dress.
In the comments, GermanGirl asked a really interesting question, one that I'd love to see your thoughts on!
I have a question, not on button holes, but one I'd love to see comments on: What do you do with cut-off pieces of fabric, that are too small to make anything out of them and kind of too big to throw them away (at least when it is high-quality fabric)?! Do you store them? And how? I have basically no storage space, and every time I finish a project the cut-offs lie on the floor for weeks, because I don't know what to do with them…
Any suggestions?
So, this is what happens to my fabric scraps: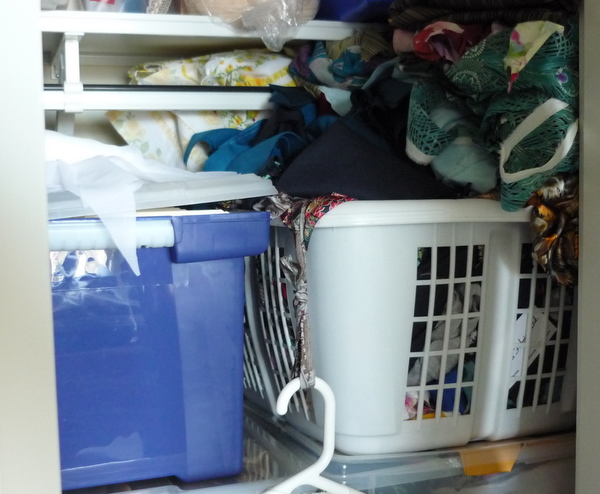 Yes, that's a full laundry bin overflowing with my scary, miscellaneous fabric scrap stash. I save all of my fabric scraps, tossing them into this bin as I go.
I keep them while I'm working on a project, in case I need to re-cut a piece, or patch a hole, or test my stitches. Or, if my sewing instructions call for extra fabric other than the pattern pieces, such as bound buttonholes. Then after the project's done, I keep them in the bin, just in case. (In case of what? I'm not sure.)
I have all these great intentions of using them, for the inside facings, for bias binding, or for testing. Even more creative uses like fabric flowers or embellishments! But the truth is: I don't. If I'm going to use a contrast fabric for facings, I'm much more likely to buy the exact right fabric at the start! Chances are, even though this laundry bin is full of scraps, I won't have the right one for my next project.
But I just can't bear throwing them away! It seems so wasteful. I like to think one day I'll use them up, in the spirit of reducing waste and reusing every little piece. I like to think that bin is in my closet because at the end of it all, I'll use every last scrap up and not throw anything away. (Am I a bit of a hoarder, perhaps?)
And yet, they're taking up valuable closet space! If you sew in a small space like me, and have limited storage space for your good fabrics, then isn't it a waste of space keeping useless bits and scraps?
So what do you do with fabric scraps? Do you use up the little scraps, and how? Or do you throw them away, guilt-free? I'd love to hear what you think!