And I'm free to lead Sew-Alongs, design sewing patterns, and build up the Sewtionary!
Four weeks of daily seminars are finally done! It's been an intense four weeks. We had the amazing opportunity to learn from professionals and past graduates of the Self-Employment Program, all of them successful business owners who came in to share their knowledge.
Over the past few weeks I've learned about branding, law, operations, franchising, marketing, sales, public relations, accounting… and more! My head is spinning a little, but it's reassuring to know that I'll have the information safely filed in my school binder to look back on over the next year.
So what happens now? Well, we meet monthly with a small group of our classmates. We'll see how everyone's doing, and share our successes and challenges. I'm really looking forward to finding out how everyone else does! They're all equally motivated and talented people. Just when you think everyone in the world goes to work, clocks in a 9-to-5 job they don't love, and that's just the way life goes – it's refreshing to meet fourteen people who are willing to take a risk along with you.
We'll also meet with our business advisors and report  how our businesses are progressing. Part of our business plan was to set goals and monthly targets. So we'll be looking at my plan and comparing my progress to make sure I'm on track. The pressure's on!
The good part? It's for real. This isn't some homework assignment full of learning lessons that one day I'll be able to apply to real life. This is my real life now! Scary, but fun, all at the same time.
A big THANK YOU to the Douglas College Self Employment Program, for accepting me into the program and believing in my business idea! I'd highly recommend this program to anyone with a business idea who's been laid off and is considering self-employment.
Another round of thank-yous to the wonderful group of people in my intake. You guys are awesome! Thanks for listening, supporting and inspiring me!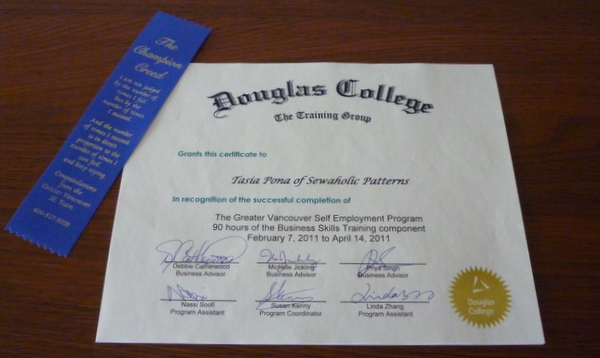 (My official certificate – yay! I'm as prepared as I can possibly be for my next adventure.)
What's coming up around here?
Lots of exciting things happening! And of course, plenty of catching up to do on emails and comments and such. One thing's for sure, I'll never be bored!
Have a lovely weekend, everyone!