Want to see more Cordova Jackets? You got it! Samantha who blogs at Buckingham Road was one of the testers, here's a look at her version!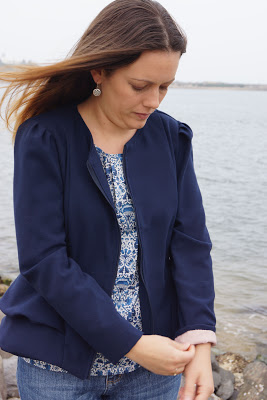 Click here to visit her blog post and see more photos. She's modelled it from all angles for you to see! (I picked this photo because of the windswept hair and the cuffed sleeves, plus you can see the pretty top she's wearing underneath.)
She even made a Liberty-print Sorbetto top to wear with it! I love the pale peach lining with the navy blue wool. It adds a softer touch than coordinating or brightly coloured lining! I mentioned using a contrast lining and rolling up the sleeves the other day, and she's done just that. If you're ever feeling too dressed up in a jacket, roll up the sleeves for a instantly more casual look!
Like this pattern? Get your own copy here.
Thank you Samantha for being a pattern tester! I hope you get plenty of wear out of this classic-coloured jacket.