I know this is a lot of knitted things in a row. But hey, this is what I've been doing! Knitting to keep warm. (And working on stuff at work that isn't sewing.)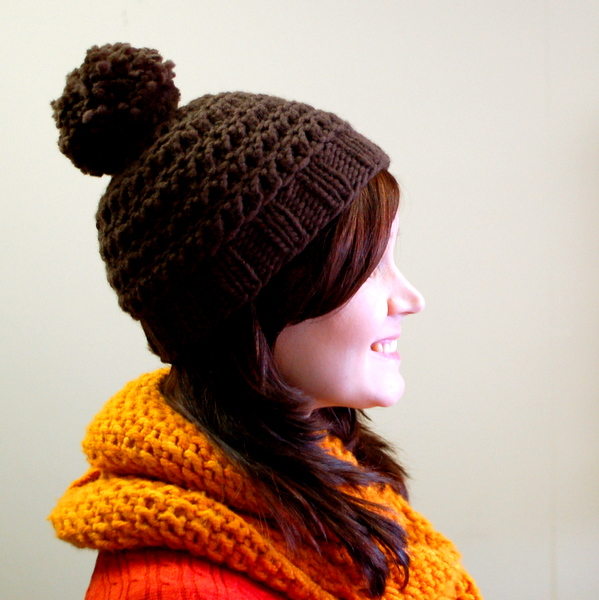 I've been loving chocolate brown as a neutral this season. It's warm, it goes well with those autumn shades I love, like pumpkin orange and golden yellow, and it's more flattering on me than grey or black.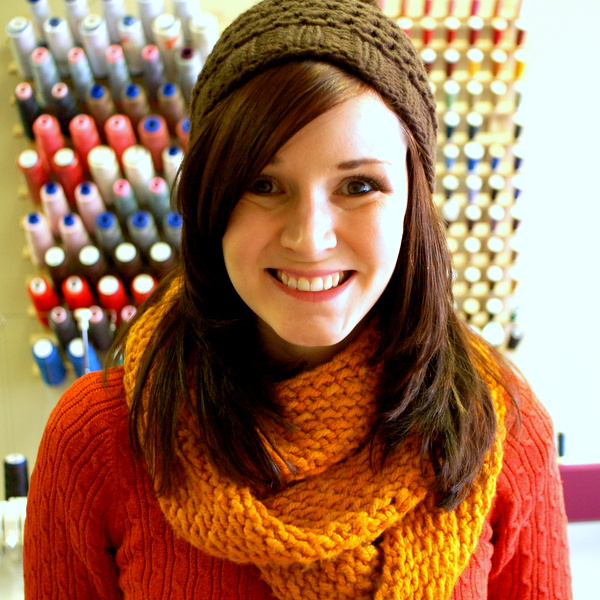 So – the hat! The hat is Rubens, from the book Knit with Me. I got this book as a Christmas present this year as I loved the sweaters included. Plus, the designer is the same one that designed the Audrey in Unst cardigan that I love! So I knew the sweaters would be excellent.
The concept is mother-daughter knitting, which I love in theory, except that I don't have a daughter to knit with. But I can imagine mother-daughter teams all over the world, knitting their sweaters together over a cup of tea. That's a nice image, don't you think? All of the sweaters are modelled on real-life mothers and daughters, which shows the timelessness of the designs. When a design looks equally great on a teenager as on her mother, that's a good sweater!
In the book there are six sweater patterns and six accessory patterns. The accessories are super simple, quick knit projects!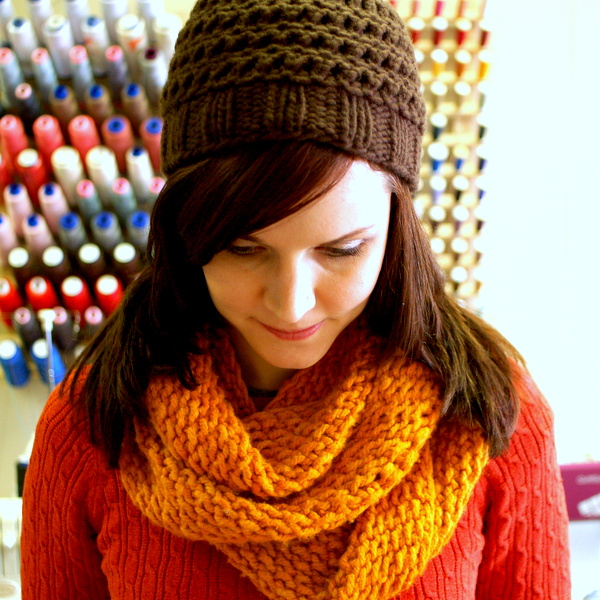 Ravelry link here. I knit this hat in one day! One day, from start to finish. Less than that, just one movie's worth of time. I did not swatch, I just cast on with the recommended needle size and hoped for the best. The stitch pattern is simple yet not boring, there's not enough time to get bored when you're knitting a hat with bulky-weight yarn. Just as you might be getting bored, you're done!
The yarn is Puffin, the recommended yarn for the pattern. I had enough yarn to knit the smaller, non-slouchy size and plenty to make a big fat pom pom with the remainder of the skein. (I think the pom pom is totally necessary, it makes the hat way more fun!)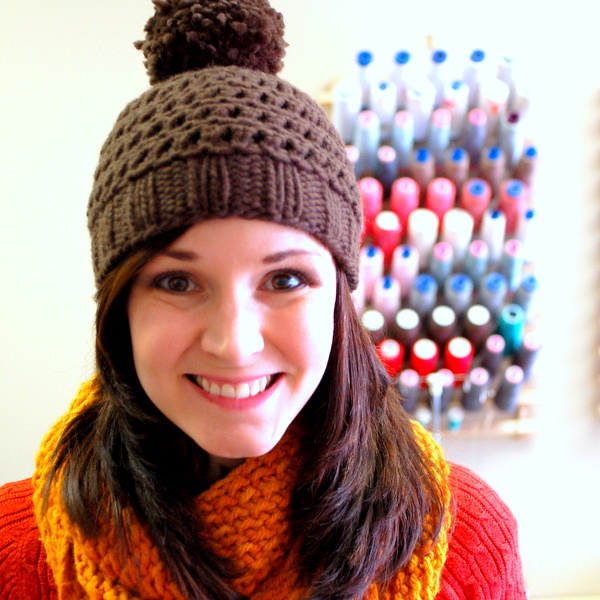 That's my Sunset Cowl in the photos as well. I still wear it all the time, even though it's less than perfect! It was a bit weird even when I finished it, stretching out to a long and narrow cowl instead of wide and chunky. Now it's pilling and collects fuzzballs and not in the greatest shape, up close. I think I'm less critical of my knitted objects, plus they are always warm even if they're a little wonky.
Next up from Knit with Me – the Ambrosia cardigan! It's the chunky cardigan on the cover and the main reason I was drawn to the book. Perfect for long walks with jeans and boots or as they've styled it, with a floral dress and rubber boots. Can you guess what colour I'm going to use? (Hint: it will certainly be a statement piece!)