Do you use a rotary cutter? Do you love it?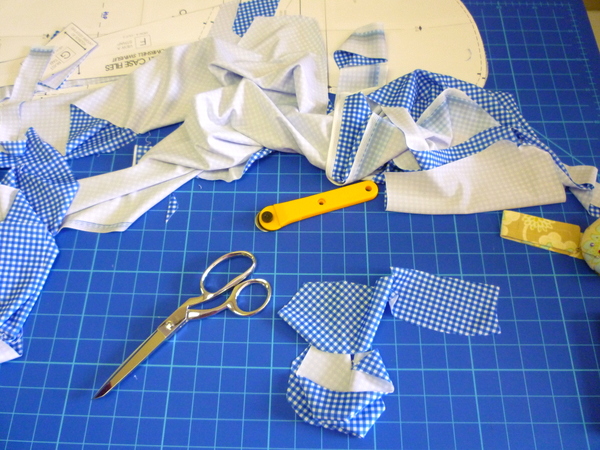 I've had mine for years, along with my nice blue cutting mat. (I love that it's blue as most mats are green.) For the Bombshell Swimsuit, Heather recommended using a rotary cutter, and I'd recently found mine again, so I thought I'd follow her suggestion.
If you are new to rotary cutting, or like me, have one and never use it, here are my tips for working rotary cutting into your routine.
First off, let me state the obvious and say those things are sharp! Yup, I cut myself. it's a fairly normal thing to me to get minor injuries here, luckily I stock band-aids in the supply box. Nope, I did not stain my fabric thankfully! It just slowed me down a little so I came over to the computer to type out my thoughts on rotary cutting. Fast, fun but dangerous! (No wonder it's appealing.)
Always, close the blade cover when you put it down. This takes practice to remember, but just lightly brushing your finger against the open blade will make a deep cut. I had to focus on closing the cover.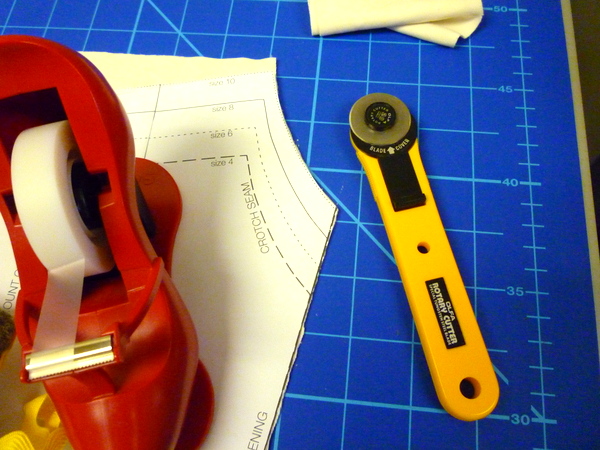 If your blade is dull, replace it! A dull spot will make for a part that doesn't cut.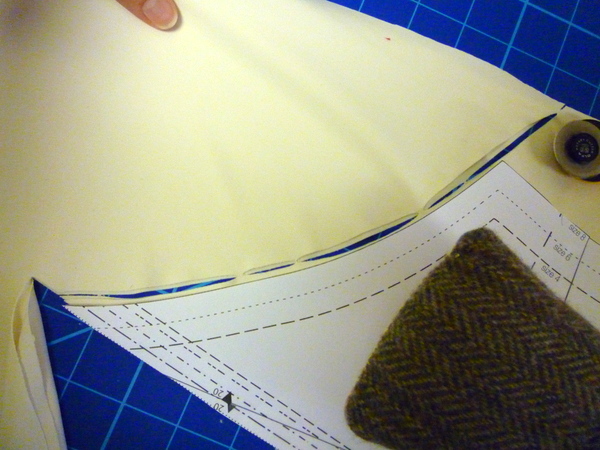 The whole point of using a cutting mat and rotary cutter is to make it faster and easier. Don't make it harder for yourself by using a dulled blade! (Learn from my stubbornness. I used the dull blade for most of my cutting, trying to 'save' the new blade and use the bad one as long as possible. Silly logic, I know.)
You don't need fancy weights. By all means use them if you have them! I just use whatever is reasonably heavy and flat. Phone, camera, seam roll, tape dispenser, whatever. The flatter the object, the better it will hold the pieces in place. (Caroline's hockey pucks would be great.) Press hard as you roll over the fabric.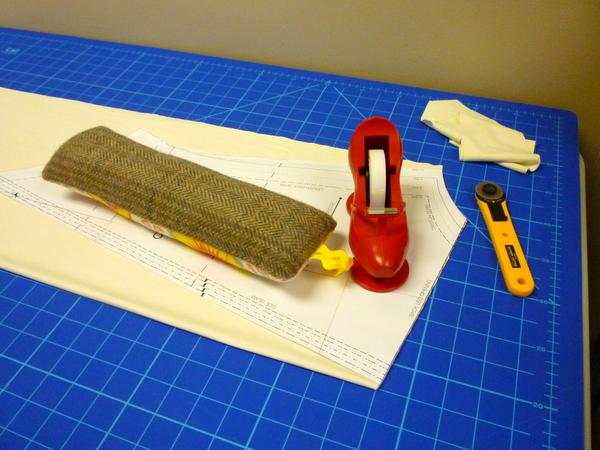 And for this pattern, don't cut the dart! Those may look like cutting lines, but they're not. If you follow the sew-along, this is obvious, but if you're cutting enthusiastically you may have the urge to cut along those lines. (I actually got out the scissors to cut and then thought, is this right? It's not. Don't cut along those dart lines.)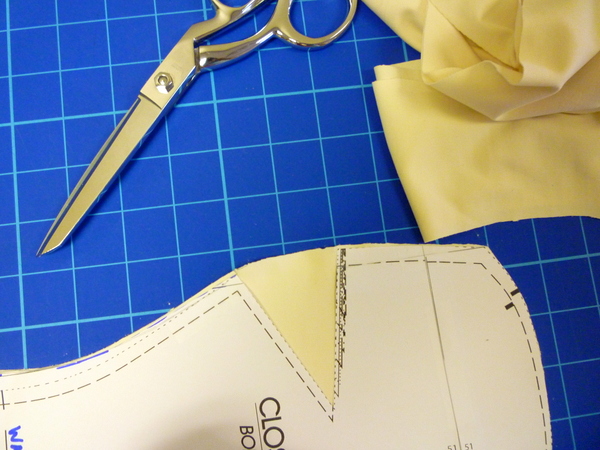 Do you have any tips for using a rotary cutter? If you use one, do you use it exclusively for cutting and never use scissors, or do you switch it up?
Thanks Heather for reminding me that I own this useful tool and to give it another go. It was surprisingly fast and fun.
Have a wonderful weekend, everyone!