I didn't buy a lot of fabric on my recent road trip, but I did come home with a few gems! The beauty of buying fabric in Portland (the whole state of Oregon, actually) is that there's no sales tax. Remember this blog post where we talked about how much tax everyone pays on fabric? That's an automatic twelve percent discount right off the top! I also forgot to mention we didn't take the Smart Car (it had to go into the shop for repairs the day before we left so we rented a sensible car instead) which is why I had room to bring home the fabric goodness!
Here's my reasonably-sized fabric pile: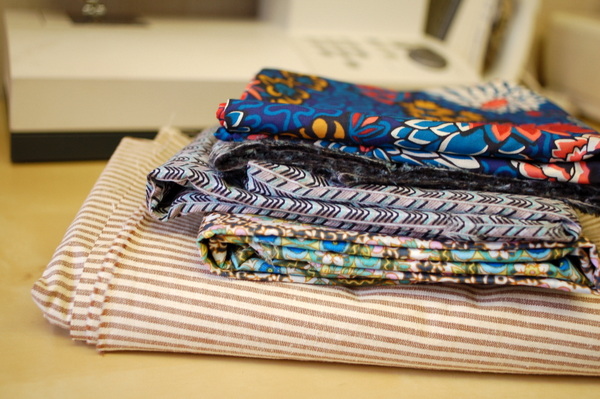 Let's start with the top!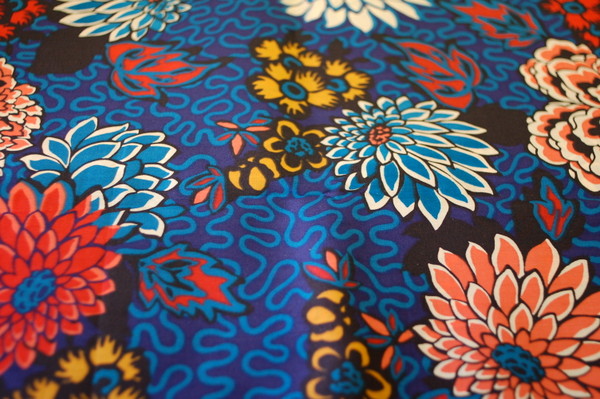 Oooh look, Liberty cotton! This is from Bolt Fabrics in Portland, Oregon (a Sewaholic Patterns retailer!) There's a lovely selection of Liberty prints, pricey of course, but gorgeous to touch and admire.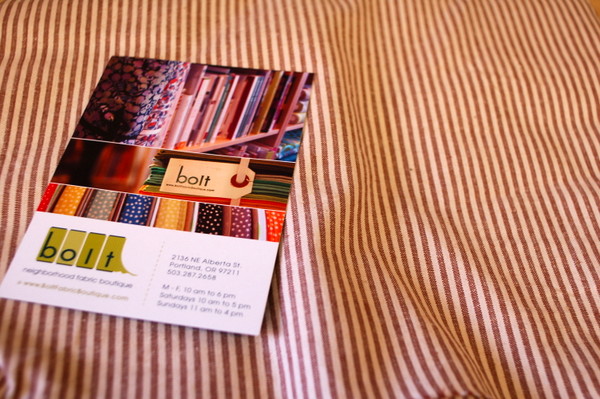 I have a specific plan for this one! (It's so simple, I added the postcard from Bolt to spice up the photo.)  It's a hemp-linen blend with a subtle stripe. Also from Bolt Fabrics. I went back to get more of it, because the secret planned project requires a lot of fabric, and when I did I accidentally picked up some of this one, too…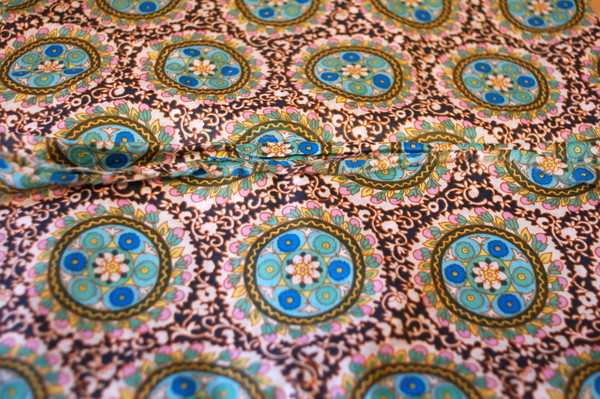 Printed voile and lawn seems to be my thing these days, I brought home this lovely souvenir from Salt Lake City as well: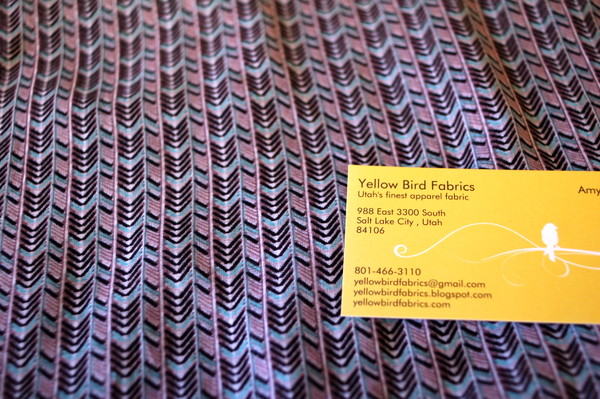 From Yellow Bird Fabrics in Salt Lake City, Utah. It's a cotton voile print, with a very subtle design. From far away it almost looks like a solid. I also have plans for this one! I'm limiting my fabric purchasing only to fabrics that fit into my next year's plans. If I can't see myself using it in the next year, I probably won't buy it.
It's not fabric, but I came home with a couple of goodies courtesy of the Fashionable Stitch shop: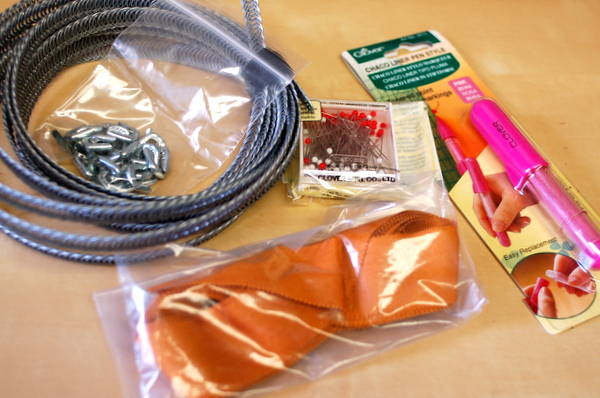 The rayon petersham ribbon is such a lovely golden mustard colour. I'm saving this for a very special project! A Fall project, probably. Mustard always makes me think of fall.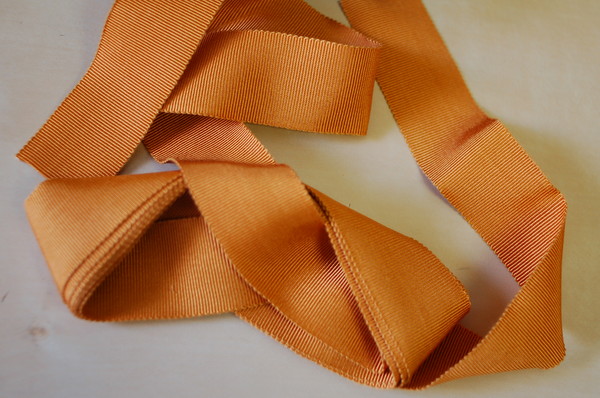 I also visited a couple of retailers along the way:
Cool Cottons. Exactly what it sounds like, cotton fabrics in a welcoming house! Rooms full of fabric. (That's my hand grabbing at the Cambie Dress pattern.)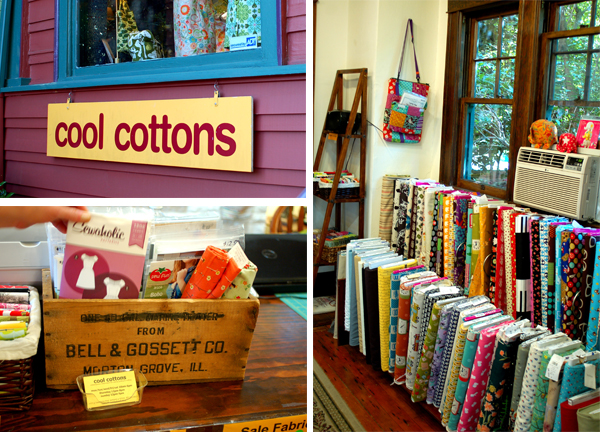 Bolt Fabric Boutique. You already saw what I bought at Bolt! Can you spot the Lonsdale Dress pattern in the window?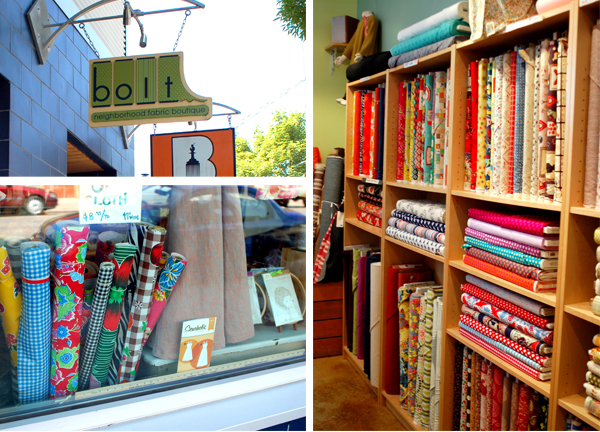 Modern Domestic was closed, but a Renfrew Top sample is in the window! I had to take a photo of it. So cool. (You can see a little bit of me in the reflection of the photo – proof that I was really there!)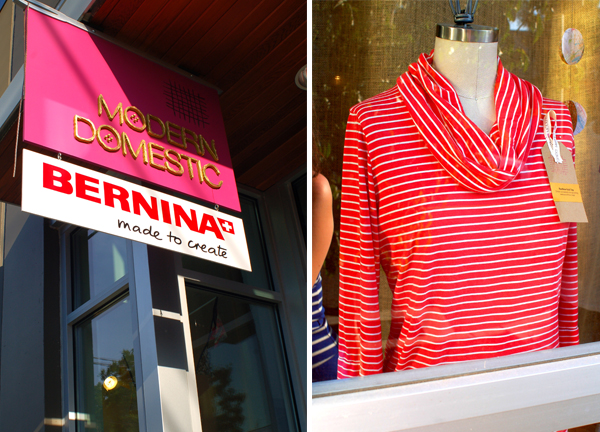 And a couple of yarn stores, including Happy Knits in Portland, Oregon: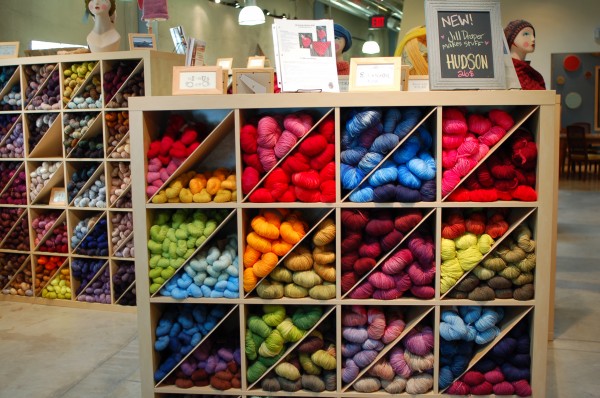 This yarn store thought of everything. In the back, there's a quiet and spacious area for guys and kids to keep busy while we yarn-shop. Brilliant, right? I have no idea how long I browsed the store, but Mr Sewaholic was quite comfortable in a cosy chair with his book in hand. (I bought yarn. It totally made sense to, it was on sale! And no tax = 12% off on top of that! but I'll wait to show you the yarn when it's made up into something interesting…)
Reading over this post, it sure looks like I did a lot of fabric shopping for someone who said they weren't going to do any. Ah well. What can I say? I love fabric, even when I know I may not get time to sew it up right away.
Do you shop for fabric (or yarn) on holidays? Does it make the things you buy feel extra-special?