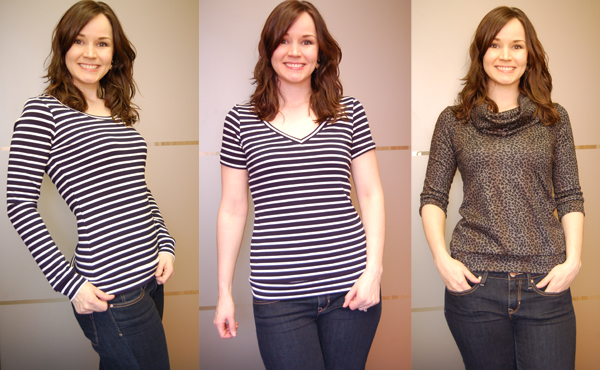 Which view of the Renfrew Top should you make? If you're undecided, here are some things to consider. I personally love all three views!
Here's the wonderful thing about this pattern: all of the sleeves work with all of the necklines. So if you like the cowl neck of View C, but want short sleeves like View B, simply mix and match the pattern pieces to get the look you want!
Easiest Neckline
View C. I think the cowl neckline is the simplest to sew and the easiest to get great results. On that note, the V-neck on View B is the most challenging. (I plan to demonstrate how to sew it, but it's still the most difficult to land perfectly.)
Most Practical Sleeve
This is my personal preference, but I love the three-quarter length sleeve the best. It's long enough to be cosy, but stays out of the way when working. If you get cold easily, you might want long sleeves instead.
Best for Stripes
I think View A and View C, the round neckline and the V-neckline options, are the best for striped fabric. If you wanted to minimize the amount of stripe matching, the shortest sleeves are the easiest!
Warmest Option
Choose the cowl neckline of View C with the full-length sleeves of View A for maximum warmth!
Here are more blog posts about the Renfrew Top. (Get the pattern here.)
Which view are you going to make? Are you mixing the sleeves of one view with the neckline of another? I'd love to hear what you're making, or which view you already made.
Have a wonderful weekend, everyone!