I'm really into the idea of getting the most out of a pattern. I love a good pattern hack, and I love customizing my patterns to fit my style and to get extra mileage out of my investment. I know I'm not alone in this!
I've spotted some really lovely Renfrew "dresses" in our Sewaholic Flickr pool. It's a really easy to transform the Renfrew top into a dress, and there are a few ways you can do it. You can just lengthen the pattern pieces for a more fitted style, or you can cut off the pattern at the waist, and add an a-line skirt, or even a circle or half circle skirt for an elegant yet relaxed fit. Even a gathered skirt would be really cute!
After admiring these dresses and feeling so inspired, I thought I would share them with you!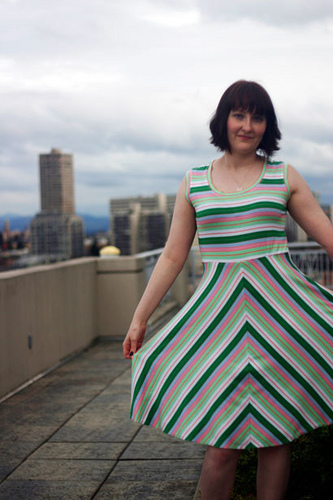 This lovely dress is from Shannon of Orange Cloud Handmade. Here's a tidbit from her blog post:
I put on an existing Renfrew, stuck a pin in at my natural waist, and then compared it to the pattern. That happened to be right on the lower line of the lengthen/shorten section, so, as Dan Savage would say, yahtzee! It's already marked on both pattern pieces — couldn't be simpler. I knew I wanted a half circle skirt for an optimum twirliness-bulk ratio, so rather than reinvent the wheel here, I went with one that I already had at hand and on my trusty Swedish tracing paper — the skirt from Tiramisu. I measured, and the waists were pretty close, with the Renfrew being a little roomier, so I went for it.
I love the stripes! And would you look at that expert stripe matching. So good! You can read all about the project here.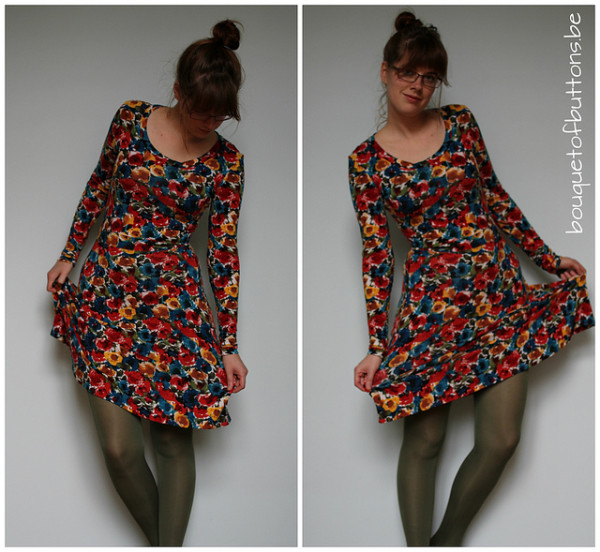 This striking floral number is from Lelie of A Bouquet of Buttons. Lelie added a waistband and a simple skirt. I am in love with this floral print fabric! I would personally have been too chicken to do full length sleeves in such a strong print. But seeing it here makes me rethink that! It really looks great! You can read her full blog post here. And check out her first Renfrew dress, it's red with a pleated skirt. Love!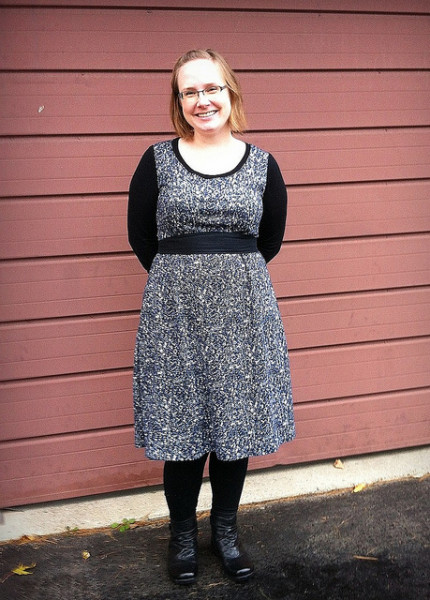 And look at this one from Gillian of Crafting a Rainbow.  A bit about her dress:
Inspired by the the lovely Andrea's tank dress, of course, but more winter-appropriate! The black and white fabric of the main body is a scrap of double-knit that I got in the remnant bin for $3.60, and the sleeves and neck-binding are from a little piece of bamboo knit that has been in my stash for years. I thought the light-weight sleeves would fit better under a cardigan… plus, I thought a dress entirely out of a graphic print might be a bit much!
I love the contrasting sleeves and the black and white print. The belt gives some great waist definition and is really flattering. And thanks for all of your kind words Gillian! Read her full post here.
So what do you guys think? Feeling inspired to make a Renfrew dress? I know I am! We're looking forward to featuring more projects in the future made by you! If you want to share something you've made, please do e-mail us at info[at]sewaholic[dot]net with a photo or link.