I'm happy to report that both necks are much better. After a little stretching (and a little neckrub!) mine is feeling better already! Instead of standing at my bookshelf to work on my computer, I set it up at the dining table and made a conscious effort to keep my back straight against the chair. (If I could feel the back of the chair on my shoulders, that was a good sign of sitting up straight!)
More importantly, Mr Sewaholic's shirt neck is looking better as well! After correcting the neckline on the muslin, I transferred the changes to the pattern pieces. The shirt front, shirt back, yoke, collar, and collar stand all had to be fixed.
Here's what I did:
First, I gathered all of the tissue pattern pieces that needed to be altered. You'll also need a ruler, a tape measure, pencil, paper scissors and of course the shirt muslin.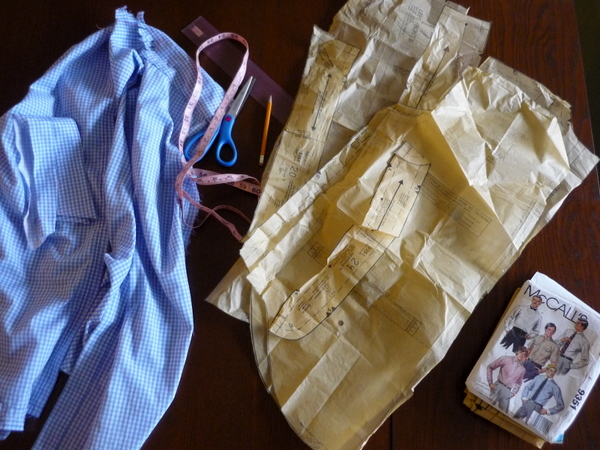 If necessary, iron the pattern pieces flat with a cool dry iron. I'd already stuffed mine back in the pattern envelope so mine needed a quick press!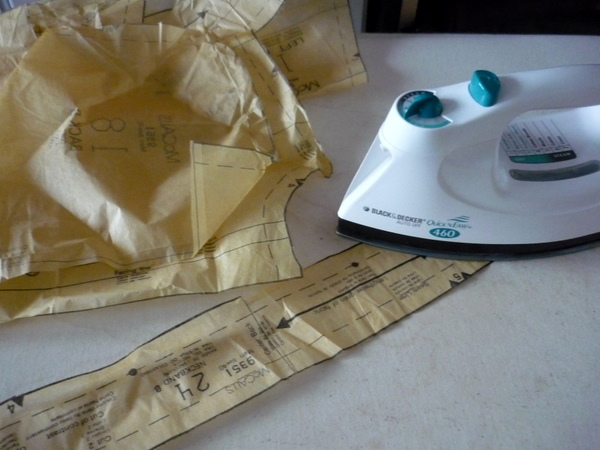 Now, it's time to tackle the neckline alterations! Scary, I know. Just think of it in simpler terms. All we're doing here is transferring our muslin changes to our tissue paper. It's easy! We're just copying our new neckline from fabric to paper!
Ok. Let's do this. I find it helps to arrange your tissue paper exactly the same as your muslin, so it's more obvious what to change. Basically, line up your tissue pieces as if they were a shirt.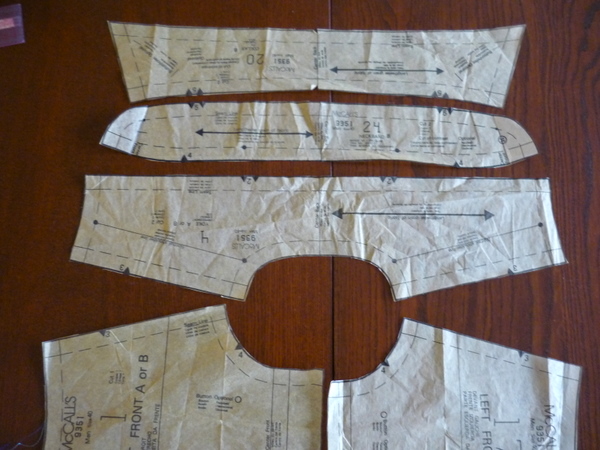 I realized we don't need the shirt back at all! One less pattern piece to deal with.
Now, let's transfer the muslin changes to the pattern pieces. It's your decision whether to trace off the tissue pattern pieces and make your changes to the traced pieces, or to make your changes directly on the pattern itself. (I'm making my alterations directly on the pattern itself.)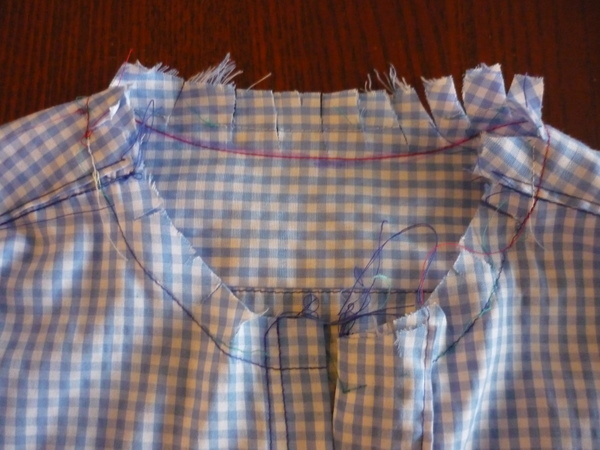 Let's start at centre back. Look at the muslin – how much did we drop the back neck? (Measure from the original seamline, to the new marked seamline.)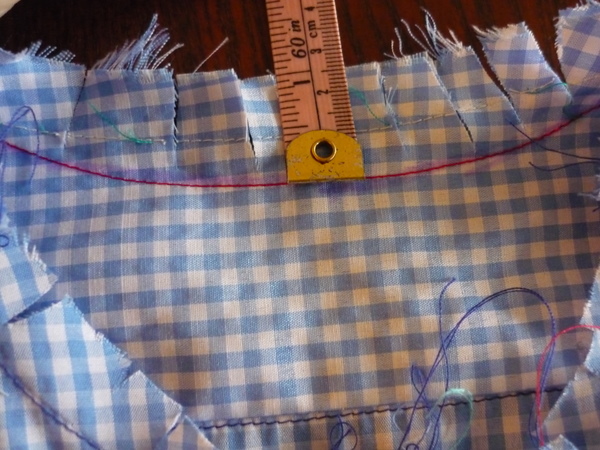 Looks like it's just under half an inch. So now let's take our yoke and make the same marking on our pattern piece:
Back to the muslin – measure off an inch and a half to the left (where it starts to curve back towards the original seamline) and then measure up to the new neckline.
Here's me measuring to the left: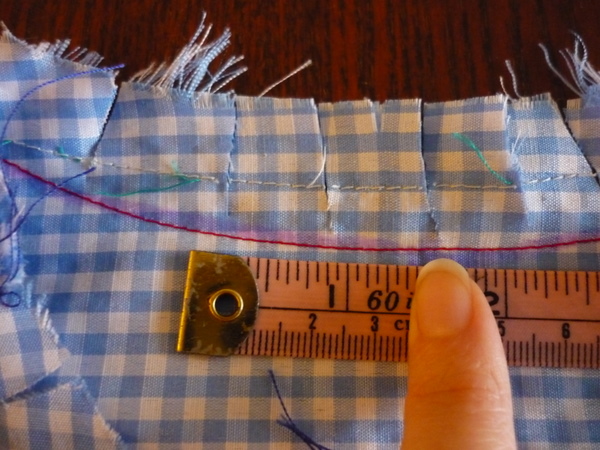 And here's me measuring up to the new neckline: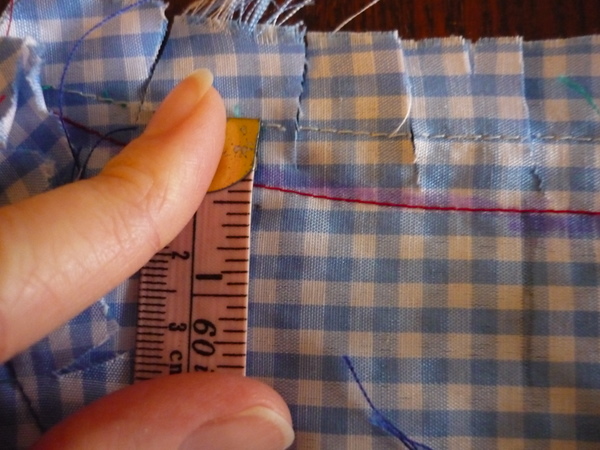 The new neckline is 3/8″ larger than the original. Mark this amount on the tissue as well.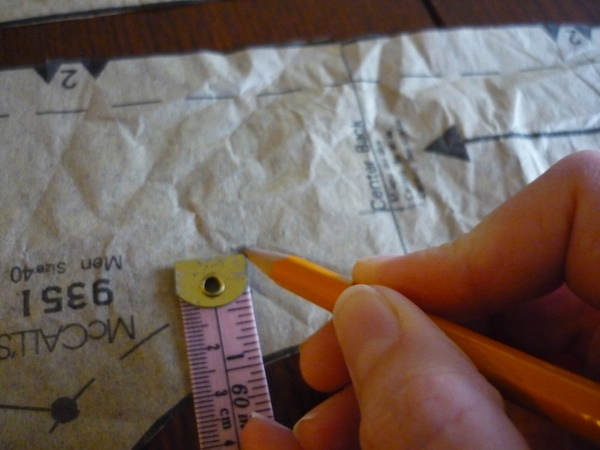 Draw a rough connecting line between the two markings. If this line is mostly straight, use a ruler. (Bonus if you have a curved ruler and can draw a nice curved line!)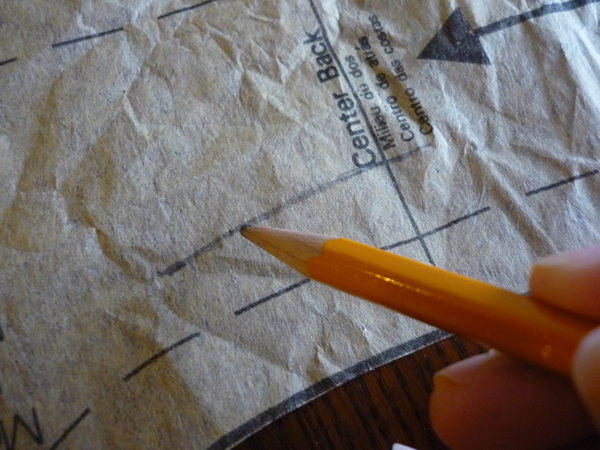 Repeat all around the neckline, until your new neckline is marked on the pattern pieces. Basically anywhere the neckline changes, that's the point you want to measure off from the original seamline, and then transfer these measurements to your pattern tissue.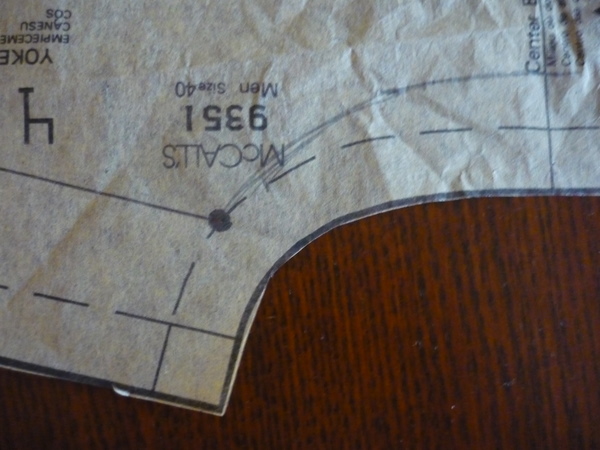 To make it easier, I marked half the neckline, and then folded my tissue piece in half to mark the other half. This way the neckline is evenly altered from side to side. (You may not want to do this if your alterations are intentionally asymmetrical – ie. one shoulder is higher than the other.)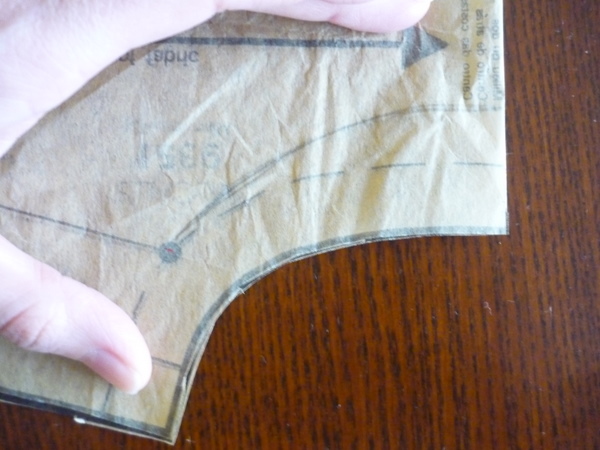 Yay! Our new neckline is marked.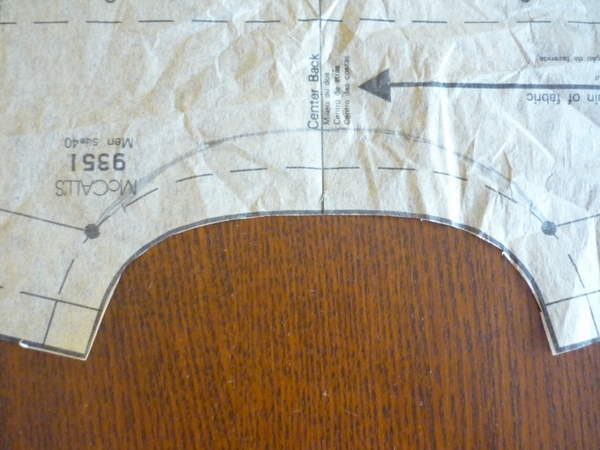 From the new neckline, re-draw your seam allowance. Mine is 5/8″, so I measured 5/8″ from the new neckline and mark a new cutting line.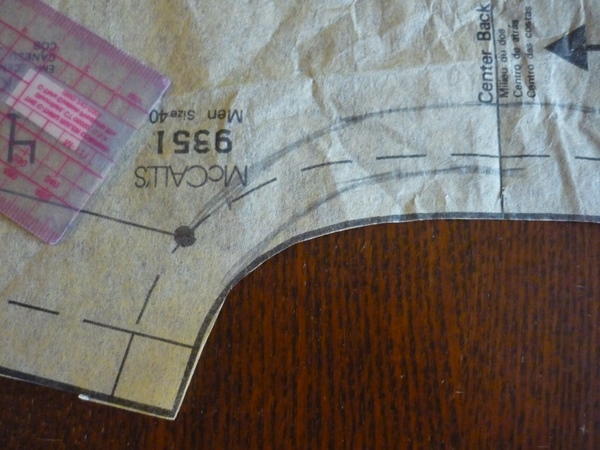 Fold in half, and mark the other side.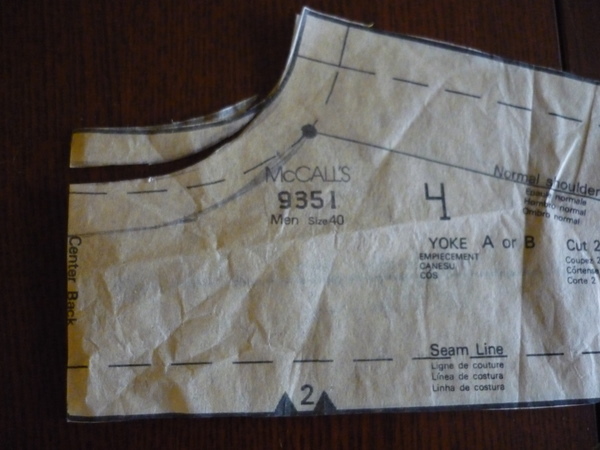 Cut along new cutting line. Voila! The neckline has been altered according to our properly-fitted muslin.
Next up: making the alterations to the collar and collar stand!
Eleven days till Christmas, if you're the countdown type. I may not finish in time, but I sure hope I do! I'm glad that several of you are interested in these fitting posts for future men's shirt projects. If you plan on making one as a gift, give yourself lots of time!