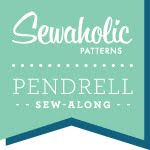 Things are busy these days, no time to sew anything new! So today's post is a question: now that the Pendrell Sew-Along is over, what do you think?
Did you enjoy the Pendrell Blouse Sew-Along? Was it what you thought it would be, and is there anything we should do differently next time?
This was my first time leading a Sew-Along, and I had a lot of fun! I enjoyed having an opportunity to chat with you guys. You all are so creative! We all made the same blouse, but created a hundred completely different versions. Some of them I wish were hanging in my closet! I still need to take photos of mine and post them, and there are a bunch of awesome versions around blog-world that I'd like to share here as well.
It was great to see where you got stuck, and where you had challenges. As I develop patterns, not only do I want them to be awesome-looking, flattering styles that you can make over and over again, but I want them to be easy to make on your own.
On that note, what didn't you like? I can take the critique, so please tell me! I want to make it better if I can. Especially because there may be something we can sew along together coming up soon!
Should we go faster? Slower? Break down the sewing steps into smaller bites? More information? Less information? Too much preparation before getting to sewing? Anything special you'd like to see? If there was a ten-star rating, what would you give the Pendrell Sew-Along?
At the Smart Car dealership, the guy always tells me, "You may be contacted for a survey on your service today. It uses a rating system from one to ten, and anything less than a ten means I fail." He's probably about my age, but always has the most serious face when he tells me this part. I always wonder if it's a dealership rule that anything less than ten is a fail, or if it's his own very high standards? Either way, I kind of like his theory, being a perfectionist myself. So what would make it a ten-star sew-along?
Or if you had a blast and thought the whole thing went splendidly, that's OK too! I'd love to hear your feedback!