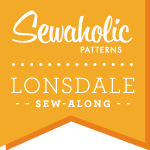 Hello Lonsdale Sew-Alongers! Now that the Sew-Along has ended – and before it's been so long that we all forget – I want to know: what did you think of the Lonsdale Sew-Along?
I want to make the sew-alongs better and better each time! Every time, there are so many positive, happy comments, so it looks like this feature is here to stay.
From the Pendrell Sew-Along feedback, I made sure to choose a fabric with a non-distracting print and a distinct right and wrong side. And from the Crescent Sew-Along feedback, I did more frequent, bite-size posts, and stuck to the schedule. (Great suggestions, by the way!)
One thing I really liked was asking to see your finished projects, and browsing the links to see all your lovely dresses. That was a good idea! And I heard that people kept returning to that post to see new projects that were added later on. Awesome!
This time, what did you like? What could we do better next time? Please leave comments if you have suggestions or feedback!