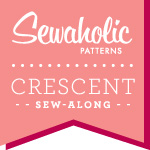 Hello Sew-Alongers! Now that the Sew-Along has ended, I want to know: what did you think of the Crescent Sew-Along?
I want to make the sew-alongs better and better each time – that is, if you still want to keep sewing along with me! I've already had a few votes for a third sew-along so it looks like this feature is here to stay.
From the Pendrell Sew-Along feedback, I used a better fabric, with a less distracting print and a distinct right and wrong side. (Great suggestions, by the way!)
I tried hard to throw in some non-Sew-Along posts in between sewing steps, but even I would have liked more of a mix. Next time, I will be more prepared and sew something completely different at the same time! A couple of you wanted to sew something more complex together, so I may not have been able to answer this suggestion, but there will be more challenging patterns to sew together in the future!
I feel like I may have been slow, but there was so much information to cover! I'm a detailed person, and I know that several people were beginners and needed the thorough explanations. I may never be able to post at the perfect pace for everyone!
Unless I wrote all of the posts BEFORE the pattern was released, and you could refer to them whenever you wanted to sew. Fast people could go fast, busy people or beginners could sew when they had the time. Technically, we wouldn't be sewing together but maybe that's the best way to please everyone?
This time, what did you like? What could we do better next time? Please leave comments if you have suggestions or feedback!
PS. Yesterday's dress is washed and ready to send to my sister in Ontario! Thanks for all of the feedback! I especially liked Lois's comment: "You don't need a good reason to "not like" something. Feelings don't have to make sense." So true! I also like Marie-Noelle's words of wisdom: "Life's too short to bother with a dress you don't feel comfortable with." Absolutely! Time to pack it up, and make room for something else! And Ms.Modiste had a similar conclusion – that clothing should be a gut feeling. I'm a big fan of going with my gut and trusting my instincts – and my gut is saying that my sister will look fabulous in this dress!