I've been asked a few times whether or not there will be a Sew-Along here for the Renfrew Top pattern. At this time, I'm not planning to do another sew-along. It's been a lot of fun doing sew-alongs on the blog, and thanks to everyone that has participated so far!
I've really enjoyed leading the last four sew-alongs. In fact, I'm rather impressed that we've done four sew-alongs together in the last year! We've had a lot of fun, shared tips and helped each other, and learned a lot along the way! It's been interesting as the pattern designer to see which sewing instructions are simple to follow and which parts cause confusion – great to know for future development! Not to mention, we sewed up some beautiful garments.
The sew-along blog posts will always be online if you haven't made a Pendrell, Crescent, Lonsdale, or Minoru yet. (Find them here. I'll update and add the Minoru posts when we're finished!) Together we've built a great resource full of tips and suggestions for future sewists/sewers/seamstresses to use! I feel like we've covered nearly every sewing topic – seam finishes, hemming, full bust adjustments, gathering, making muslins – you name it! Thank you all for your contributions and comments. Every bit of feedback makes each post that much more valuable to new readers.
Over the next month, I plan to update the Sewtionary with the tutorial posts, so they're easy to locate alphabetically. Zipper posts with the other zipper posts, seam finishing posts with the other seam finishing posts. It's been a while since I added to the Sewtionary and when I finally finish, it'll be better than ever!
If you're up to the challenge, and want to take on hosting a Renfrew Sew-Along, I'll gladly pass the torch! Or maybe do it as a group? You're welcome to use the Sewaholic Patterns Flickr Group to share photos and discuss sewing techniques and alternatives. There's a whole discussion feature that we've never used, but it's there! I'd be happy to promote it, mention it on the blog and encourage people to join in.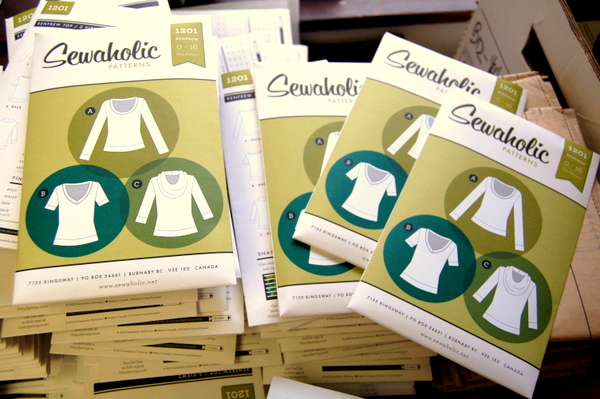 I'll leave it at that – let me know if you are interested in hosting a sew-along! This pattern sews up quickly and lends itself well to variations, so it's easy to customize the perfect tee. I'm looking forward to sharing inspiration and ideas for more Renfrew Tops, and seeing your interpretations of the pattern too!