Hey, everyone! I'm so glad you enjoyed Caroline's post on Monday. I'm excited to have a fresh face and voice here on the blog, she's got a great sense of style and plenty of enthusiasm!
Today I am letting you know about the Pyjama Party Live Video Chat that Karen and I are putting together on Friday! Yes, that's right, PJ-party participants will get to chat live with Karen and I, and show off their new PJ pants. It's hosted by Shindig, a new online platform for video chat in which we all move around the virtual room in little webcam bubbles.
It's pretty cool. Imagine a picture of a living room, where there are little windows all over the 'room' and each window opens up to show our faces. Like an advent calendar, but instead of chocolate, it's people. We can wave at each other, move around the room and it's like we're all in the same place, instead of on opposite sides of the world!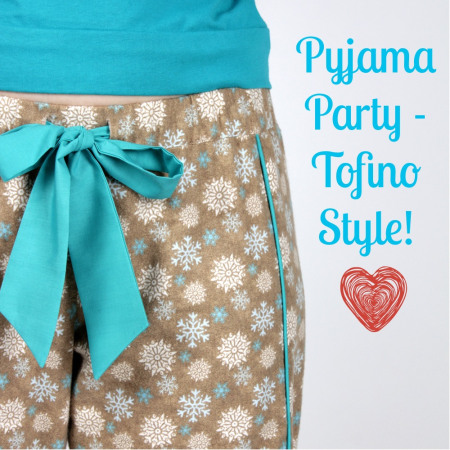 To make it easier to manage, Karen is taking questions ahead of time so we'll be all ready to do the Q&A for Friday's event. Karen will go through the Q's and I will provide the A's on Friday. Post questions for me on Karen's blog, Didyoumakethat, and we'll compile a list!
The live chat is going to be an hour long, on Friday the 21st at 12:30pm Vancouver time, which is 8.30pm London time. More details here, on Didyoumakethat!
I'm both excited and a little nervous to take part in this event. As you can see if you've been reading here for a while, I don't make or post videos on my blog or on YouTube. Partly because of technology as I have no idea how to edit videos, and partly because I prefer to be a behind-the-scenes kind of person. Events like this force me to step outside my comfort zone, and give something new a try. It was a lot of fun chatting with Karen during our test run, and the platform is very easy to use. Now I'm excited to seeing you guys in a virtual video chat room!
Thanks, Karen, for putting this together, and for gently encouraging me to give live video chat a try!