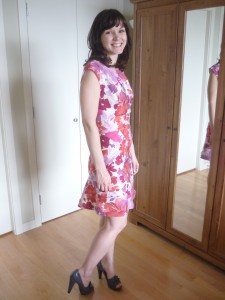 Ahh… a lovely spring day and a family dinner, the perfect occasion to test out my new Floral Dress! Here I am, trying to act natural while posing for the camera.
I took these pictures before we left and wrote up this post after we came back from dinner. I must say, after wearing this dress all evening, it's much better for standing in, than sitting in.
I found myself readjusting, to make sure the skirt was covering the lining, and both layers were covering my legs.
It was almost a relief when we sat down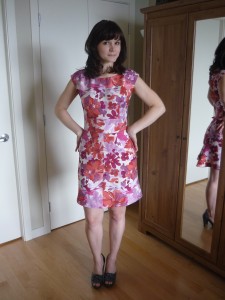 to dinner and my legs were hidden by the table!
I'm guessing it's the way the skirt is cut and how the seamlines join on the bias that makes it shift around. Something to think about if you're considering this pattern – and I'm not super tall either.
The back view is what really makes this dress. LOVE the knotted back! There's something satisfying about tying the knot in the bodice and sewing around it.
And the seaming on the skirt  is rather flattering. I'm more of a pear shape, and it skims nicely over the hips without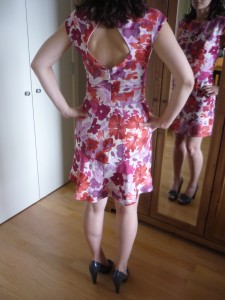 drawing too much attention to the area!
It's slim fitting without being too tight, just enough of an A-line to hug and flatter curves. The midriff band fits, without being too constricting either. You can wear this dress and still eat a full meal!
Anyways, I'll definitely make this one again! Maybe an inch or two longer, just for safety's sake…