How do you prepare coat fabric? I'm talking about wool or wool-blend coating fabrics, like the coating I'm using for the Seventies Wrap Coat. Do you pre-wash them? If you're planning to dry-clean the finished garment, do you pre-dryclean them?
I usually pre-steam my fabrics. I steam the heck out of them and hope for the best, knowing I'm always going to dry-clean the finished coat. Want to hear something wild? I had this fabric up on the ironing board, iron hovering about an inch over the fabric, and the selvage was moving! Literally, I could watch the fabric shrink as the edges moved inwards. Imagine if I hadn't bothered pre-treating the fabric and it shrank as I sewed and pressed my seams? So glad I tested it out!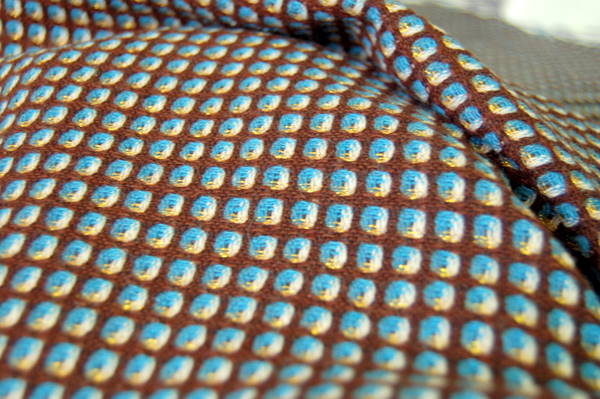 If this happens to you, pre-steam the whole piece of fabric. You'll be doing a ton of ironing on a coat project, you can't hide it from the heat and steam of the iron!
Here's what I do:
Set the iron on the wool setting. This is probably the lowest setting before the steam turns off. If you dialed it any cooler, it would be steam-free and into the silk and synthetics settings.
Steam, don't press. I like to hover the iron over the fabric instead of touching it to the fabric. I'm hovering about an inch over the fabric. Especially with this fabric, there's a bit of gold thread that's probably nylon or some type of synthetic. We know this because wool isn't shiny and metallic. If you have specks of gold or metallic in your fabric, handle and press with care!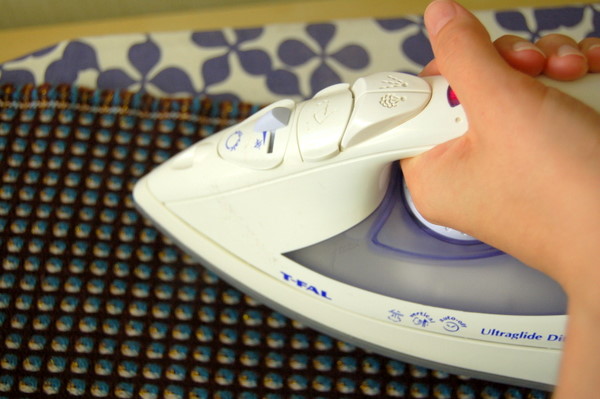 (This is a terrible photo! I'm taking it with my right hand and awkwardly holding the iron with my left…but I hope you get the idea!)
Cover every inch of the fabric. You want to make sure every bit of your fabric is steamed and shrunk, so it doesn't happen after cutting! Before cutting, you're fine. You'll cut pieces out of the smaller, shrunken fabric. After cutting your pieces will shrink down and not fit!
Keep water handy. I used up all the water in my iron going across the width of my fabric once. One iron-size width, if that makes sense. Luckily I'm right by the lunchroom so I can keep refilling and refilling the iron! A water bottle is handy for refilling the iron. (I am using a plastic cup. Less easy, more spillage.)
Watch your hands. Steam gets really hot! Put down the iron if it starts to burn your hands, wait, and start again in a minute or two. This is also good for my iron in particular because it needs to re-heat itself after a little while. Put it down, let it heat back up while your hands cool off.
Be patient! Because I am impatient, too, and want to get to the sewing already! This will feel like it takes forever if you're making a long coat. (It feels like forever for me right now!) Remember, we're making sure our finished coat doesn't shrink or distort as we sew. It's worth it to take the extra time now!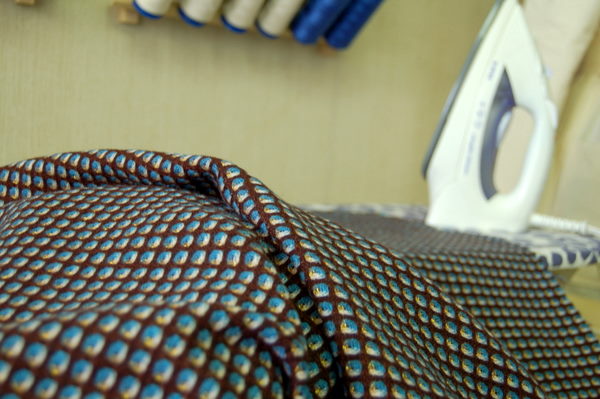 That's what I do on projects using wool or wool-blend coating to ensure they don't shrink while I sew, or worse, after the project is finished! And so far, it's been a fairly successful and fairly fast process.
What do you do? Do you pre-treat your wool coating fabrics at all, and if so, what steps do you take?