Thank you all for the wonderful feedback and comments on last week's post, What Do You Like Best About Sewing Blogs? I read every single comment and enjoyed every one of them!
What I loved most was the realization that everyone's reading for different reasons. Whether it's seeking inspiration, connecting with other people who sew, or searching out the answer to a very specific sewing problem, we may read the same posts but take something different away from it! If you've been in a slump, seeing a gorgeous-but-simple-to-make project might get you back in front of the sewing machine again. The same post might inspire someone else to try sewing the same pattern, or use a similar fabric. And another person might have finally found the solution to hemming that tricky fabric they've been working on!
Want to know the results of last week's poll? In case you saw the poll early on, and wondered what happened afterwards, here's a re-cap.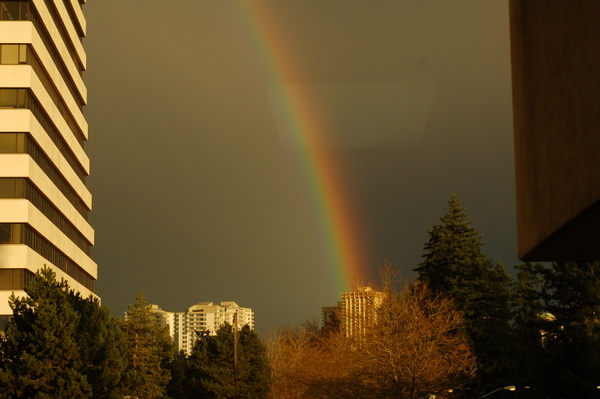 (here's also a dark rainbow, so this post has a picture! Pretty, isn't it? I like the floating rectangle in the sky, a reflection of the overhead light in here)

Finished Projects. You guys want to see other people making stuff! I understand that, of course. I love seeing finished projects! 83% of people who responded to the poll said they'd like to see finished projects on sewing blogs.
Tutorials, Tips and How-To Posts. You like to learn new things, too! 86% of readers like to read tutorial posts. For most of the day, these two topics were tied! I think people would vote for both at once, that's why.
I am surprised that many people want to see work in progress. 44% of you would like to see WIP posts, especially if there's notes about decisions made or problems encountered. At this stage of a project, this is when the notes and thoughts are fresh in our mind, so it's a good time to note them down and blog them if we blog. I know that mid-project, I'm thinking all kinds of thoughts about what I want to try next time, or if there's a great finishing technique, or a surprising construction method. Once the project is done, most of those thoughts seem to vanish from my mind and all I see is the finished product.
Q&A posts and Inspiration posts are interesting, but not your favourite. Many of you commented that all of these things are great in moderation, but if someone started writing nothing but inspiration posts, it would get dull. (And predictable!)
Behind the Scenes: you guys would like to see more! 46% of you want to know what happens here at Sewaholic Patterns home base, besides the things I post about already. I'm flattered really, and I hope that if I do share more on the design process, or running the business, that it won't bore the rest of you who are really only interested in sewing stuff.
Last Place, Life Stories. Only 30% of readers want to hear about our everyday lives. I think that way less than 30% of my blog content focuses on my life. One or two posts about bicycles, vacations and other life events are in the mix, but it's definitely not my focus.
So I've summed it up with these words: make something, and show me how! Because that's basically what we want to see on sewing blogs: sewing. Sewing in action, and the results of sewing, both good and bad.
Here's a link to the poll if you are interested. Are you surprised by these results or do they seem logical to you?