I had my fall sewing plans laid out nicely, and felt pretty good about my small reasonable list! Then I stopped by the fabric store to get snaps and lining… and a fabric on the sale table caught my eye. You can guess what happens from there!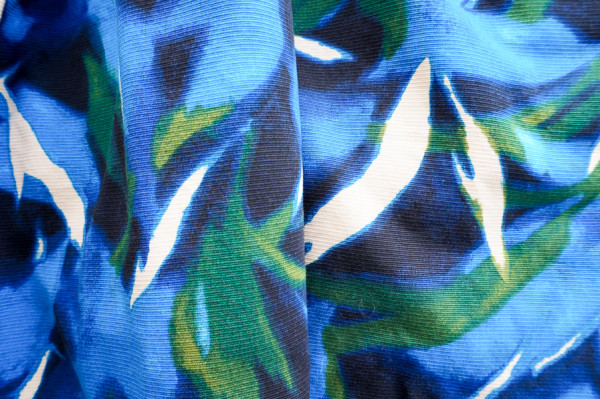 This beautiful floral was on the 50 percent off table. It's dark enough that it doesn't say summer and it'll work with black tights, my fall staple.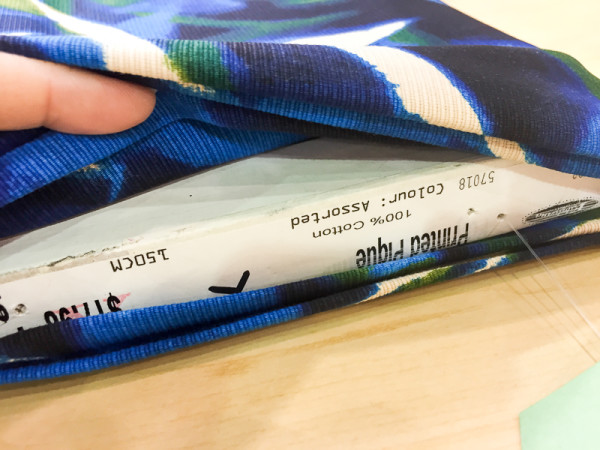 Now is a good time to mention another tip about fabric shopping: take a photograph of the bolt label!
It's easy to forget the exact content if the fabric isn't 100% cotton or 100% polyester. You also get useful information like the name of the fabric, sometimes the same manufacturer will use the same base for other prints and it's good to know which fabric qualities you like and which you don't. I don't always remember to do this, but when I do and I save the photograph in a useful spot, it's a good reference to have.
I thought I'd wander the rest of the store and make sure I wasn't missing anything else.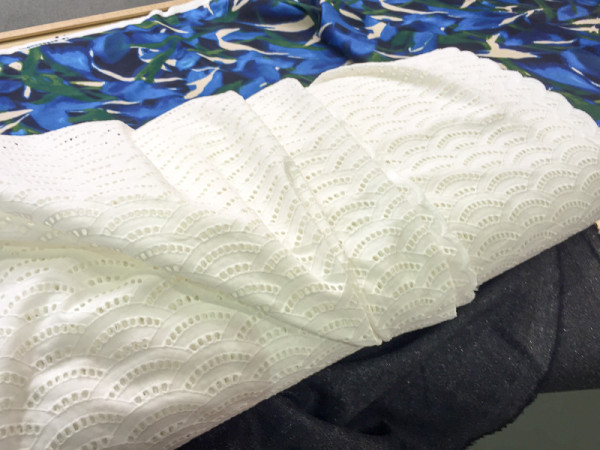 When you sew a bright floral skirt, it's best if you already know what top you'll wear it with. This cream eyelet isn't too flowery and I like to wear a light colour on top, so it works with the print. I'll line it with cream cotton voile to avoid the holes showing actual skin and seam allowances.
I was done and ready to leave after that. I had two pieces of fabric that I didn't come in for and I thought I'd get out of the store before more came home with me… until I saw this!
Stretch wool tweed? Yes please! I'd been wanting to sew a dark black jacket but so many of the black fabric I looked at were too shiny, too flat or too fuzzy. This was perfect! Not to mention there are little flecks of blue, making it both interesting and adding a subtle tie-in to the blue print skirt. I've lightened the photo so you can see the tweed and flecks of blue, but it's quite subtle.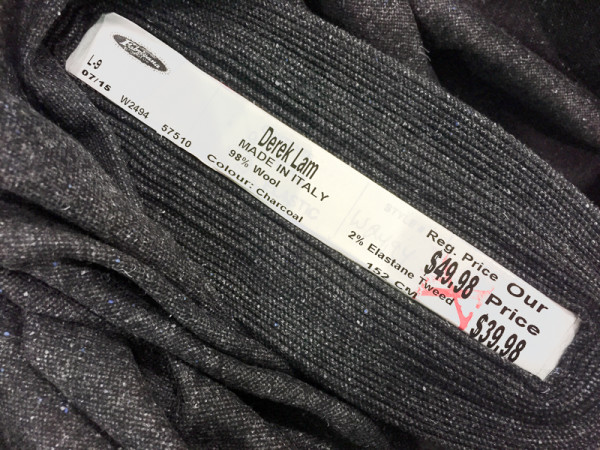 Designer, too! Made in Italy. Expensive, but really nice. And for a fitted, short, jacket, you don't need a lot of fabric. I think a $40/metre price tag is definitely on the high end, until you consider that the jacket takes less than 2 metres, less than $80 in fabric. Back to why I love sewing jackets: I couldn't buy a well-made wool jacket for that price! (I know, labour is part of the price, but that's a whole different story. Let's just consider the cost that comes out of pocket.)
I chose bright blue lining for the jacket to bring out the flecks and to look nice with the skirt.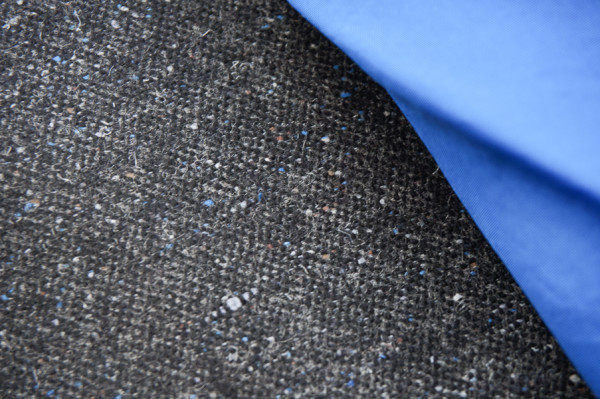 It's a good plan, to sew three pieces that work together as an outfit but are versatile on their own. The dark jacket goes with everything! An eyelet top is pretty with jeans, dark or coloured trousers, printed skirts. The skirt will look great with sweaters and tights.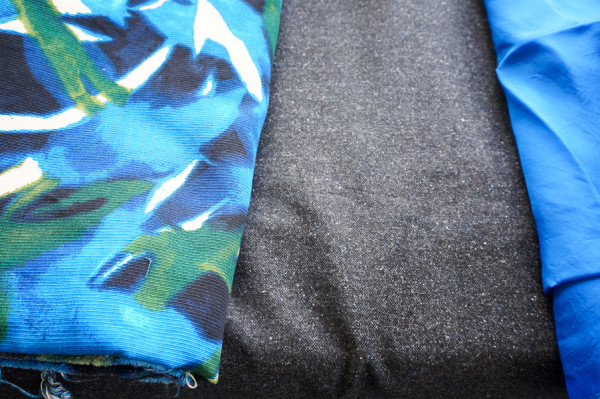 I decided the concept was worth blogging about: the idea of shopping for fabric by outfit.
I rarely shop for fabric by outfit, but I can see the appeal. It does simplify your wardrobe if you finish all the planned pieces. You know that the next three things you sew go together, and there's no worry that you're just sewing cool things that match with nothing else.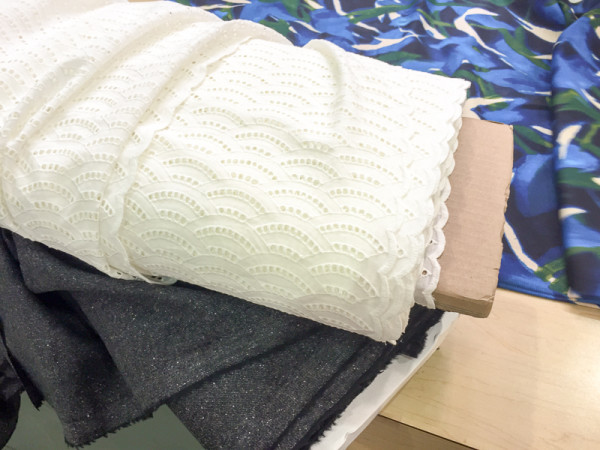 A long time ago I read about the rule of three, that you should choose fabrics three at a time in coordinating colours and textures. That used to seem extravagant to me, but now I can see the logic. Even if the planned skirt fabric becomes a blouse, and the planned jacket fabric gets sewn into a skirt, you'll end up with an outfit of some sort.
Tips for planning sewing projects by outfit:
Consider each item on its own. Cream eyelet blouse? Sounds good, as it works with jeans, trousers or any colour of skirt. Printed floral skirt? Exactly something I would wear, also works with grey or cream sweaters. Dark tweed jacket? Can't go wrong! It'll go with just about any colour or print blouse. An example of what might not work as well is a bright blue jacket to match the blue print skirt. It'll go with the one skirt, but would it go with anything else?
Choose fabrics that suit the same season. I'm bending the rule a little here, as light cotton eyelet and charcoal wool tweed don't exactly match, but I think an eyelet blouse works for early fall. However, if it was a eyelet skirt and a wool jacket, that's more of a mismatch. Or a light-coloured printed skirt that doesn't look good with dark tights.
Mix textures. In this case I have a printed skirt with a bit of a ribbed texture, an eyelet blouse and a tweed jacket. If all of these pieces were similar in texture, say a cotton sateen skirt, a cotton sateen jacket, and a cotton voile blouse, it could look a bit flat. Tweed jackets and satin blouses make a nice mix, or wool flannel and chiffon.
I'm excited to sew this outfit I have planned! It feels like smart shopping to do it this way. Three pieces that look awesome together, and equally great on their own. Do you ever shop for fabric by outfit – and do you end up actually sewing the outfit as planned or does the fabric get used for different things?