Hey, another sweater! This is my first sweater with more to it than just miles and miles of basic stockinette (plain knitting) stitches. This is also the last of the knitting project updates for a while. We'll be back to sewing content very soon!
The pattern is Petra, by Quince and Co. Quince and Co puts out a new pattern every week! As a pattern designer, I'm impressed by that. Imagine if I could put out a new pattern each week! I know, knitting patterns work differently, but it's still impressive to see the constant flow of exciting new stuff.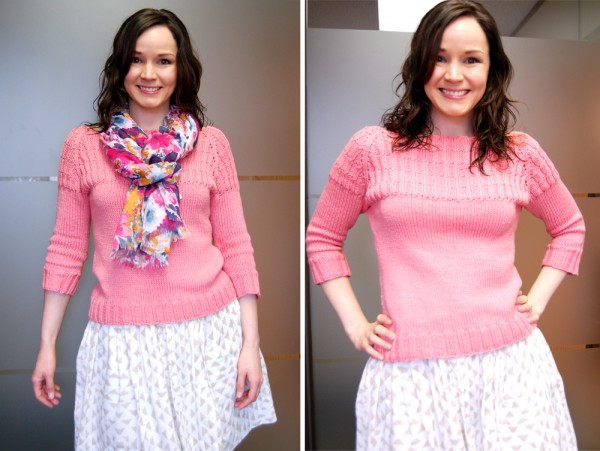 The yarn is a cotton and wool blend from Spud and Chloe. Watermelon is the name of the colour, and I almost picked the turquoise instead but the shop staff told me this colour was pretty on me. (As I'm holding up first the turquoise, then the watermelon up to my face in the mirror…) I'm a sucker for compliments, so I went for the watermelon yarn.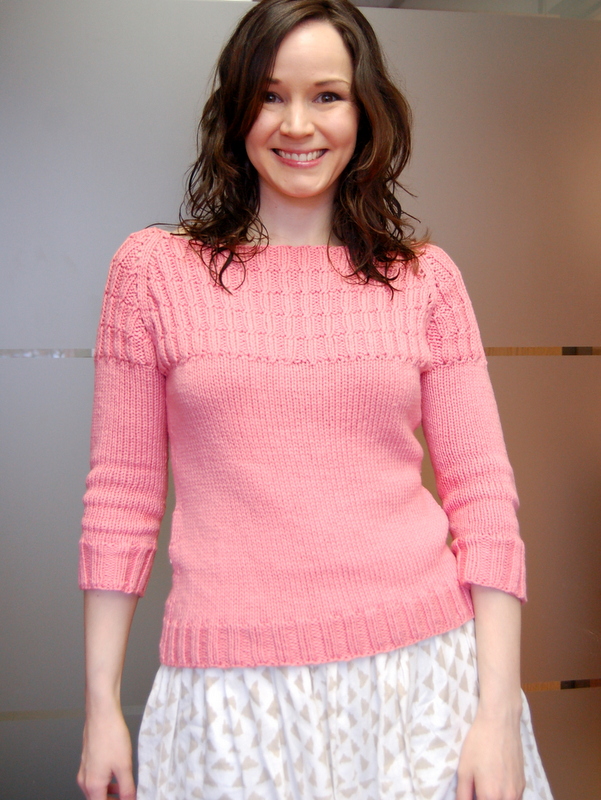 Here is the link to my Ravelry notes if you're interested. That's four sweaters so far! Hurrah! I had a friend tell me that I'm inspiring her to take up knitting. It's my life goal to inspire people to knit and sew, and she already sews, so that's one less person to convert! (Just kidding.. sort of!)
The funny thing about knitting with cotton/wool, after knitting with 100% wool is that the cotton blend doesn't stretch and spring quite as much. So I found myself pulling harder on the yarn to try and make it springy, which ended up hurting my hands a little. Originally I was pretty excited about this yarn, I loved the colour and thought cotton and wool would be a good idea for the summer.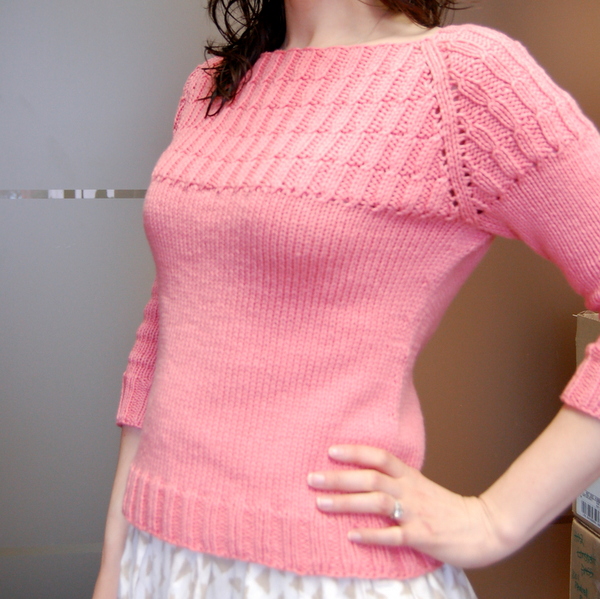 This is a good pattern. I like that it adds texture and interest up at the shoulders, emphasizing them to balance out the hips. Easy enough and once the yoke is done, it's back to miles and miles of plain stockinette knitting. Great for watching movies!
So here's the thing, this sweater grew. It grew after blocking, and grew and grew throughout the day as I wore it. These photos were taken at the beginning of the day (note the wet hair tips from a rainy bike ride!) and after only ten minutes of photo-taking I could feel the sweater getting looser. By the end of the day, I rode my bike home wearing a pink off-the-shoulder sweater. (Random side note: people are nicer on the road when you wear pink. Or a poofy skirt. I'd guess it's because I'm obviously female that way, and people are being courteous? Any other cyclists notice this too?)
Mr Sewaholic said it was impressive that over the last year, I hadn't knit up any major failures. (Yet. Although, with knitting, you can always turn it back into a ball of yarn and start over, instead of declaring it a dud.) Even then I wouldn't consider this a complete failure, I'll have to style it like an oversize, off-the-shoulder sweater. Ballet-dancer style.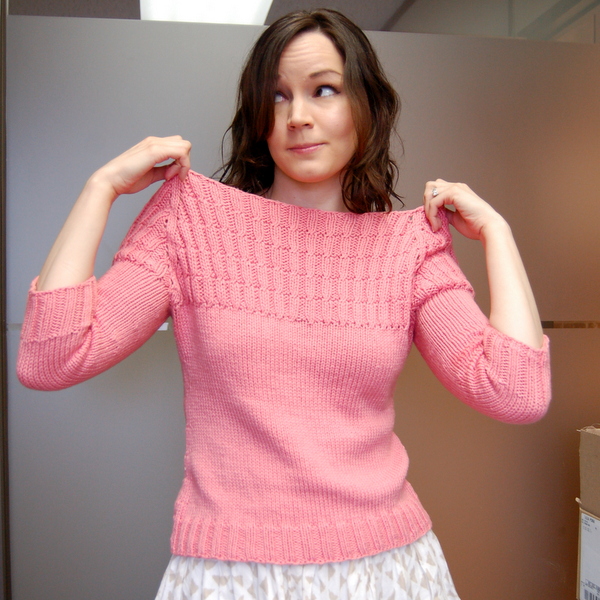 This is an example of how you can do all the proper planning, figure out the right sizing and make a garment to match your exact specifications, and have it still not work out as planned. Not only did the neckline grow to be even larger than the body, but the elbows left elbow-sag marks on the outside, wrinkles on the inner elbow. I bet it wouldn't do that in the right yarn. I'll have to make this one again using the recommended yarn – that's the chance we take when we try something other than the recommended materials!
I've had this happen with pants (major sag after wearing – some that required a washing after each wear to shrink them back to shape) but not often with things I've sewn for myself. Maybe it's because I prefer stable fabrics, where it's easy to predict what might happen after wearing and washing. I've bought tee shirts in the past where the sideseams work their way around your body because they were cut off-grain. These are the kinds of factors we try to eliminate on our sewing projects, as much as possible!
Have you ever made something (knit or sewn) that completely changed after wearing?