Happy St Patrick's Day, everyone! Are you wearing green? Yesterday's presentation went unbelievably well. I passed Phase 1 of my Self Employment program and now move on to Phase 2. Success!
I was the last presentation of the day, and as soon as I started talking I immediately relaxed. The reviewers were wonderful, making me feel at ease, and it ended up being more like a conversation! I wore my rose-print Pendrell blouse, brought samples of my patterns, and talked a lot about what I'd done so far. After the presentation, I waited in the hallway to find out whether I'd made it or not, because if you don't pass, that's the end of the road! But I made it, yay!
The best part of yesterday? The awesome feedback from the review panel. They came up with some really great ideas that I hadn't thought of! Big things are going to happen around here, and I am jumping up and down with the excitement of it all!
Thanks for all of the awesome, encouraging notes on Twitter and Facebook. Social media kind of rocks, when I can say something like 'Success!' and see instant messages saying 'Congrats!' It's a big world, but we're all connected by our love of sewing. Or something like that!
Phase Two begins on Monday and it's a month full of seminars, where we learn from all kinds of people. Accountants, lawyers, a whole variety of business professionals are going to come share their knowledge with us. I'll find out more Monday morning!
Seminars are every day, so I'll be really busy but hopefully will learn a ton. I might post a little less frequently but I will try to keep up the pace! I never run out of things to say, it's getting it all down in a post that's the challenge. And photographed.
Speaking of photographs, here's one for this post.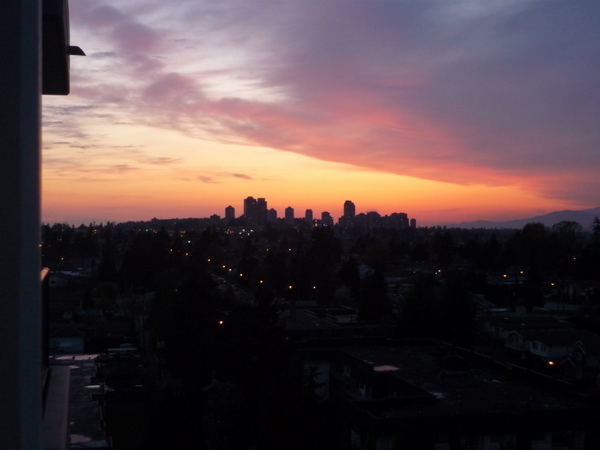 Sunset from the balcony, looking towards downtown Vancouver. Pretty! (Aren't you glad I spared you a cheesy picture of 'Success?' I looked for one!)
Wish me luck and I'll keep you all posted on what I'm doing!