Happy Monday, everyone! Today's the first day of our Pendrell Blouse sew-along. To get us started, I made up a schedule for all of the stages before we get to sewing, so you know what's coming! Some of you speed-racers might find the schedule a tad slow, but I wanted to make sure the beginners aren't overwhelmed.
This week, here's what we'll cover:
Prewashing your Fabric
Measuring and Choosing Your Size
Pattern Adjustments: Lengthening or Shortening the Blouse
Pattern Adjustments: Narrowing the hip width
Pattern Adjustments: Full Bust Adjustment (FBA)
Pattern Adjustments: Making the Blouse into a Dress
I realize that's more posts than there are days in the week! So these posts will come over the next week and a half. We'll start cutting next week. I also have plans to talk about underlining your blouse as well, before the cutting and sewing starts. Anything else you'd like to see in the pre-cutting stages?
You'll need the following tools and supplies:
Pendrell Blouse Pattern. (Click here to order yours!)
Fabric for your blouse
Matching thread
Pins
Scissors – both for paper and for fabric
Tape measure
Your favourite marking tools, or a hand-sewing needle to make tailor's tacks
Regular sewing tools: sewing machine, iron, ironing board
This blouse luckily doesn't require a lot of notions, which is nice! Just thread and fabric and you're set.
Sew-along page:
I created a 'Sew-Alongs' page! You can find it along the top menu bar next to the Sewtionary. Right now it has the schedule and a few links, but as we go I'll add links to each Sew-Along post. This way, you'll be able to find all of the Pendrell Sew-Along posts in one easy place.
Plus, it's a great way to find out when the next sew-along is planned and when it begins! One page, with all of the sew-along info for easy reference.
Yes, we have a Sew-Along badge!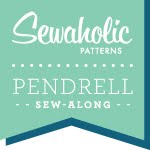 Pretty! Right-click the image to save it to your computer. If you'd like to add a link to your badge, use this one to find all of the Pendrell Sew-Along posts quickly and easily!
http://sewaholic.net/tag/pendrell-blouse-sew-along
Also, I'm curious – how many people are sewing along? It's going to be a fun couple of weeks here, full of useful information and helpful tutorials. Seems to be sew-along season in blog-world, so I'm happy you've chosen to follow along with mine!