Hey everyone! Just a quick post to let you know that the Pattern Store is undergoing a bit of maintenance. It looks a little strange now – the major difference being that it's only half the page width instead of going full across the page – but it does work and allow you to place orders, thankfully! So it works, it just looks a little different than usual.
There was a software update that required quite a large amount of work behind the scenes. And as you may have guessed, I know sewing, but I don't know the behind of a computer nearly as well. So it's been a bit of work getting things back to normal.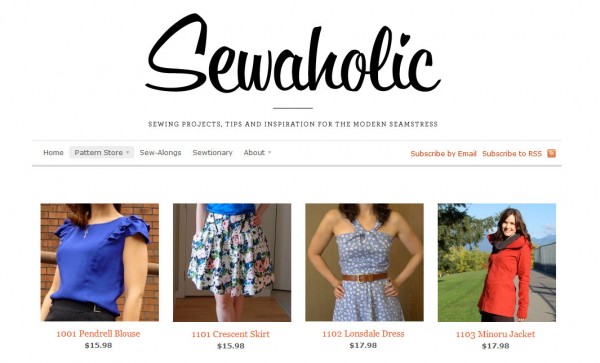 (here's what the pattern store normally looks like!)
I apologize if you've tried to place an order in the last 24 hours and been told your country was not an option! All countries are always available as options here at Sewaholic Patterns. I have fixed up the country settings and all should be working now. In fact, you can now order patterns to ship to 230+ different countries instead of the previous 90-something, so this update is a really good thing!
Still having problems with the pattern store or the shopping cart? Let me know and we'll work it out. Thanks for your understanding!