Happy Sunday, everyone! Hope you're having a fun and productive weekend so far, especially the Sew-Alongers! I enjoyed all of the cape-love on Friday, and was thrilled to hear from so many cape-fans out there. So what if it's not the most serious or practical piece of outerwear? It's going to be great fun to wear!
I just stopped in to point out that I've added a PDF version of the Envelope Back to the Pendrell Blouse store page. I received feedback that it was hard to read the measurement chart, as the slideshow doesn't hold still for long enough! Makes sense to me.
I enlisted the help of my tech-savvy Mr Sewaholic, who found me a solution. Yay! Now it will be easy to add PDF envelope-back files for future patterns.
Even if you already bought the pattern, the PDF files can be helpful! It's easy to print off a copy for taking to the fabric store. Plus, if your cell phone has internet access, the PDF files are handy when you're in the fabric store but left the blouse pattern at home. (I have an iPhone, and I even was able to save the PDF to iBooks so now it's there whenever I need it. Pretty cool, don't you think?)
Here's where to find the PDF links, if you need them: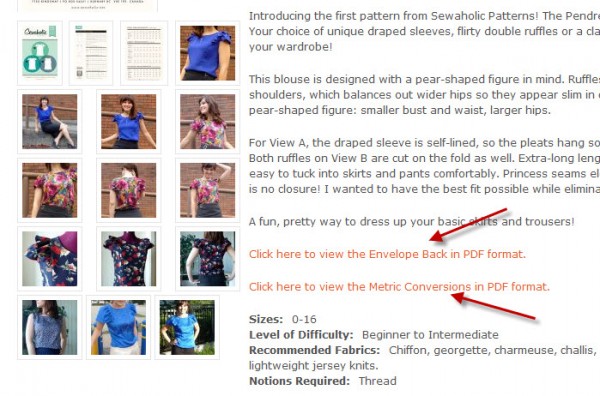 Speaking of future patterns, are you part of the Sewaholic Patterns mailing list? Click here to join!
No spam, I promise. Just occasional notice of sales, new patterns, and special offers – only good stuff! I've shuffled things around and lost the page with the mailing list sign-up, so I thought I'd post the link again. Totally optional, of course, but a great way to be in on special offers and deals!
That's all for now – I'll be back with the next chapter in the Pendrell Sew-Along tomorrow!