Why do people fear sewing pants? The number one answer is likely fit. After all, the actual sewing part of making pants is easy to master. Starting with a pants pattern that is close to your proportions is a good idea – like the new Thurlow pattern!
Pants are considered one of the hardest things to fit. Just think of how many parts of the body are involved: legs, hips, crotches, thighs – that's a lot of curves! If you're shaped like me, it sure is a challenge to buy ready-to-wear pants that will accommodate fuller tights and wide hips, but still fit properly at the waistline. And that's why we sew – we can work on fixing all of the usual fitting woes on our own trousers!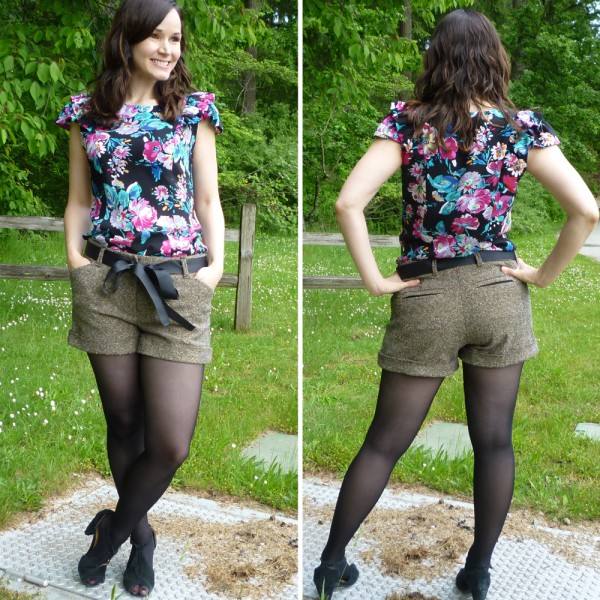 (the first pair of shorts where I've been happy with the fit!)
I thought I'd put together a list of fitting resources for trousers/pants/shorts. Many of you have requested fitting tips, so I hope this helps you get started!
Fitting Resources for Pants:
The team at Colette Patterns put together a series of posts on fitting pants last Fall. These two posts will help point you in the right direction:
A Fashionable Stitch hosted a trouser sew-along with plenty of trouser fitting and alteration tips! I included all of the links below for your reference:
Sewing Pants that Fit (from the Singer Sewing Reference Library) I like this book because of the 'bad pants photos' – you know, the photos that demonstrate a poorly-fitting pair of pants, and then the correction. Being able to compare your photos to the photos in the book with similar straining or puckering seams makes it easier to identify what might be wrong with your pants. The trousers shown are a little dated, but the concepts are the same.
Pants for Real People. I've never used this book myself, but I've heard good reviews about the fitting methods. If it's anything like Fit for Real People, it will likely use tissue-fitting and measurements to get a good fit, and not recommend the use of a muslin. (Have you used this book as a fitting reference? What did you think?)
Do you have any suggestions to add, or recommendations? Which of these methods was useful to you? I'd love to hear your thoughts and experience on fitting trousers!