Can you see the owls in my sweater?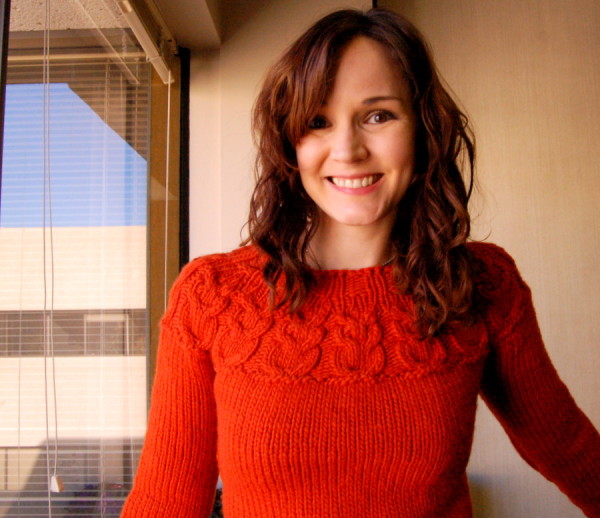 There they are! Owl-shaped cables form the yoke of this sweater. See their little feet, lined up in a row?
You know, some people hate orange, yet it looks really good on me. Since this is a sewing blog and we talk a lot about flattery and colour and such, I feel comfortable saying so without you thinking I'm full of myself. I look fantastic in orange, it makes my skin glow! Orange all the way!
Anyways, the sweater. It's Kate Davies's Owls sweater, Ravelry notes here, and to be honest I didn't like it that much until I took these photos. The sweater itself is about ¼" thick. I find it a little heavy and dense to wear. It takes a bit of adjusting to get the sleeves straight when putting it on. I liked it well enough, but wasn't pumped to wear it. Until I saw how well it fits and how flattering the colour is. Now I quite like it!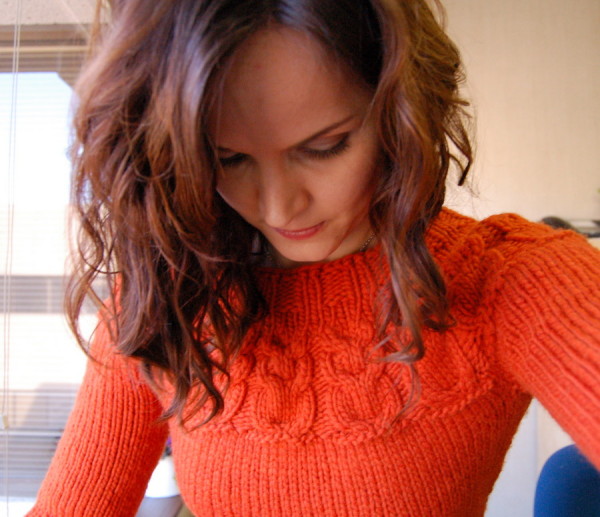 The cables around the yoke are shaped like owls, with little ears pointing up into the ribbing. You're supposed to sew on buttons for owl eyes but I wanted my owls sweater to be less literal.
The yarn is Puffin, from Quince & Co in colour Nasturtium. There's a lot of orange in my knitting projects! I swear I forget what I've already bought, so when it comes to choosing yarn I'm like 'oooh, orange!' all over again. (Brace yourself for more orange knitted things coming up.)
For a chunky, bulky sweater, it's quite flattering and doesn't look lumpy when on. In these photos (unless you knit and might count the stitches) it doesn't look like a bulky yarn sweater. And it is super warm.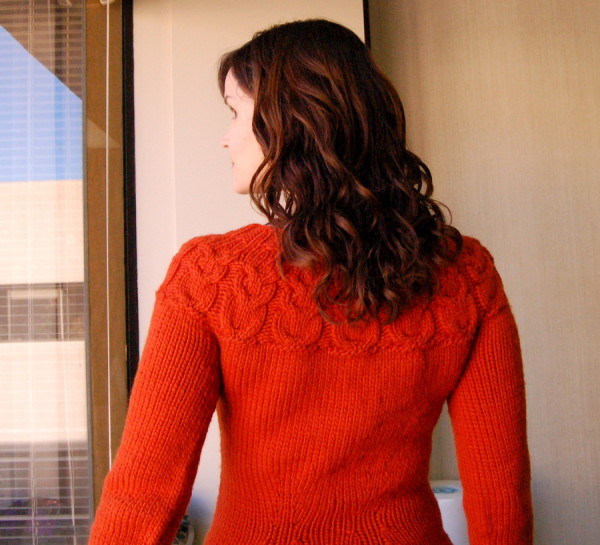 There are these neat back darts for shaping. They are in the perfect spot for me, curving in at the back waist where I curve in. I know other people have mentioned this back shaping doesn't work for their body shape, but luckily it worked well for my shape.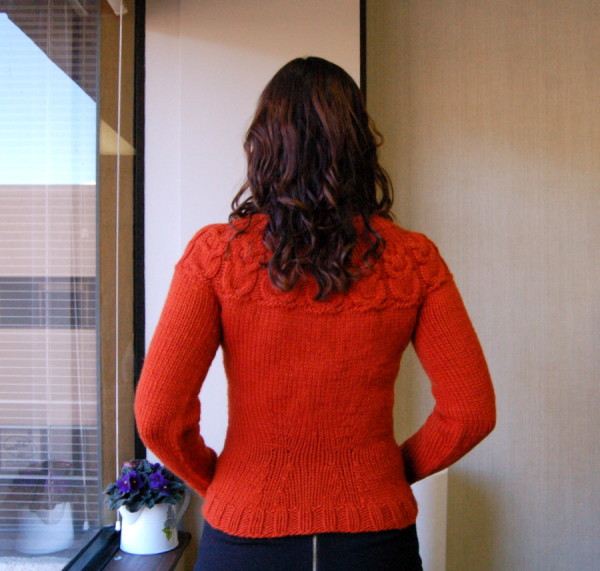 (African violet! Still alive over two years since I got it, major success in my world..)

Overall, a nice-looking sweater. I wouldn't normally wear orange with black but that's what I was wearing the day I took these photos. Surprisingly I don't hate it, but I think I'd wear this sweater with navy, charcoal grey, or denim.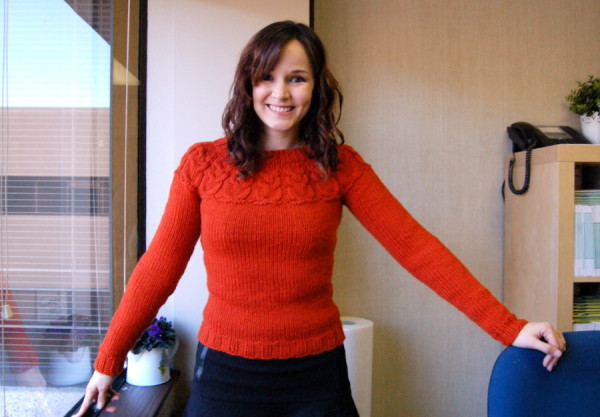 I had originally planned to use this yarn for something else, but it didn't work out. Which meant I had more yarn leftover…so I made a matching cowl!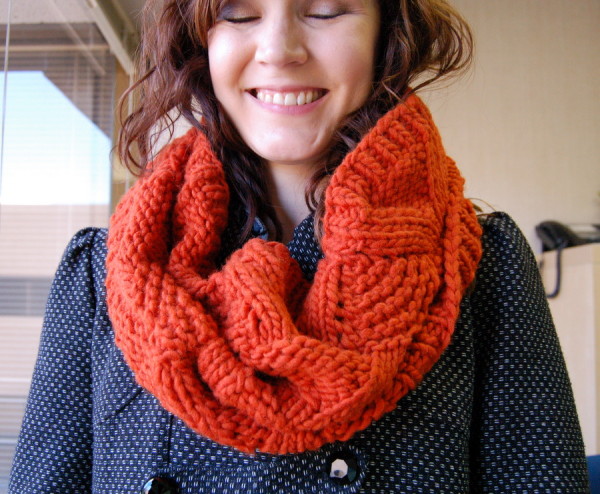 My face is a bit ridiculous in this photo, but I like it because I look happy. Pattern is the State Street Cowl (Ravelry notes here) and it hangs fairly loosely around the neck in a dramatic way. I like it.
I can wear both pieces together for extra warmth. It got really hot taking these photos though, and even though they turned out blurry I didn't want to put the whole thing back on again! But you get the idea…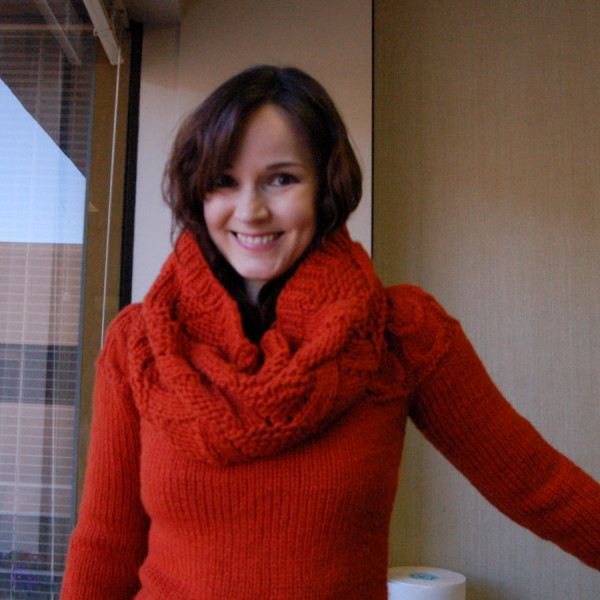 What do you think: orange, yes or no? Bulky sweaters, for or against them? Matching accessories to your sweaters, good idea or too much? Have you ever made something that you were lukewarm about until you saw yourself in it?