I just finished reading Overdressed: The Shockingly High Cost of Cheap Fashion, by Elizabeth Cline, and I'm full of thoughts about it. Have you read it? It's a look at cheap fashion and its effect on the clothing we buy.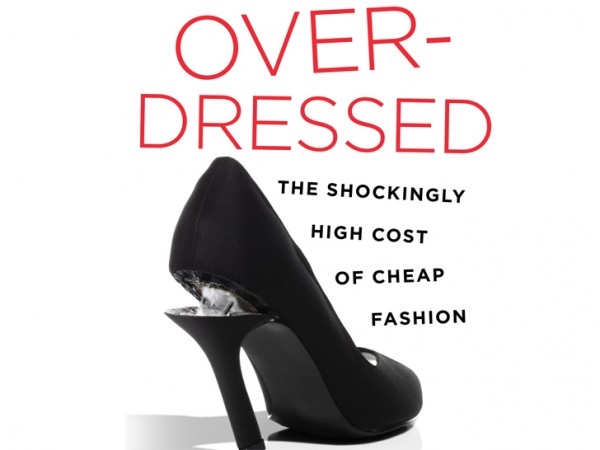 (source)
If not, and you're interested in clothing, or knowing more about the products you buy and where they come from, you might enjoy it!
Then again, you might not feel great after reading it. Sometimes learning more about how things are made can make you feel powerless, like we have no control over what big companies do. Like we're doomed to malls full of generic clothing, low-quality fabrics and brands that believe fit isn't important.
I don't want to get on a soapbox here, as we're all responsible for making our own choices about what we wear and buy. (I ended up talking about cheap fashion at a social gathering and tried really hard not to sound preachy, it's hard not to burst forth with emotion when I feel strongly about something!) The most important thing I took from the book is to vote with our wallets. What we buy says something about what we believe in. I can say I love high-quality fabrics, but if I refuse to pay full-price and only shop discount stores, that says something. I can say I want to support independent companies, but if I frequently buy at big-box stores then I'm being inconsistent. Whenever I'm doing things that match my beliefs, I feel good. I'm confident in my decisions, and I don't feel any regret about my choices.
As people who sew, we have a lot more options than people who only shop for clothing. If you can't make your own clothing, someone else has to make it for you. And these days, clothing is so cheap in stores. Kind of like the fast-food of fashion, really. Cheap, not great quality, encouraging over-consumption, and causing stress on our environment.
I do love that the author mentions sewing as a great way to take control over our wardrobes. Not only can we make unique garments from scratch, we can alter, mend, and re-fashion our clothing. Our clothing will fit better, last longer and look like no one else's. The more we sew, the more we develop a good eye for quality in garments. I usually want to see the inside of a garment to examine the construction before even thinking about buying it!
She talks about the special connection we have with clothing we've made by hand. I remember what was happening in my life as I've worked on certain sewing projects. I remember movies I watched and conversations I had while knitting. There's a story to the handmade garments in my closet, yarn bought on holidays, fabric I fell in love with at first sight.
Another thought that's stood out for me is to consider what will happen to the clothing you wear when you're done with it. How long do you plan on wearing something? What do you do when you're tired of it? One answer is to make things you plan to love for a long time, not trendy items that don't suit your style. Make items that fit into your real life, like skirts you can bicycle in and flattering dresses – that is, if you're me. Your needs are probably different!
The truth is that not all clothing donated to thrift stores actually sells and gets re-worn. I've started to think about an 'exit plan' for my clothing – what will I do with this dress when it wears out? Can I re-make it into a skirt, or work pieces of it into smaller projects? Can I cut a worn-out shirt into facings for a new project? Many of you guys are much better at this than me, but now that it's in my mind I want to reduce the amount of waste that I personally contribute.
If you've read the book, what did you think? How did it affect how you think about sewing and clothing in general? If you haven't read it, it's very interesting. I'd definitely recommend it!