Do you know how much fabric is unwanted from the local manufacturing industry? I used to work in the apparel industry, so I know how much fabric, notions and trims can be left over after a production season. (A lot!) It depends on the company of course, but from my experience there's frequently plenty of fabric left over.
This happens because of several reasons: buying minimums (a company needs to order a minimum of1000 metres but only needs 850 metres to produce the line), shipping overages (fabric companies are allowed to send up to 10% extra, so if you only wanted 200 yards they might send you 220!) and changes in production (as sales come in, some colours are less popular than predicted so you'll end up with more orange fabric leftover and not enough navy blue.) Do you find this interesting? It's all part of the many factors that a clothing company has to consider when producing a line!
Anyways, enough about that. The point is, there is waste, a lot of it. And there's a new, wonderful non-profit organization based in Vancouver, BC that is collecting all of this unwanted fabric and helping it find a new and happy home with someone who can make use of it.
Here's the official 'About' from the website:
About Our Social Fabric

Our Social Fabric is a non-profit Vancouver group that helps recycle excess fabric from manufacturers, the movie industry, and more. Through monthly sales, we put the fabric into the hands of creators in our community.

Our storage unit at 1631 Powell Street is full of fabulous fabrics rescued from the landfill and ready to be repurposed! Most are high quality sample fabrics donated directly to us from the film industry, factories, and production facilities. The fabric is still on the bolt and unused. We have a wide variety of wools, cottons, linens, polyester blends, and technical fabrics from places such as Lululemon and Mountain Equipment Co-op.

We recycle fabric by holding monthly fill-a-bag fabric sales out of our storage unit in East Vancouver. Fabric sales are staffed by volunteers, and proceeds go to maintaining the storage unit and keeping it available for donations while we grow our organization and develop related programs.

And in the future, we hope to get involved in textile shredding and remanufacturing, while providing employment and social reintegration opportunities for Downtown Eastside residents.
What a great concept! I love the idea of connecting this unused fabric with the right people, who'd be so excited to score a good deal and help reduce textile waste. Fabric that's no longer 'current' or useful to the fashion industry is perfectly useful to us, right? And who doesn't love the thrill of the hunt, especially when it's a good deal?
This is especially interesting for local readers, as you'll be able to visit the sale and pick up great-quality unused fabric at fantastic prices. In fact, there's a sale coming up this weekend! (Click the image to go to the website and find out more.)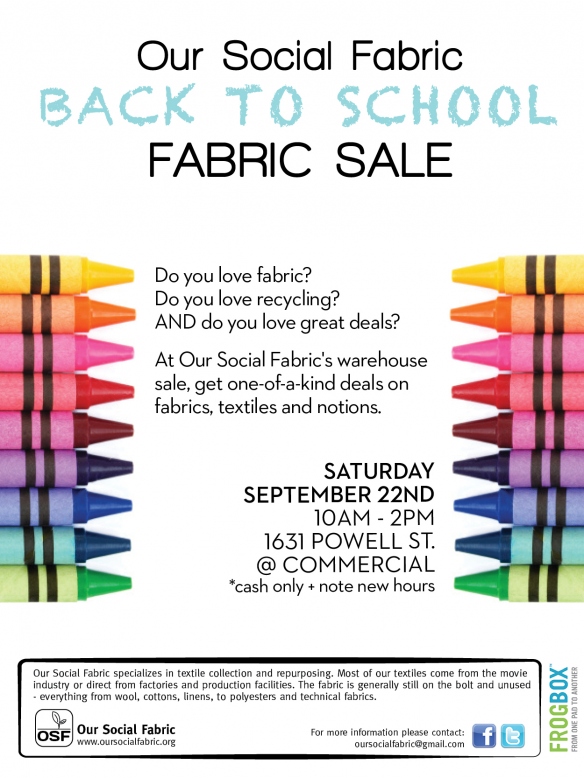 One bag is $25 and you can get two for $40—all funds go to paying their storage unit rent and other administration fees.
Know what's even better? A giveaway! Jhenifer from Our Social Fabric contacted me and wanted to offer a FREE bag of fabric to one lucky reader!
We are happy to give away a free bag of fabric good at any upcoming sale, which would both help us gain a bit more exposure and reward your readers with something fun. And we'd all be keeping more textiles out of the landfill!
So if you're here in the Vancouver area and want to win a FREE bag of fabric at the sale on Saturday (or a future sale), leave a comment below to enter to win. To enter, how about you tell us the best deal you ever got on fabric? Jhenifer's going to pick the winner at random before Friday at 6pm Pacific Time. Be sure to leave your comment before then to be eligible to win! (I wish there was a way to include everyone, not just local readers, but for this one it's pretty hard as you kind of have to be here to pick up the prize. If you're able to come to the Vancouver sale, you're eligible to win!)
Want to know more about this organization? Visit Our Social Fabric's website. They've also mentioned that the best way to stay updated on what we're up to is through their Facebook and Twitter accounts, and the mailing list.
The more we support initiatives like this, the more good they can do in the community!