I'm a little embarassed to tell you what I did to myself yesterday. My day started with cupcakes and coffee for breakfast, then a little sewing – not a bad start! I was making progress on the men's shirt project and thought I could even finish it up by the end of the day… that is, until I burned my hand on my sewing machine!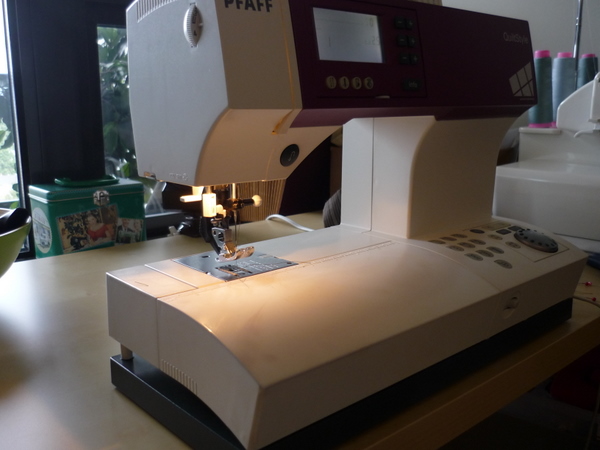 You may be wondering how that's even possible. I have both my serger and sewing machine on a little table, so often I move them around so I have enough space to work around them. I'd been sewing all morning, so when I picked up my machine to move it, even though the light was off the bulb was still hot.
I'm a wee bit clumsy and I'm sewing under a deadline, so I didn't even think when I picked up the machine, and stuck my finger right on the bulb. Of course, I was lifting, so the full weight of the machine pushed the hot bulb against my finger. And boy, did it hurt!! Those tiny bulbs get real hot for such a small light.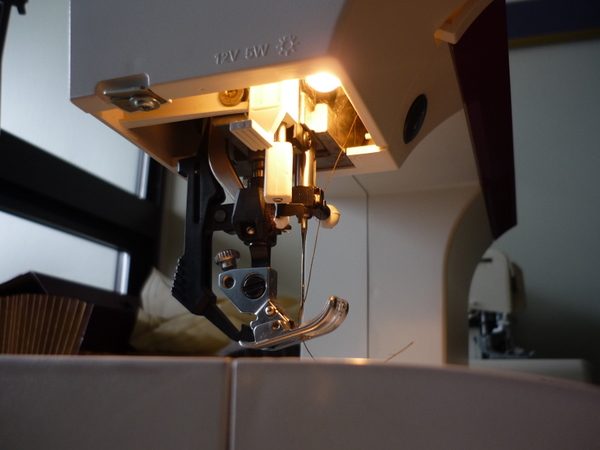 What's worse than the pain, is the frustration of not being able to do anything! I'm a non-stop kind of person. I like to keep busy! I have four days now to finish the Christmas shirt, and this big bandage is slowing me down!
Although, it's probably a good thing to be forced to relax now and then. I just wish I'd finished the shirt first!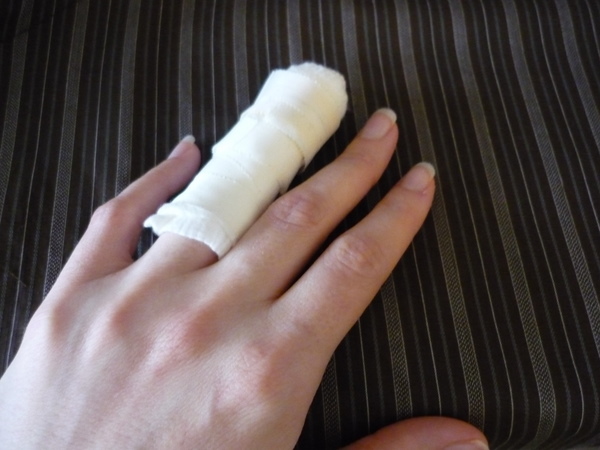 What's your worst (or weirdest) sewing injury? I asked the question on my Facebook page and I'm definitely not the only one who's had a sewing accident! People have sewn through their fingernails and stabbed themselves with sharp snipping scissors. We can all relate to aches and pains from bending over a too-low cutting table!
How about you – what damage have you done to yourself while sewing? (And what was worse: dealing with the pain, or the frustration of not being able to sew?)
Wishing you an accident-free Monday!