Wow! What an amazing response to yesterday's post on where to buy fabric online. Thanks so much for sharing your experiences. It's much better when you can buy with confidence, knowing other people have had great experiences with an online fabric shop. I like to know when I'm going to get excellent fabrics and excellent service, which explains why prices are higher. And I'm all for the adventure of buying on sale or through discount stores. Taking a risk on fabric is my kind of gambling! It's just nice to know what you're getting into. And for that one awesome project, the one you're going to splurge on, now we know where to look for the perfect fabric!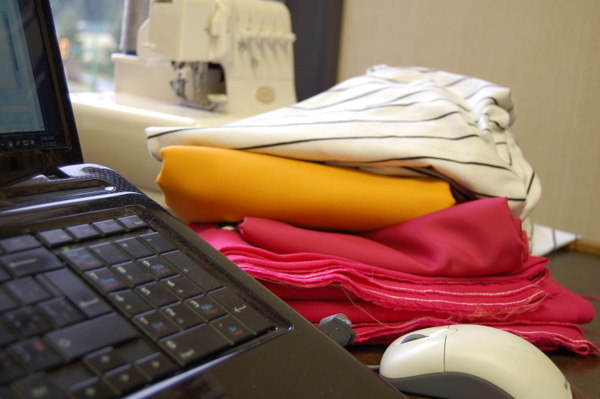 I thought I'd compile a selection of your comments into one big list, and if more come in I'll update it if needed.* I've added links to the actual shops so if you like what you read, you can go shopping! (Hey, why not make it easy for you, right? You can blame me for enabling your fabric addiction.)
Here we go – the big list of Online Fabric Stores, recommended and reviewed by you! In alphabetical order, with the country noted if the store is located outside of North America.
…they sell the fabrics used in the german edition of burda magazine… Alfatex has nicer photos, but it can be a bit more expensive. Still worth it I think. It's been a while since I bought from them, but I had good experiences with both. -Corinna
For quilting cottons, I love Connecting Threads. Their prices are awesome, and between my Aunt-in-law and I, we can amass quite the order with only $7 shipping to Canada. Sure, it has to go from the western US to Toronto to Alberta, but anyone who buys quilting fabrics knows that we probably have enough stashed away to last us until it gets here in two weeks. -Jennifer S.
I love crafty mamas its a great source of knits, the stella is a great all purpose shirt knit and then there is the devine hilco and stenzo knits. The hilco campanete knit it the best knit to use . The customer service is above excellent :). -Kylie
..dressmaking focused (rather than quilting) -Miriana
I've ordered apparel fabric from Denver Fabrics before: denverfabrics.com. They have amazing prices and a huge selection of fashion fabric, and I was very happy with the purple wool gabardine I ordered for my Lady Grey coat. -Katie W.
DistinctiveFabrics.com is another great one. Fairly limited selection, but they focus on hard-to-find fabrics. If you become a member (free and non-spammy) they'll send you swatches for free, too. I've ordered from them four or five times in the last few years and only had awesome experiences. -GlassCannon
..dressmaking focused (rather than quilting) -Miriana
Ebay sellers
How about ebay sellers bestonlinefabrics, zanzadesigns, highendfabrics, and lycra4sale. –Mary in FL
Elliot Bermann–lots of designer fabrics. Occasional coupons and sales. Shipping, not as fast as Emma One Sock. -Maria
Emmaonesock.com is my absolute favorite. Yes, the fabrics are expensive but they are always better quality than my other fabrics and true to description–and the owner Linda gives incredible, personal service. –Amy

Their selection and sales are awesome. -Linda

Emma One Sock–one of my favorites. Her online swatches are so helpful I've often bought without requesting real swatches. Although she tends to sell expensive fabrics, the quality are topnotch and consistent, she ships so fast, fee is reasonable and she answers e-mails so quickly! -Maria

her stuff is amazing and sells quickly. I especially like how she photographs a long length of the fabric; it gives you a better sense of how it really looks. -Jean S.
…I have to say I am loyal to one company – Fabric.com. I live in the US, so free shipping is an option here and the reason I love Fabric.com is because there is always free shipping on any purchase over $35. How cool is that? Well anyway, I am loyal to Fabric.com because I always get what I thought I was getting. Their fabric is beautiful and there are always lots of great deals going on. I get a daily deal email that offers a different selection of fabrics, notions or patterns on sale each day. –Stacy

Fabric.com was more reasonable and very prompt but selection can be a little thin. -Ainslie

Favorite: Fabric.com. I've gotten some lovely things from them, shipping isn't exorbitant (I'm in the US), and the swatches are usually generously sized. My orders arrive quickly and their site is easy to use. -Katie

I've bought from fabric.com for availability and lower pricing, and was incredibly pleased. –Laura

I am addicted to Fabric.com. Shipping can be a little pricey, but they have great deals, and when you consider that I live a tank of gas away from anything other than overpriced (except for my small local one) quilt shops, $30 or $40 for shipping can be quite a deal. Because of them, I am obsessed with knits, because I can get them for at least a dollar or two less a meter than at Fabricland's sales. I just bought a large box of fabric through them on Monday, and the Black Friday/Cyber Monday discount more than covered the cost of shipping. You just have to watch the exchange rate a bit – don't want to buy when we're, say, only $0.90 on the Dollar -Jennifer S.

Fabric.com is also good for basics like semi-affordable doubleknit, which I have a hard time finding in NYC. –Blythe

I've used http://www.fabric.com – the nice thing is that you get points for each sale and these points eventually get you something, so says the friend who recommended it to me – I don't use it all that often – I generally can't find what I am looking for there: limited stock and I tend to get a particular vision/color in mind as I plan a new project. Another plus for them is that they let you know how many yards they have remaining for each fabric. –Katitarian

I've order from FashionFabricsclub.com and Fabric.com and have been happy with my purchases from both. –Lashell

I do almost all of my fabric shopping online. I love fabric.com. Their prices are reasonable, great customer service, variety of fabrics, shipping is reliable, great customer service (I know I said it twice).  –Laura

Fabric.com–so far I've had good luck with items I've bought. I've compared prices and similar fabrics sold at Jo-Ann's are cheaper at this site and there are always coupons that can be used and free shipping offers. Shipping is also fast and they provide tracking.  -Maria
my favorite online fabric stores are hawthorne threads and fabricworm. i've also had really great experiences with fabricworm customer service and their selection and prices for japanese fabrics in particular is fabulous. –rachael

I just cannot emphasize how much I love them- they have a great selection of designer quilting cottons (and even some apparel fabrics as some quilting designers start to branch out into voiles and things), including many things that I have a hard time finding anywhere else (not to mention the prices are quite reasonable). –Jessica
Fabricmart. Their inventory is somewhat random (it includes some designer and high-end fabric, but not everything is of equal quality), but they have AMAZING sales. Their photos and descriptions are also very helpful–they usually describe the weave, pattern repeat, weight, drape, recommended uses, etc. I think you can tell whether a fabric is a risk if you read the description carefully. Occasionally it seems like they aren't certain of the fiber content of their fabrics (it might just say "blend" or "stretch" instead of giving percentages), but when fabric is on sale for $1.99/yd, I don't always care! -Alex

I've been thoroughly pleased with everything I've ordered from them. And they have good sales, relatively reasonable prices, and when your fabric arrives it has a label on each piece telling you what it is, the yardage, AND the care instructions. It's incredibly helpful when you pull it out of your stash a year later. –Clio

Fabricmart: got some "100% wool" double knit from them that behaved like it had a significant amount of synthetic in it. It didn't press like wool and actually seemed to melt a bit under a hot iron. Unimpressed, probably won't order from them again. -Katie

I've been using fabricmart – and have been very pleased with what I've gotten. I got some couture linen for a project for church, and it is … amazing. They have quantity discounts if you buy in bulk which don't show up until the shopping cart, btw. –Hearthrose
Another website I like is Fabric Shack, a US based quilting shop that has an amazing range of designs and good sales. –Donna
The only shop I REALLY recommend is fabrictales.com. It is a Japanese fabric retailer that has very, very beautiful fabrics. It is not cheap but you can be sure the materials are excellent and the service too. -Helena

I love Fabric Tales, a Japanese based shop. If you don't mind the slower shipping options, it's about the same shipping to the US from Japan as it would be within the US –Donna
For a really nice selection of 100% linen of various weights or linen/cotton blends in lots of gorgeous colours I go to Fabrics-store.com. Great selection and fast shipping. I didn't have to pay duty (I'm in the Vancouver area). If you sign up for their newsletter it will alert you to what is on sale that week (usually 10% off). You can get colour cards and samples of the different weights. Nice stuff! -Lynda
It's been said before, but http://www.fashionfabricsclub.com is great. GREAT prices, and sometimes they offer free shipping. I got my wedding dress and bridesmaid dress fabric from there! –Adventures in Dressmaking

I just bought some fabric online yesterday from http://www.fashionfabricclub.com. It was my first time buying fabric online, so hopefully all goes well! Their website isn't very organized, but they seem to have a TON of stock. Plus, I've seen several other bloggers recommend that website. -Shelly

I've order from FashionFabricsclub.com and Fabric.com and have been happy with my purchases from both. –Lashell

..is really hit or miss but for the prices it's worth the risk, usually. –Jenna

When I'm feeling adventurous, Fashion Fabrics Club (because it can be a crapshoot. Most of the time I'm really happy with what I get, until I'm REALLY not). –Blythe

I've frequently used http://www.fashionfabricclub.com I've never had a problem with their services. They have good sales, extensive stock, and good prices; however on http://www.patternreview.com there are a lot of negative reviews for them. –Katitarian

I have ordered several times from fashionfabricsclub.com. The prices were very honest, but I received the wrong fabric once and I never had it exchanged or refund even though I contact them many times. Also the shipping delays are long, mostly because of the Canadian Post customs, they are so slow it's a shame. So if you need fabric for a specific date, you need to order a month before. -AnnieV
I've also ordered from http://www.fashionistafabrics.com and they were awesome! –Jenna
…I actually do quite a bit of online fabric ordering. A huge reason I got into sewing garments was my mother-in-law. She lives in Santa Barbara and loves Fine Fabrics. Because of her, this store was really the first fabric store that I got to know, and it's been easy to stay loyal to them since everything I've gotten from them has far exceeded my expectations. Though, granted, I haven't been sewing long enough to know that much about fabric, but I am certain that the local chain stores around me just don't have anything that compares. If I went into San Francisco, sure, I'd be able to find what I wanted, but I honestly get intimidated in giant stores like Britex. Since the prices at Fine Fabrics are on the higher side, I've tried to focus on quality over quantity this past year and on making pieces that I'll want to wear for a very long time. And, I actually only oogle at most of the pieces since I do want to be kind to my budget. When I do decide on a particular fabric, I also try to order as little yardage as possible, which you may know since I've bugged you several times to ask just how little fabric I really need for your patterns. Plus, the owner of Fine Fabrics answers my emailed questions about as quickly and frequently as you do – great customer service! –Amy
..i also like girl charlee (mostly for knits). –rachael
As far as online fabric stores, I've taken advantage of sales at gorgeousfabrics.com. I like that she gives you an idea of what the fabric could be used for, and you can always send her an email to get her opinion. –Amanda

I love Gorgeous Fabrics- there are always pattern suggestions for each fabric which really helps. -Angela

Their selection and sales are awesome. -Linda

When I'm feeling spendy, Gorgeous Fabrics. You really can't go wrong there.  –Blythe

I branched out and bought some fabric from Gorgeous Fabrics!!! I love, love, love it. I definitely dream about buying more from her. –Laura

Gorgeous fabrics–I've bought a couple of times from this site but my only complaint is the online swatches. It's hard to purchase unless you get a real swatch so most often I end up not bothering.  -Maria
 Harts was great but shipping was very pricey to Canada (had them ship to my brother in the US). -Ainslie

I've got some silk-cotton yardage from Harts fabric, who has great customer service. –Jenna
…for quilting cottons my go to store is Hawthorne Threads. Their selection is amazing, the prices are way cheaper (at least 40%!) than what I can get at a store in Toronto and the service is quite good. Delivery to Canada is within a week or two, shipping charges don't break the bank and I have never had to pay duty. –Andrea

my favorite online fabric stores are hawthorne threads and fabricworm. i would also add to my comment about hawthorne threads that it is a great resource to use for matching and finding fabrics b/c they have a search by color function. also, you can sign up to receive emails when an out of stock fabric becomes available. i've always had incredibly positive experiences with them and shipping (i'm in the US) is always quick; not to mention the fact that the owners, charlie & lindsay, are just downright lovely. –rachael
I have bought quilting fabric online at JAQS Fabric and Etsy sellers. So far, my experiences have been great. –Michelle @ If Toys Could Talk
Keepsake Quilting (here in little 'ol New Hampshire, USA) is great for quilting cottons, patterns, notions, etc. I have the luxury of going to the shop in person (and going through the scrap bins!) but the website is great too. -Katie M
…Linton Tweeds, which is where Chanel gets their fabrics from is certainly somewhere I will be ordering from for a big project in the future. –Bri

Their selection and sales are awesome. -Linda
..this UK store seems like heaven on earth. Haven't shopped there, but very much hope to! –Erika

..gorgeous but pricey.. -Miriana
But for equal quality, service and very good descriptions of fabrics and their possible uses, you've got to check out Marcy Tilton. She and sister Katherine design patterns for Vogue. -Jill H

..my favorite, although it won't be everyone's, as Marcy is extremely selective with regard to fabric color and type. -Jean S
Mills Direct–seller of Malden Mills fleece. My only experience is with purchasing their swatches and based on the swatches, I am going to order any fleece fabrics from this site in the future. -Maria
I am very near their brick-and-mortar store, so don't shop on line often. But when I made a special occasion dress it was pretty much the only on-line fabric store where I knew I was getting crepe back sating, organza and georgette that were exact color matches. So, incredibly helpful when you are making a dress of one fabric and doing trim in other fabrics but wanting it to match. They're not cheap, but they are high quality. –Clio

Mood: Ordered 2 yards of wool knit and recieved 1 yard. Customer service was unhelpful and hostile-sounding from the outset of my call. Other fabrics in my order were pretty, though. Prices are a bit high. -Katie

Mood fabrics–hit or miss. But more choices and more assortment. -Maria

I am going to order fabric later today from https://www.moodfabrics.com/ I ordered swatches from there a few weeks ago – they had the exact color I desired. Not happy about the price, but my folks are paying for it as a gift for the holidays so I feel less bad about splurging. –Katitarian
Peach Berserk just has really interesting and different stuff. They are both pretty spendy so I haven't tried either yet but they are really fun to browse through. –Amelia
I've been ordering fabric online since about 2006. At first I ordered all my fabrics on ebay and then I switched to Pink Chalk Fabrics because I like their selection and service. In all my years of ordering fabrics online I have never been dinged for duty. –jodi
Purl Soho also has a great online store. Obviously I would never order online from them, but I really recommend checking out the website if you aren't in NYC. They have absolutely beautiful fabrics. I especially love their selection of Liberty lawn and Japanese cottons like Nani Iro. –Blythe
As buying fabric online can be hard due to high shipping prices, for us around Ireland and UK i found this place great.
It has a great selection of fabric, good prices and good shipping charges. -Shel Baker
I've used http://www.reproductionfabrics.com/ as well – they only have cottons – but they're good for old-fashioned quilting and sewing projects. –Katitarian
Sawyer Brooks–pretty fabrics but limited selection. -Maria
I am looking into getting some goretex from Seattlefabrics for the Minoru! -Ainslie
I love SewMamaSew! They have a good selection, fast shipping, they always have special where if you spend $25, you get a free fat quarter, They choose the fat quarter, but it is always fun to get a surprise fabric! Plus, it's always something I love! –tara
I have ordered from http://www.sewsassy.com a few times now. Twice having my order shipped to my parents during their February pilgramage to Florida and once to my home in Ontario. I was hit with duty on that order, plus shipping… it wasn't cheap. That said, I do love their underwire and their stretch satin is far better than what Fabricland stocks so I will suck it up now and again and hopefully buy enough to last me another year. –Seraphinalina
I'd like to mention Shaukat fabrics (based in London) for the best range of Liberty print fabrics. They have a better selection than Liberty do themselves, and even though I'm on the other side of the world in Australia, it works out far cheaper at around $20 per metre compared with $50 per metre in stores for their cotton lawn. -Ali
For silk, Silk Baron is wonderful. http://www.silkbaron.com/silk/ They have the most incredible selection of colors, and for silk, the price is very reasonable. The dupioni is to die for. –Laurie Brown
Might be only for Swedes, but email her and ask for shipping to other countries! This is a site with only organic fabrics and threads, and most of the fabrics are for apparel sewing. –Erika
I do shop on-line for swimsuit and dancewear fabric at Spandex World. I've ordered there several times and I've always been happy with my purchase – they've shipped promptly – that day or the next – and the fabrics were a good quality. Also, Spandex World has a huge selection and carries fabrics I just can't get here like swimsuit lining. Even with the shipping (I don't expedit it) and customs, the fabric comes to less than the shops here, especially once you factor in my fuel to get there. -Michelle

Spandex World–good for specialty fabrics. I've purchased moisture wicking spandex for workout clothes. Shipping was fast. Although for swatches, shipping is super slow and they don't mark the swatches so if you request similar looking fabrics, it can end up a guessing game.  -Maria
I think spoonflower is really cool, you can design your own design and have it printed for you on fabric and see other people's designs and buy them as fabric. It is a really interesting idea. They offer different fabric types to do this on. –Amelia
While I find it harder to find what I'm looking for… you can have up to 5(?) sample pieces of fabric sent to you for free so you can actually feel the fabric before you buy. Alfatex has nicer photos, but it can be a bit more expensive. Still worth it I think. It's been a while since I bought from them, but I had good experiences with both. -Corinna
Excellent prices, shipping is very reasonable if one orders larger amounts (to Sweden it's 60SEK no matter how large the order is). Great selection of haberhashy and sewing equipment as well (in comparison to most sewing shops in Sweden). –Erika
Superbuzzy.com is another good source for Japanese fabric! They have tons and tons of great stuff. -Ann
I have purchased several times from Vogue Fabrics in Illinois. I subscribe to their yearly swatch service so that gives me a chance to touch the fabric – a must for me!
Vogue's prices are reasonable and quality is good. I paid a flat $6 for shipping to California. No complaints about service. -Lisa
I'm so lucky to have Waechter's Fine Fabrics in my town…they have lovely fabrics, and their online shop is excellent. –Olive
That's a pretty impressive list! Did I miss any? Anything to add to this list? Leave a comment and I'll be back to update this post* with more recommendations and stores.
Thanks for all of the feedback! This will be super helpful to anyone who wants to buy fabric online but doesn't know where to start.
Another tip is to check out True Up http://www.trueup.net. Every friday they have a "fabric sale alert" where they list sales from online fabric stores around the world… thanks Petite Josette for the link!
*Last Updated December 8th, 2011