Tilly from Tilly and the Buttons is leading a sewing blog group project this month, called 'One Week, One Pattern.' The project will feature sewing bloggers wearing garments they've made from one sewing pattern every day for a week, Saturday 24th to Friday 30th March 2012.
Why would you do that? Good question, and Tilly answers it below:

It's about celebrating those sewing patterns that we love so much we use them again and again. Many of us have a special sewing pattern that is so wearable, practical, versatile, beautiful or for whatever reason it never gets time to gather dust on the shelf before we whip it out again. Personally I'm really interested to find out what other people's favourite patterns are. Plus the exercise may get us to reflect on how much we use the patterns in our stash, or what factors make a well-used pattern.
Take a look at her official post here for more details: One Week, One Pattern: Details!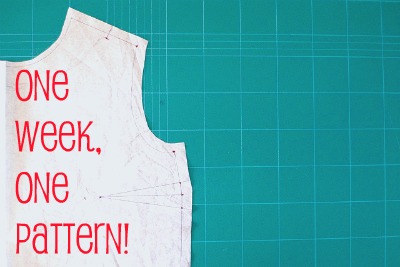 I'm totally in favour of this concept. When I design patterns, I really want them to be made up more than once. That's why I offer one or two variations to the basic design, and also plan the patterns around using a variety of different fabrics. Think how different the Minoru Jacket looks in rainwear versus wool! Or cotton with plaid lining. The simpler the pattern, the more options I want to provide. The Renfrew Top pattern can be used to make nine different tops! And that's just variations on pattern pieces. Fabric, embellishments, contrast, applique – there are so many cool ways to make the same pattern look completely different.
When I sew, I always want to use patterns more than once. The first time, we work out the fit issues, and customize the design to suit our taste. We've probably even worn the garment a few times and can improve on its wearability for round two! I have very little free sewing time, so it's in my best interests to re-use patterns that fit well. I'd save on precious sewing time! We work so hard at making a muslin, getting the details just so – it makes sense to use patterns again and again if we're happy with the results!
It applies to sewing as well as knitting, although I often just want to move on to the next, exciting thing. So how do you make your second version of a pattern just as much fun to make as the first?
If I were taking part in this challenge, I could easily wear nothing but Pendrell Blouses all week. It's my go-to piece when I want to look pulled-together and still comfortable. The different views – ruffled, sleeves, or sleeveless – combined with different fabric choices make each piece look unique.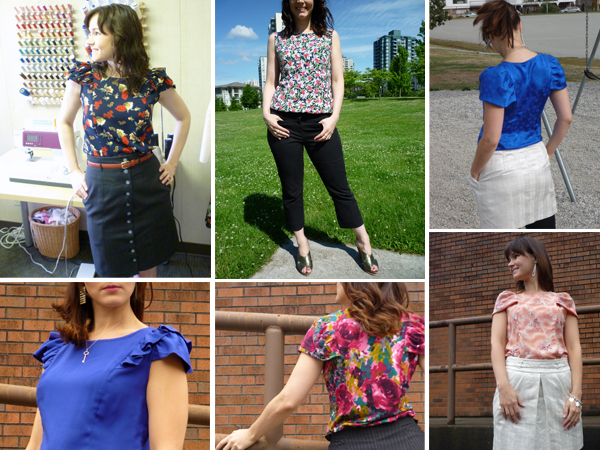 I'm looking forward to seeing how people re-make patterns again and again, and also how they style them! Sometimes I'll end up with an item in my closet that I think can only be worn one way.. and then see an outfit on someone else that inspires me to try something new! I bet this will be an inspiring week both on how to sew up the same pattern multiple ways, and how to work them into your everyday looks.
Are you joining in Tilly's week-long adventure? If you were to pick a pattern to make over and over, what comes to mind?