Happy Monday, everyone! Today I thought I'd report back on last month's post about scheduling your creative time. I applied Anneke's ideas to my entire work week, instead of just creative time, and it's been working well so far.
In case you're interested, or if you're also a creative business owner and wonder how others are managing their time, here's what I'm testing out.
My Creative Work Week:
Mondays: Admin and Planning
Tuesdays: Product Development
Wednesdays: Blogging
Thursdays: Meetings, Errands and other off-site activities
Fridays: Sewing!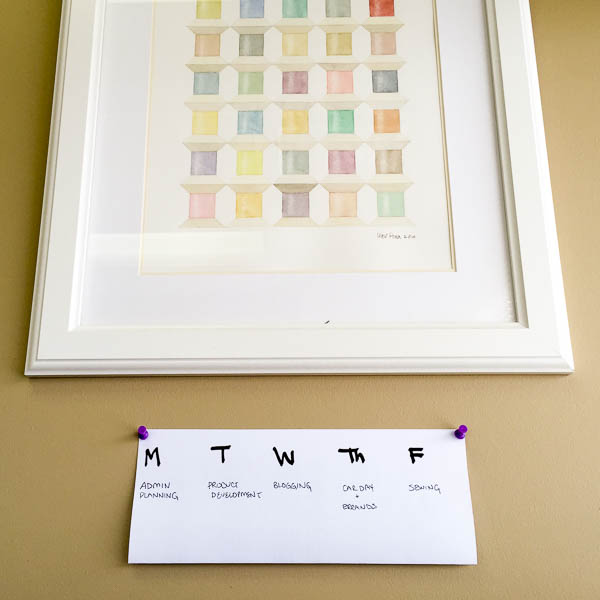 (this is the wall above my computer, so it's right there in front of me!)
That's it! It's a really simple way to divide my time.
Mondays I come in and deal with everything administrative, from accounting to paying bills to emails. It's a good day to get through these type of tasks, at the start of the week when I'm rested and relaxed.
Tuesdays are focused on product development. This includes writing pattern instructions to working on our webstore, developing new designs, planning photo shoots and choosing fabric. Basically, it's for everything relating to new patterns from start to finish.
Wednesdays are all about blogging, where I work on drafting blog posts, taking photos and writing tutorials, and planning what to write over the next month.
Thursdays are for errands and meetings, so I can be efficient and schedule everything on the same day. If I'm going to be out of the office, might as well do everything all at once! This also makes it a good time to pick up sewing notions and supplies, restock from our storage facility, anything that needs to be done with a car.
Fridays are the days I look forward to – sewing day! By the end of the week I've probably worked really hard, and look forward to a day to sew.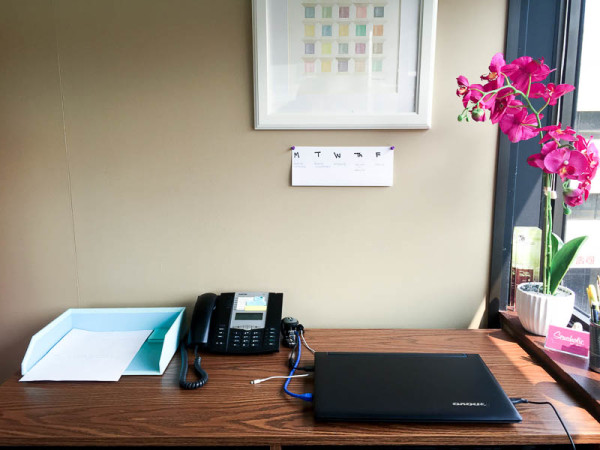 Pros of doing it this way:
It's really simple. It's not overly complicated or hard to follow. One day, one focus. I've posted it on my wall for reference and it's a crystal-clear reminder of what I want to accomplish. I get to work, look at my wall and know exactly what to work on.
Your time is focused. My team knows what I'm working on that day. You can't put off the boring or hard tasks. You won't spend a week sewing and forget to work on other important things.
You get excited about spending upcoming days doing your favourite tasks. By the time Friday rolls around I am excited to sew for fun. I also feel like I've made good progress all week so it's okay to sew for pleasure.. and if an admin thing comes up, unless it's urgent I know it'll get done on Admin Monday.
You plan ahead for the week, deciding what will get done on the product development day and writing a to-do list for the errand day. Blog post ideas are recorded for blogging day.
Cons of this time-management method:
Sometimes you're just not into the day's task. It's easier to write when you're in the mood for writing, less so if you're not. That does help in other ways, though. I'm never excited about admin or accounting; having a day focused on the less-exciting tasks means they do get done.
Some things require more than just one day a week. For example, in busy product development times, the whole schedule goes out the window. When you have something important booked like a photo shoot it has to take priority, we can't not be ready when the day comes. Also, when you're on a roll and really enjoying something, it makes sense to keep going while you have momentum and not switch focus just because the schedule says so.
There's no time allowance for urgent things. When something comes up, I put aside what I'm working on and handle the urgent situation. It's not ideal, if you spend half your day dealing with a problem on blogging day, then you're behind on managing the blog.
It's best if you allow yourself a little flexibility. The other day I was sewing a sample for the Renfrew Top tutorial and while trying to capture something on camera, I played with making a little video. Then I got excited about the possibilities and posted it on Instagram, uploaded it to Youtube and decided to finish writing the tutorial post right then while it was fresh. Being too rigid can be limiting!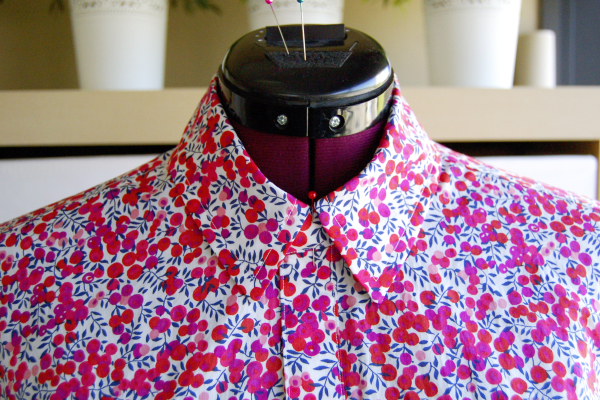 (I did a lot of the sewing for the Shirtmaking series of posts all at once, if I'd stopped I may have lost momentum!)
It's been about a month now and so far, it's working quite well. It's structured, but with flexibility. There's never enough time in the day to do everything I want, but at least I'm dividing time equally between everything that's important!