Found: one fabulous button for the 'O' Dress! From Button Button, where else?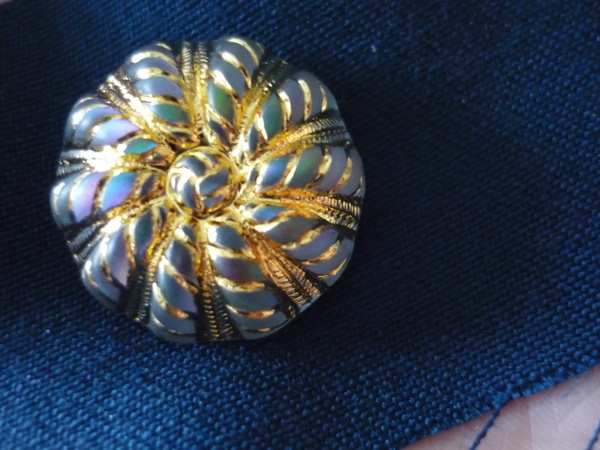 It's vintage glass. (So of course I'm paranoid I'll drop it!) The textured surface reflects the blue colour, and little gold lines fill in the button texture. It looks beautiful and expensive!
Which of course, it was. $5 for one button! Some of you are going to think that's just crazy. Why spend that much on one button? Of course I can find a cheaper option. There are lots of great options for less, that would suit the style of the dress and save me a bunch of cash.
And then, some of you will understand. This is the best part of sewing, the fact that we can spend $5 on a button if we want to.
You'll never get a $5 button on your ready-to-wear dress. I know, I used to work at a clothing company. Buttons are cheap, cheap, cheap. You can buy buttons for a couple cents each. You can buy buttons for less than a cent per button. In fact, you can buy larger quantities of buttons to get the price down, so even if you throw away half of the buttons, it's still cheaper than paying more per button. Crazy, no?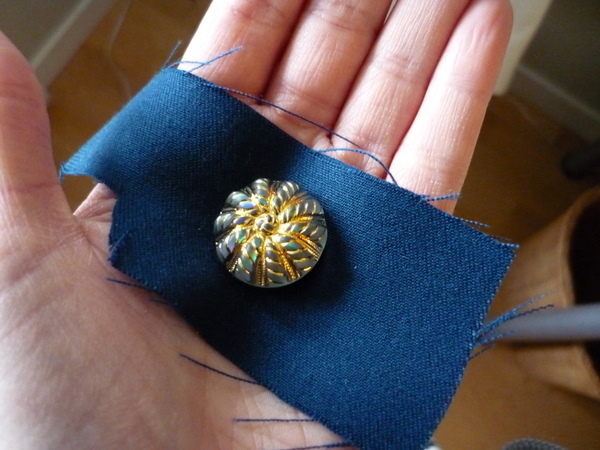 It's worth it to be to love the button on my dress. Every time I see it in my closet, I'll smile. Probably reach out and touch the shiny, pretty button, and think about how it's over fifty years old, and how much fun it was to go pick out just one fabulous button.
Besides, like they say, $5 is the cost of a fancy coffee these days. What's a better use of five dollars? $5 for a mocha frappucino? Or $5 for a gorgeous piece of shiny glass? (Or do you think both are a waste?)
What do you think? Do you scrimp on trims, or do you splurge? Do you think I'm crazy for spending $5 on a button, or do my reasons make sense to you? I'd love to hear what you think!