This is all I did on the coat project yesterday: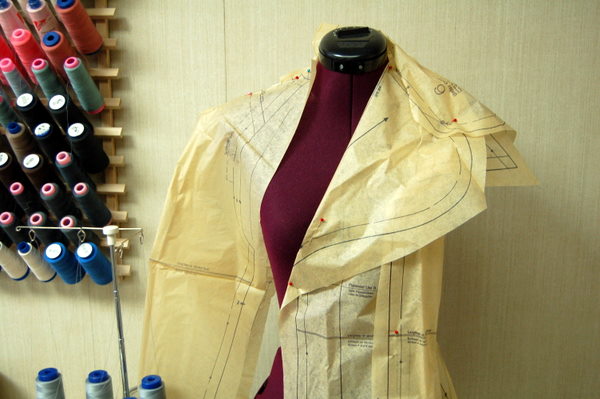 I pinned the pattern pieces to the dress form to get an idea of what the coat might look like. (Love that huge, dramatic collar!) There's a couple more urgent things I'm working on, but I did take a break and play with the pattern a little. Sewing this coat will be a slow process! But you can be sure I'll be thinking a lot about this project even while I work on other things.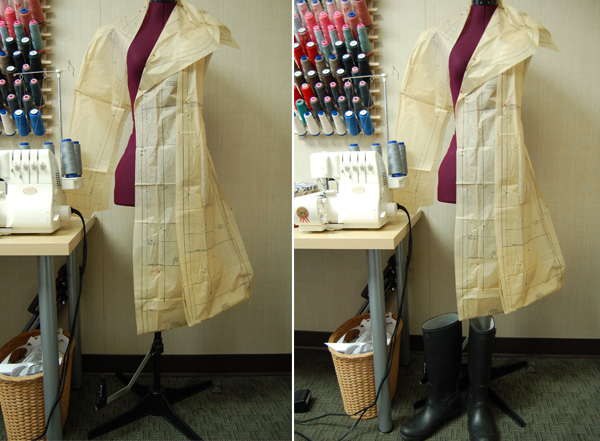 I've pinned up the hem to show you where View B ends – and posed my rain boots next to the coat to give you an idea what it would look like with chunky rubber boots. That's supposedly the red coat in the cover illustration, but it looks longer than that to me! I want it to be long, but according to the fabric requirements I only have enough for Views A and B. So we'll see!
Note: Strangely, the coat pieces seem longer in real life, but look shorter in photographs! Looking at these photos is really helpful to step back and see it from a distance. Something to think about for your own projects – photos can help you look at things more objectively.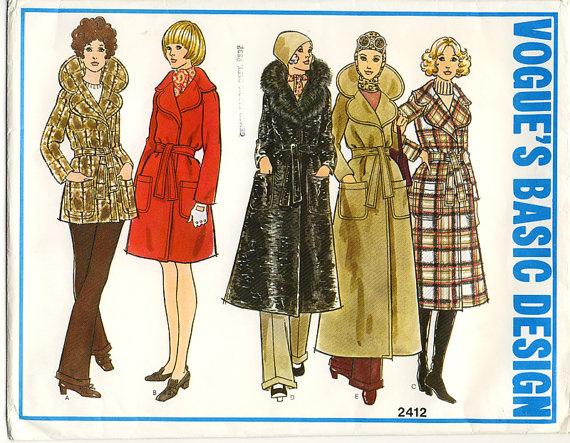 Thanks for all the feedback yesterday on pockets vs. no pockets! And I'm loving all the seventies love for the pattern. It is the kind of coat you want to snuggle into – what a great way of putting it! It's been pouring rain all week, so a cosy, snuggly coat sounds just about perfect right now.
I did peek at the instructions and they talk about padstitching!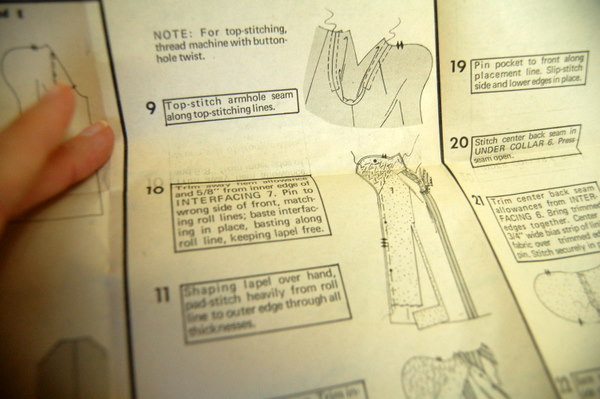 The faux-fur collar is not really detachable, either. That's kind of a lie! They have you make the collar, then slipstitch it to the coat collar. So it's removable, but it takes work to put it back on. I think I'll find a way to make it detachable for real – I've seen coats that use loops and buttons to attach fur collars. Most of the time, I'll want to wear the faux-fur but I like the idea of having options.
A muslin is a must! Amanda S. made a great comment about bulk around the waist for this coat style, which does concern me a little. I'm pretty sure this is the pattern I want to use, but there's always a chance that I'll change my mind after seeing the muslin. And that's perfectly fine! That's why we make muslins. Before investing a month's worth of sewing time (or more!) into a coat project, we want to be absolutely certain it's the right fit. Caroline's comment that muslin isn't the same as our actual fabric is something to consider when making a coat muslin. A bit of extra bulk in muslin fabric could equal too much bulk in a heavy coating fabric!  So we'll consider that as well when fitting the muslin. And not over-fit! So much to think about but I'll go through it all slowly, in detail. We'll be able to see if the patch pockets look good or if it would be better to swap them out for welt or inseam pockets. Patch pockets are easier to sew, and nice and roomy! I'm leaning towards patch pockets as long as they aren't too obvious.
Annabelle and Vicki Kate asked if I could write about my coat project, sew-along style, with details on the construction and tips. I can do that! While it won't be a typical sew-along, I'll talk about some of the sewing steps and tips for making your own coats. You'll get to see the inner workings of my coat, I'll explain why I'm doing certain things – and show you how!  So look for coat tutorials over the fall as I make slow progress on this lovely coat.
Have a lovely weekend and happy sewing! I hope you're finding ways to sneak sewing into your busy lives. I'll try to sneak in some coat-sewing this weekend!