And now, on a completely unrelated note to the Sew-Along, I wanted to share something cool that happened a little while back. I am constantly amazed at the kindness of people. You guys are awesome! Reader Veronica emailed me to say she scored a bunch of vintage patterns at an estate sale… and she wanted to pass them on to someone who would use them and love them. That person was me! Thank you, Veronica!
Eleven vintage patterns, I can hardly believe it! I was sooo excited the day she emailed me, and couldn't wait for them to arrive. I was holding my breath because I didn't ask about sizing, figuring I would take on the grading if needed. And wouldn't you know, all of them are my size or one size up! Can you believe my incredible good luck?
Here are the eleven new patterns in my collection: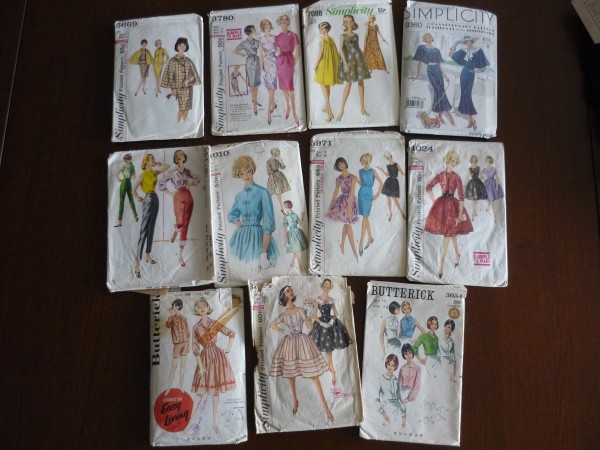 Gorgeous! They look to be in pretty good condition, I'll check them out closely to be sure.
Want to see them one by one? You got it!
Simplicity 3384, my favourite of the bunch but sadly the most damaged one! The pieces look like they're OK though. I love the stripes! It's one size up but it should be easy to alter. The wide scooped collar is detachable, too!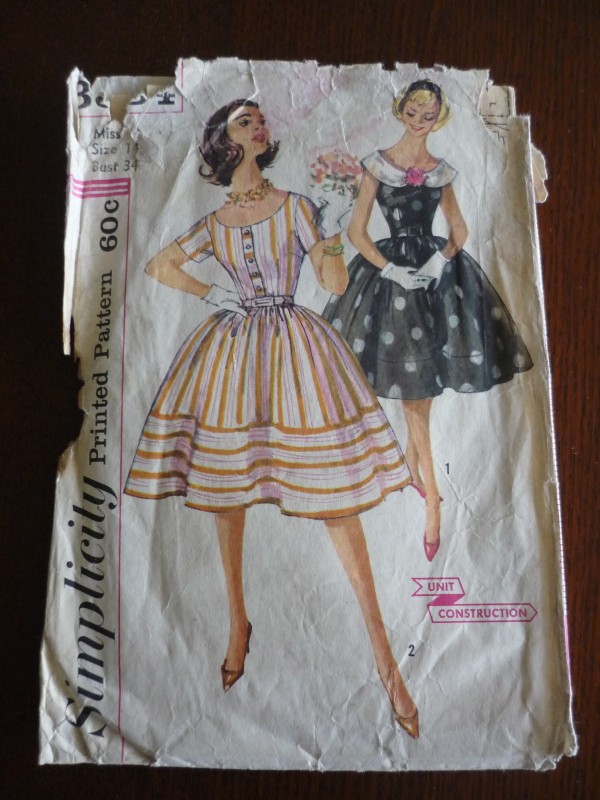 Butterick 3654, a cute set of blouses. In my size! I like the sleeveless bow-front one for under jackets. Wouldn't it be cute tucked into a skirt, or wide, high-waisted trousers?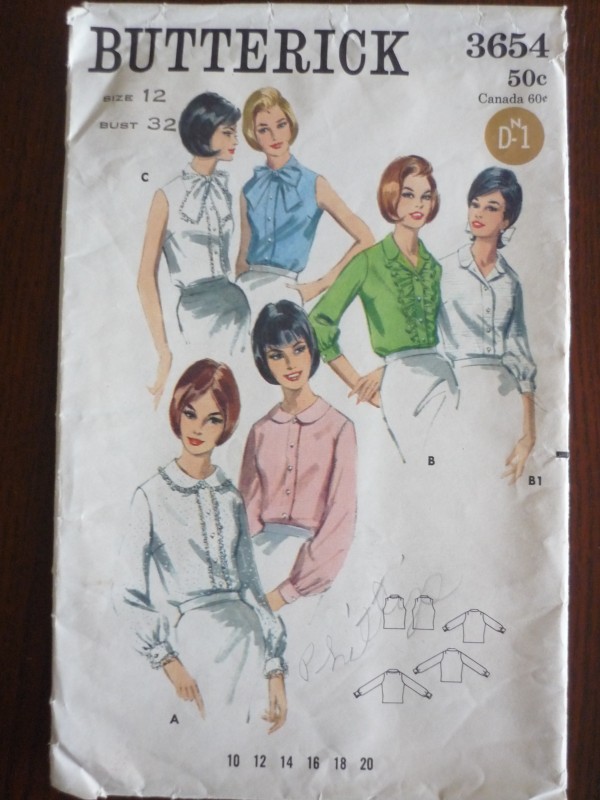 Butterick 2329 is pretty cute. Love that it's designed for Easy Living! This little set is made of gingham and includes directions for cross-stitching it, just like the cover illustration. Is it too retro-housewife? I kind of love it and want to make it for wearing around the house. In my size, too!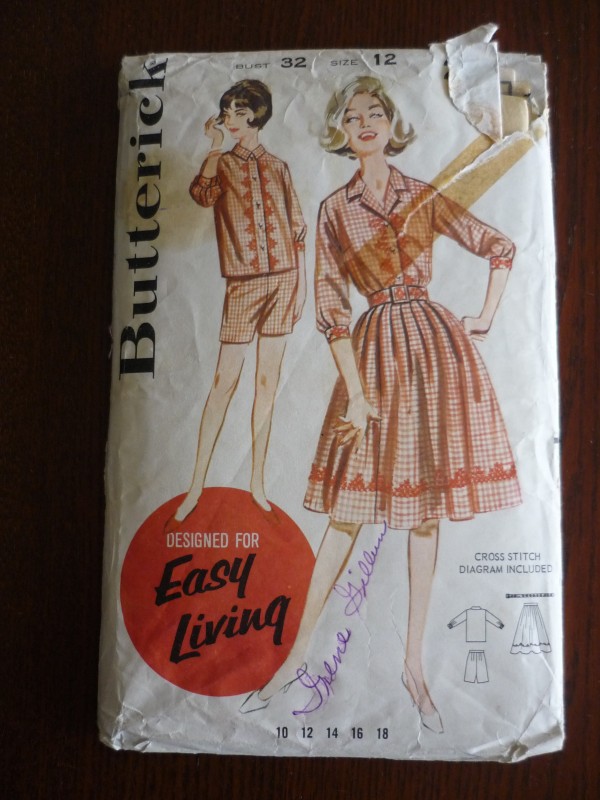 This next one, Simplicity 4024, looks just like the Twin Spruce Dress in silhouette and shape, but with a button-front closure. And you know I love buttons!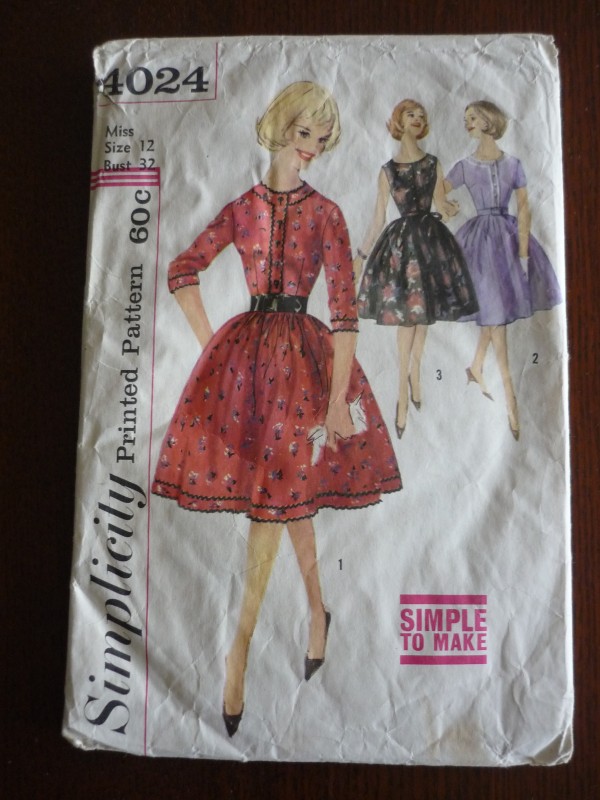 I feel like these patterns were personally picked out for me! Simplicity 5971 is a variation on the fitted-bodice-full-skirt theme, with a slight cowl neckline. I could see this in the vintage rayon crepe, perhaps. I always favor the full skirts but the slim version of this one is really nice, too.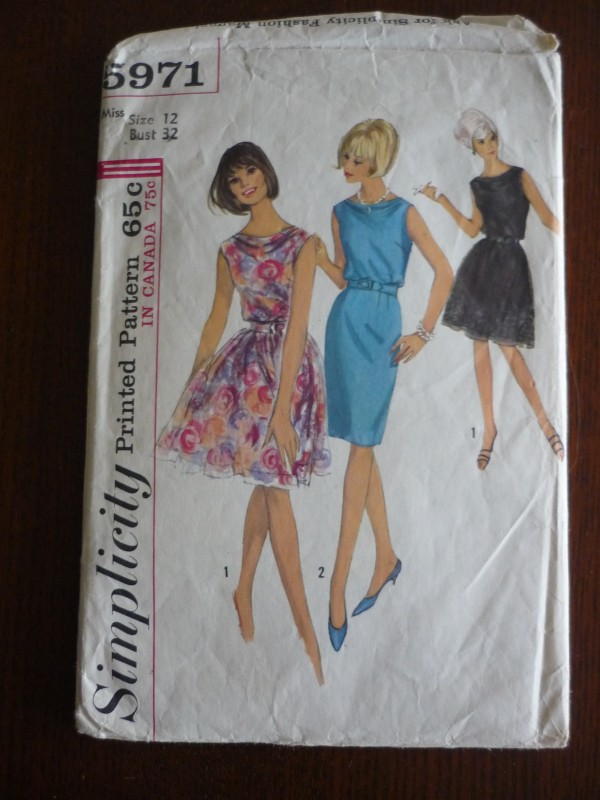 Simplicity 4010 has frog closures, how cool! I'm sure there are directions to making your own frog closures in one of the books I have. Another great full-skirted dress!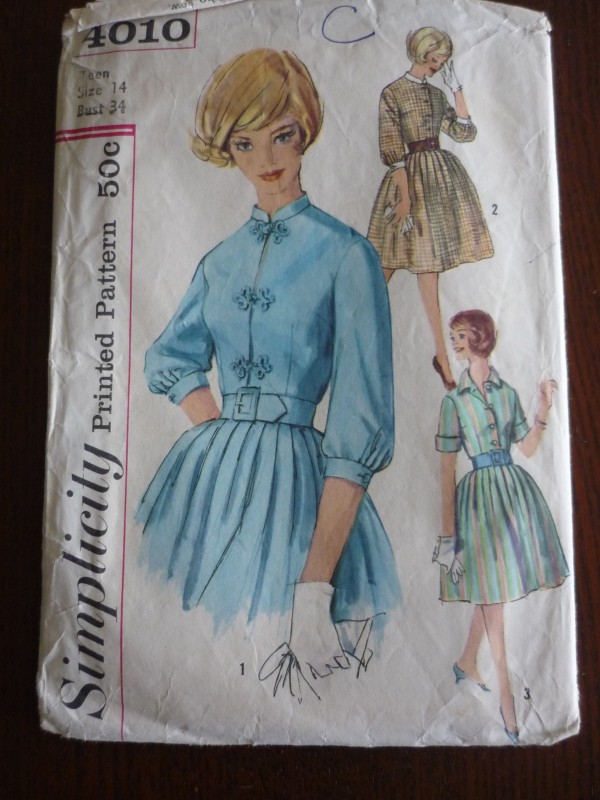 McCalls 3414 is a cute pattern, I'm not sure if I could rock the pants but the blouse has a great yoke detail at the back. Look at the girl in the green – it has a wide pointed yoke with gathers. Also, did you notice the coral pants have cuff facings that match the blouse?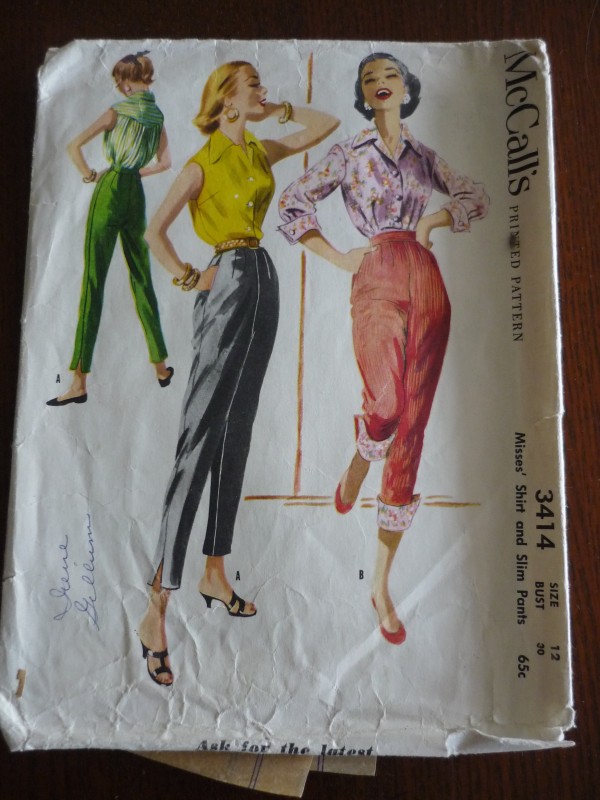 Simplicity 9360 is a reissue of a 1930's pattern, it's the only 1930's style pattern I now own. Look how impossibly tall these models are! I love the drama of the look but I'm not sure it's for wide-hipped, short-legged me. (Not knocking myself, I just know the way I'm built!)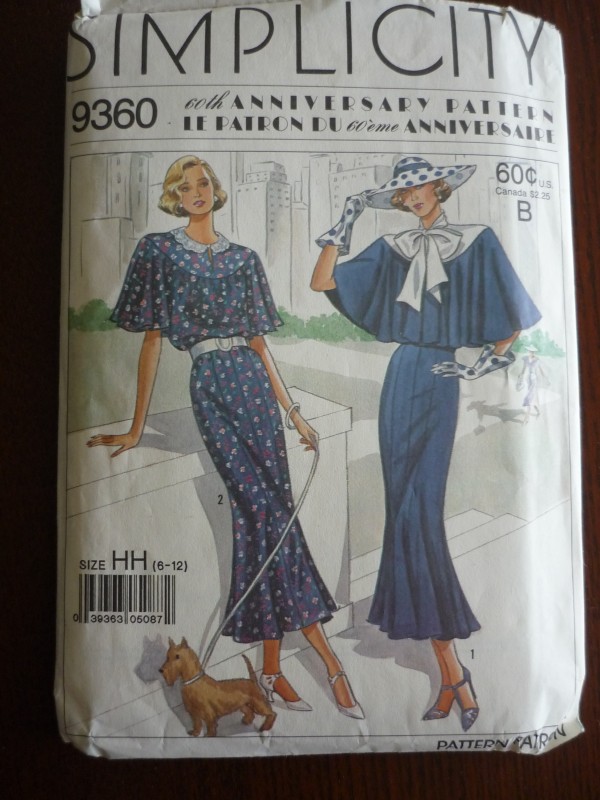 Simplicity 3780 is a simple sheath dress, perfect for making up multiple times. Simple to make, it says! To me this is a thrown-on-and-go dress, the kind you reach for when you don't want to stress over coordinating an outfit.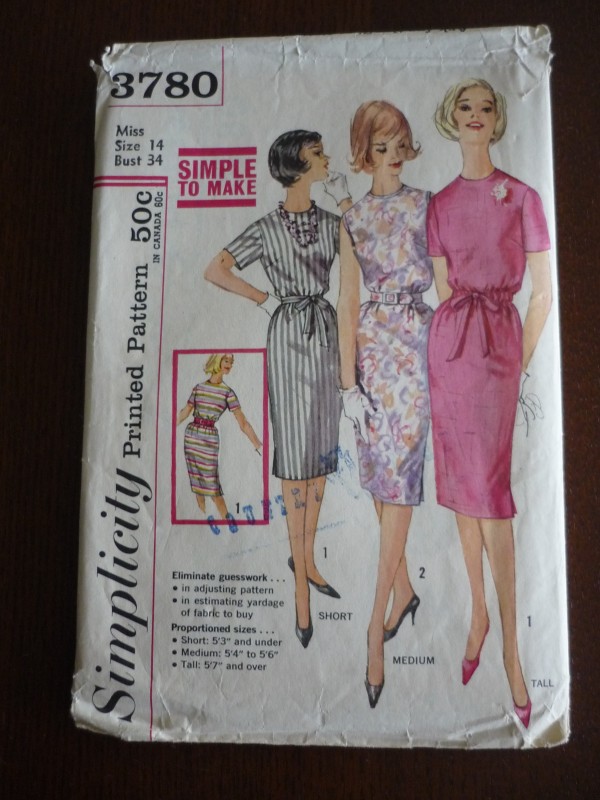 Simplicity 7088 is an authentic muu muu! How cool is that? I'm picturing it as another wear-around-the-house dress, wouldn't it be ridiculously comfortable? It's my size too, although size probably doesn't matter too much in this style…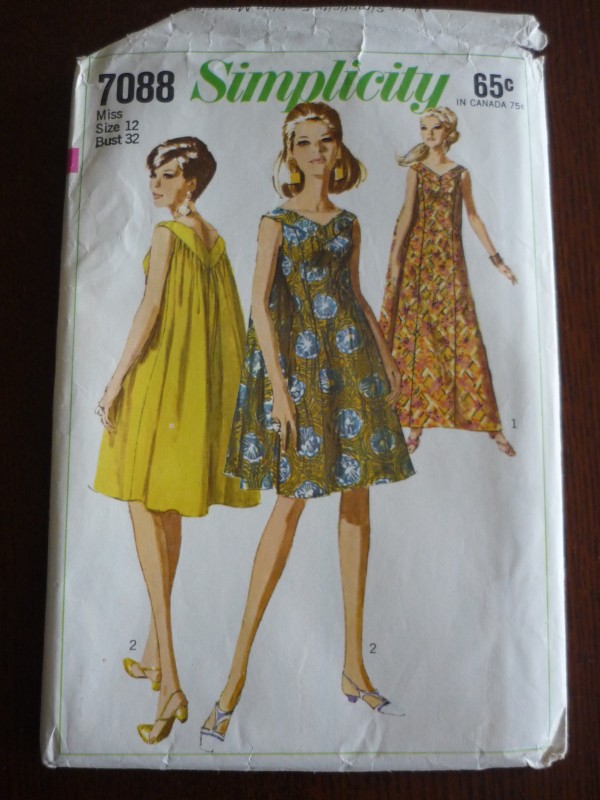 And I saved one of the best for last – Simplicity 5669! Look, a cape! I so wanted to make a cape for fall. With a coordinating skirt. Winter may be ending but there's still time to make and wear a cape before it warms up completely!
My first thought is to make the cape in olive green wool flannel, and a cream-and-white plaid straight skirt. Perhaps the plaid should be on top and the solid on the bottom? Or, what about a camel-coloured cape with a charcoal grey skirt? Bright red cape with a navy skirt? What would you make the cape and skirt combo in? Or are capes not your thing?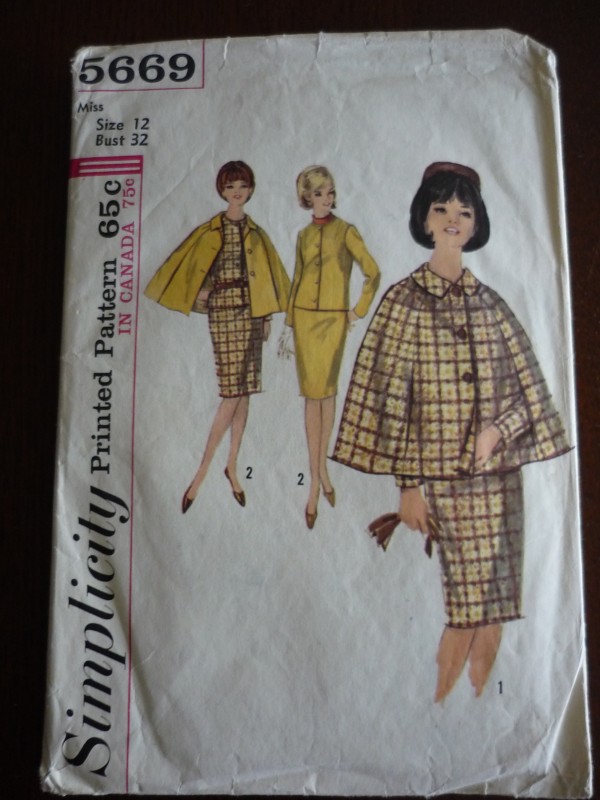 This windfall couldn't have come at a more perfect time! I'm excited to make up some of these pretty patterns soon. I'm always amazed at the kindness of the sewing community. Whether it's writing tutorials, answering sewing questions, or hosting giveaways – it's nice to see us sewists are a group of people that shares and helps each other. Thanks again to Veronica for such a thoughtful gesture!
Which one would you make first? It's between the striped Simplicity 3384 dress, the cowl-necked Simplicity 5971, and the cape. If you were me, where would you start?
The Pendrell Sew-Along starts next week – see you Monday morning! The first week we'll cover pattern adjustments – FBAs, narrowing the hip, shortening the body length, making it into a dress – as well as preparing your fabric. Looking forward to it – have a wonderful weekend everyone!