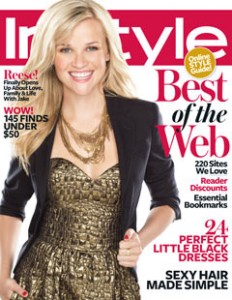 Ok, here's the story I owe you guys, from yesterday's Top 10 Sewing Projects recap:
Last winter, I absolutely loved Reese Witherspoon's look on the cover of InStyle magazine. What a perfect office-party look, don't you think?
I even managed to find nearly-identical fabric at Fabricana to recreate the dress. See! Look how close the fabric is to Reese's. And there was plenty of time before the first holiday party of the season, for once I felt prepared for the holiday festivities!
I arrived home with pattern, fabric, and an evening to myself and got to work. I had the bodice all sewn together and nicely pressed in no time. Totally pumped and proud of my work, I ran into the office-slash-sewing-room to show my boyfriend.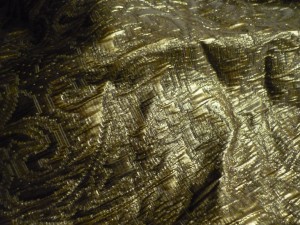 'Look, isn't it cute?' I held it up to myself to show off my work – and started to panic when I realized my hands weren't meeting in the back!
I ran to the mirror in the bathroom where sure enough, there was a good inch and a half between the left side and the right side at the top edge. It didn't matter that the edges were meeting at the waistline when there was a 'V' of skin upwards of the waist. Look at it on the dress form below – embarassing.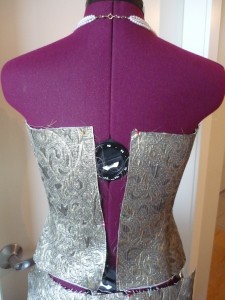 What did I learn? When buying gorgeous expensive gold brocade, make a muslin first. Especially when picking a very fitted style…sigh.
I went back to the store to buy another 0.5 metres of fabric only to find it was completely sold out. The original fabric was not cheap, and I love shiny, gold things so I can't just toss the project and chalk it up to a learning experience this time. That's why it's number 7 on my Top 10 Sewing Projects list.
Will it become a skirt now, or is there a way to make it work? I have an interfaced gold bodice with the side seams sewn together and a cut-out gold circle skirt. I was thinking of cutting a contoured waistband out of the bodice and finishing it as a brocade circle skirt. Wouldn't it be pretty with a black lacy blouse tucked in?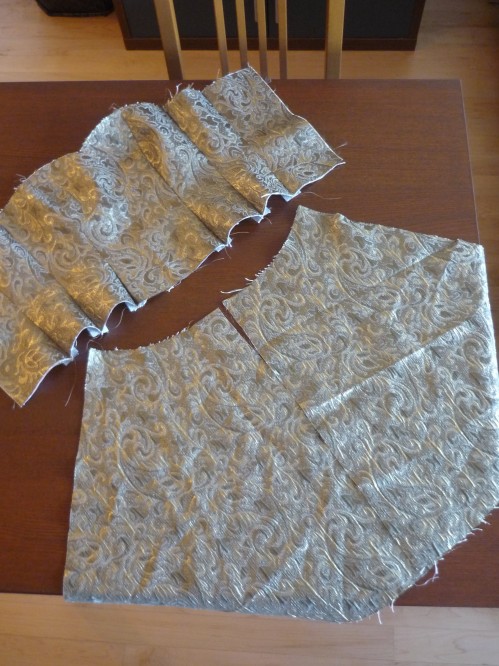 Does anyone have a suggestion? Leave it in the comments below!