Hey, everyone! I'm thrilled to share another pattern tester's Minoru Jacket today! Today's jacket is made by Novita of Very Purple Person. Novita lives in Japan, one of the farthest-away pattern testers!
You may have already seen Novita's lovely denim version she posted on her blog this week but in case you haven't, take a look!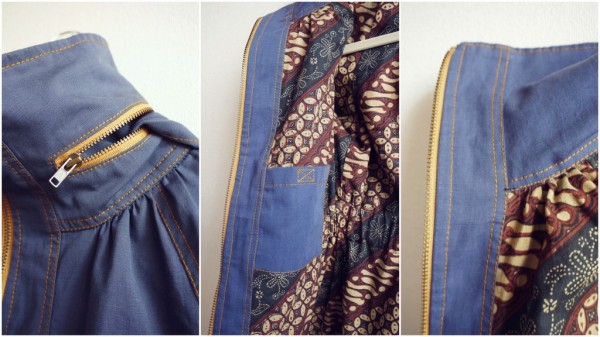 Click the image above to read Novita's blog post on her Minoru Jacket and see her modeling it! I just love the detail shots of her version – the gold zippers are the perfect touch and the gold topstitching is beautifully done! The denim, the stitching and the printed lining work so well together. If you're choosing fabric and have a hard time finding zippers to match, picking a completely different colour zipper is fun and looks intentional, rather than settling for a sort-of-matching colour. (Which isn't what she did here, this is totally on-purpose and looks awesome, but just a thought if you're having difficulties with yours!)
Thanks, Novita, for being a pattern tester! Have an awesome weekend everyone!