Remember this awesome 1950's bolero pattern? Well, it's been teasing me the whole time I worked on Mr Sewaholic's shirt. I'm thrilled to be finished with two days to spare – which means back to sewing for me! And even though I have a mountainous stash of fabric, I didn't have the perfect navy wool I was looking for to coordinate with the Twin Spruce Dress.
So I planned to put it on hold for a while, since my fabric shopping is at a standstill due to unemployment. I even considered writing a post, to see if anyone would trade me a metre of navy wool for one of the pieces in my stash…
Luckily, I was over at my family's house for dinner and happened to mention the bolero of my dreams to my mother. Well. Let me tell you, if you ever thought your fabric stash was huge, it's likely nothing compared to my mothers! She says 'I probably have a metre of navy wool in here somewhere – let me check the wool bin.' Seriously, there is a wool bin… and about a dozen other bins! That is one mother of a stash, pun intended!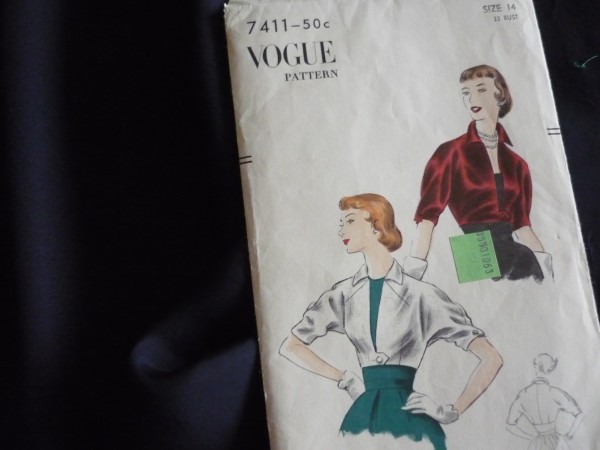 The good news is, this story ends with me scoring a metre of lovely wool twill in the perfect darkest shade of navy. Just what I was looking for!
And luckily, I have just enough leftover bemberg lining for this bolero too.. and matching thread! The only thing I don't have are buttons – and that one's going to be my little treat to myself. Once it's done, I'll head down to Button Button and pick out the perfect ones. That's the splurge part of this project – I only need three buttons and the rest of the materials were basically free, so it's justified!
I'm excited to get started on my bolero now. Hurrah for mothers who sew!