It might not be picnic weather anymore – ok, not even close! But when it rolls around again next Spring, I have just the thing to wear. Inspired by Betty Draper's pretty pink and white floral dress she wears to a picnic in season 2 of Mad Men, I'm making my own Picnic Dress!
I'm making Simplicity 3965 again, the same pattern as the Twin Spruce Dress. Since I'd tweaked the fit on the first muslin, I'm betting it will be easy to whip up another version! It's nice to sew confidently, knowing it will fit when it's all done.
Here's Betty's version, shown in some rather blurry screenshots. You can see the summery, pink floralness of her dress: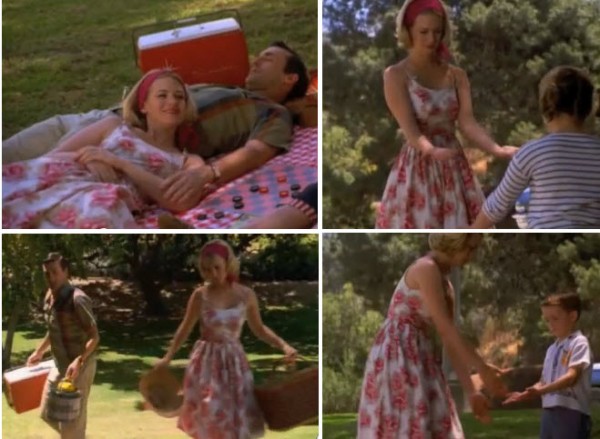 And here's my fabric – pretty close, don't you think? Not only does it have that same pink and white floralness, but the scale of the flowers is even similar!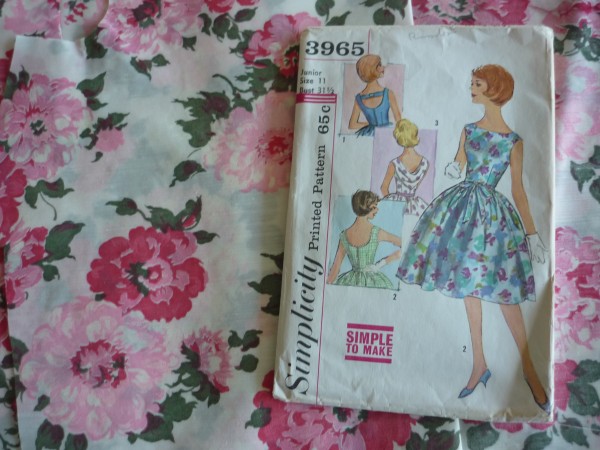 The fabric is real vintage 1950's taffeta of some kind – it's a synthetic but I'm not sure what, perhaps acetate? I bought it back in April and posted about it here.
It's interesting to see how long fabrics actually sit in my stash before they turn into garments.. I didn't even realize it had been sitting on my shelf for six months already! If you click on the April post link, you might notice I haven't cut the other two vintage fabric pieces, either.
I love the idea of making this dress again in plaid still, so don't worry, it's added to my sewing wishlist! Plus, there are extra challenges in working with plaids that I can share tips on.
A couple of people asked me about construction on the Twin Spruce Dress, so I'm going to elaborate this time on the zipper and the waist stay. I'm going to find a way to make the waist stay properly, so that it hooks around the waist and supports the skirt.
Is it completely crazy to make a summer dress as winter approaches? Do you sew seasonally, or whatever catches your attention? I am planning to make warm things too, but since I just finished this dress once and it was successful, I wanted to make it again! It's like listening to a new favourite song, I play it over and over on repeat! "That was great, let's do it again!"