Next up, I'm sewing a new just-for-fun dress project. The pattern is McCalls 3660, labelled as an 'Instant Dress.' (Who doesn't like the sound of that, Instant Dress? I sure do! Just add water, or something like that, and a dress appears!)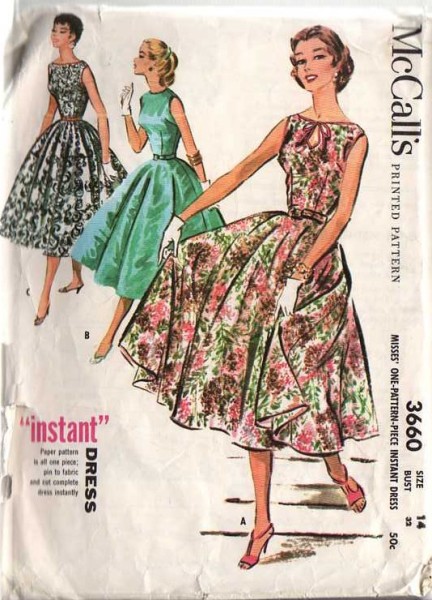 What does 'instant dress' really mean? Well, it means that the pattern is printed on tissue, and you're meant to pin the entire tissue sheet to your fabric, then cut around the pieces.
The instant part is that you're saving time on cutting out the individual pieces and laying them out on the fabric. (Which doesn't make it any faster if you're a pattern tracer.)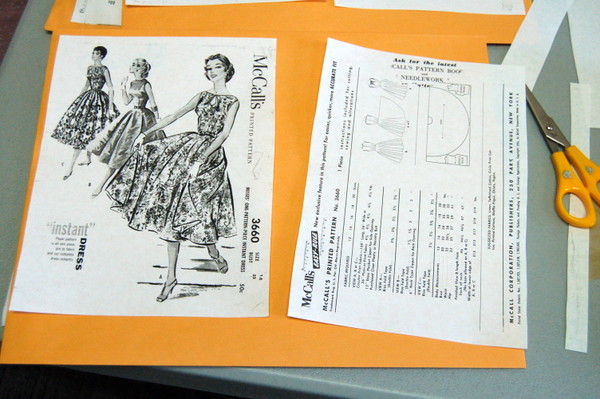 I am doing my usual preparations to the pattern – photocopying the front and back, and then taping them to a large manila envelope, so I can store the pieces and any traced 'extra' pieces in one big envelope.
(I have a handful of these envelopes left over from when I first started the business and for some reason, shipped single patterns in these massive envelopes. Now I use smaller envelopes so the patterns don't bump around in there!)
Here's the 'instant' pattern tissue: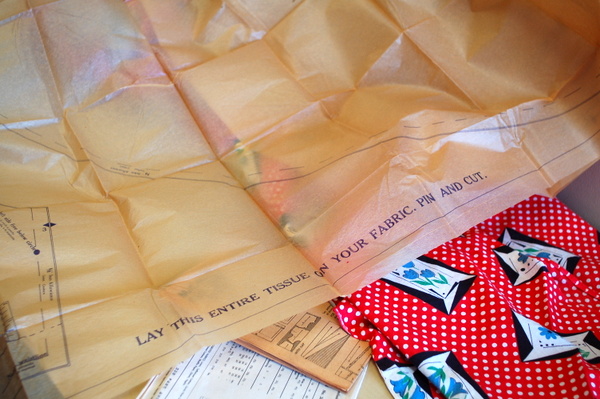 and here is the cutting diagram (basically, place tissue on fabric and cut!)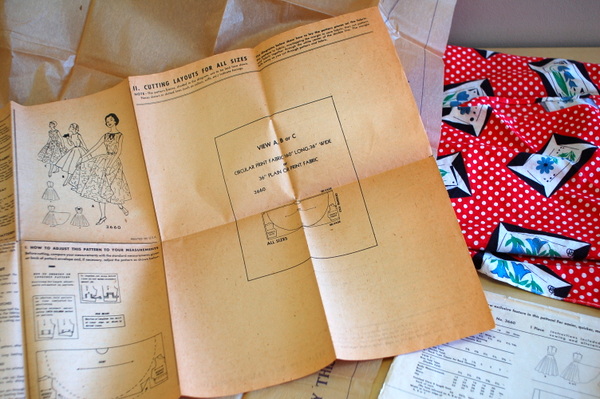 In order to make this work, the grainlines are turned so that the bodice piece can fit on the same piece as the circle skirt.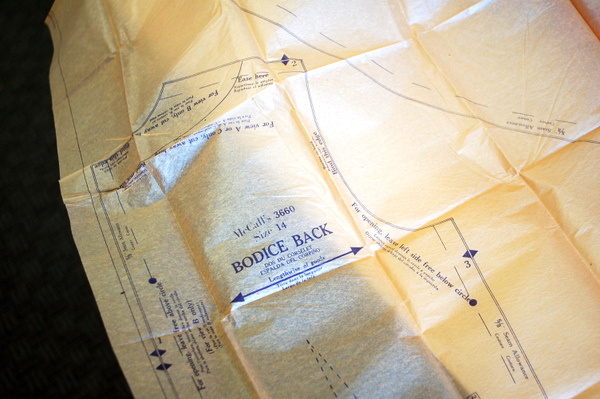 Normally the bodice would have the grain running up and down the piece, but to make it fit the grainline is rotated to go across the piece instead.
You can see my fabric choice in the background there – it's a cotton print that I bought on Etsy from SelvedgeShop – a great shop for vintage fabrics from all eras. It reminds me of playing cards and I thought it would be a great dress to wear in Vegas, except that I didn't get around to making it beforehand.
I'm making View A, the one with the keyhole neckline. That's the one that I loved most when I saw the cover, so that's where I'm starting! I'm not making a muslin. (Such a rebel, I know!) I've compared the pattern pieces to dress patterns that I know fit and it's comparable if a little on the large side, which I can always take in. Fingers crossed that it works out! I'm short on fun-sewing time these days and I really want to complete something, which is why I'm rushing in without testing the waters first.
That's what I'm working on! Have you ever seen a pattern labelled 'Instant Dress' before? Do you think it actually saves time or it's just a marketing trick?