I've decided that my next vintage project is going to be the cape! I've been lusting after a cape for a while now, so I was thrilled that one of the patterns in the package from Veronica was a cape. (And matching skirt and jacket, too!) In between Pendrell Sew-Along posts, I'm going to work on this cape so it's finished while the weather is still cold.
Capes are all over blog-world. Check out Molly's winter-white cape from a vintage pattern – it has pockets! And look at Casey's jacket inspiration photos, especially the red cape and matching skirt. Yes, please! Funnygrrl posted inspiration photos of capes and made a rust eyelet version! Debi has the most amazing 1930's cape pattern and I can't wait to see her finished project. (Did you make a cape, too? Let me know!)
Here's my vintage cape pattern, Simplicity 5669:
This project was going to be on hold until I had some extra funds to buy fabric. However, I stopped in to Fabricana just to get thread, and found this wonderful turquoise, navy and cream 100% wool plaid! It's soft and cosy like flannel, and was in the clearance section for only $9.99/metre, with no obvious flaws! I looked outside at the gloomy, dismal weather and decided I needed a cape.
So I splurged on the fabric and lining. I picked a contrasting cream Kasha lining – the thicker coat lining that's brushed on the back – so my cape will be warm!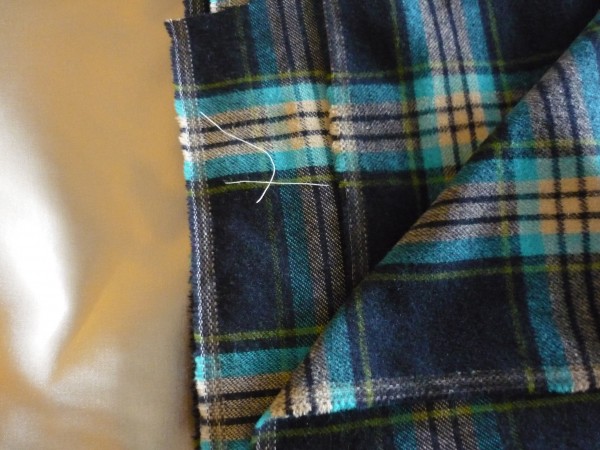 I checked the pattern and the pieces are all there – yay! And cut, which means the previous owner made herself a cape, too. The matching skirt pattern was cut too. I wonder what kind of fabric she used?
Maybe it's my hopeless romantic side, but I'm picturing myself wearing it for walks in the park, with jeans and boots and maybe a little knitted cap. Holding hands with my guy through the cape-holes, maybe with cute leather gloves. It will be just like wrapping a blanket around my shoulders, but more sleek and stylish!
It will be an easy project to sew and fit, but a royal pain to match the plaid. Guess what's coming soon: a tutorial on cutting and matching plaid fabric!
What do you think – yea or nay on capes? Would you wear one? Have you made one? I'd love to know!
Have a fantastic weekend and I'll be back with the next Sew-Along post on Monday!