It's a new year, and here is my new sewing space! It's really a reorganization of my existing sewing space. Same space, different layout. I love moving furniture around, it feels like a whole new room!
This year, I'm starting the year off right with a freshly reorganized sewing space.
Here is before (see more photos in this post here and this post here):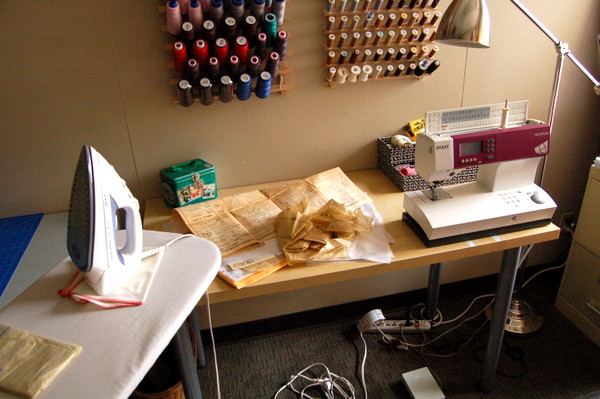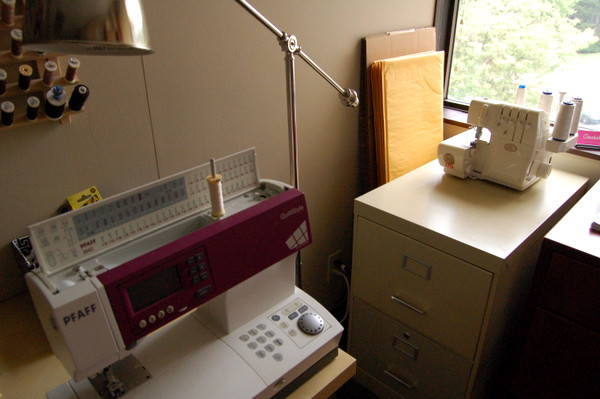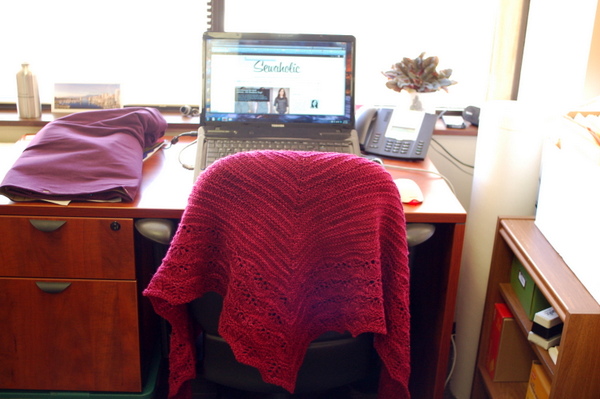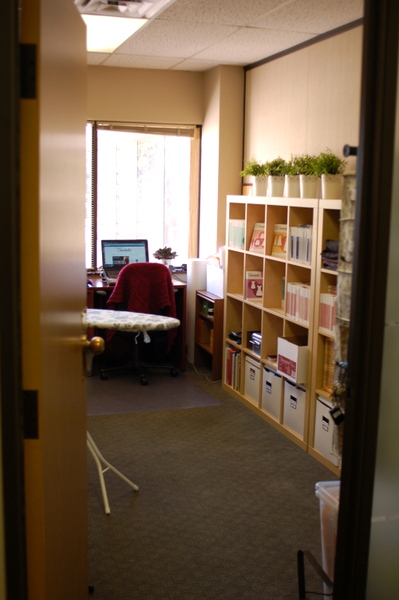 (see? people were always sneaking up on me…)
Here is after!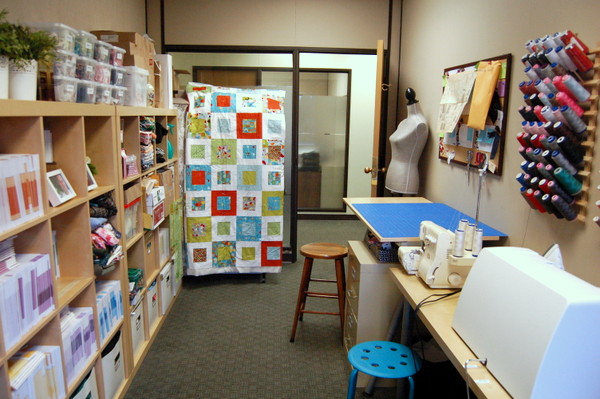 What I did:
Moved the desk to the side of the room, instead of in front of the window. Why? Because my big monitor was blocking the light. Because I had my back to the door and that's bad feng shui. It also was a bit awkward with Corinne in the office, I'd have to turn around to speak, and then turn my back on her after each conversation. Not very natural. Now I can turn my head easily to speak, or see who's at the door. And I get more light and more window!
Now there's more natural light in here as well. My laptop didn't cover much of the window but the monitor on its stand did. Plus it's easier to lower the blinds, I'd have to climb on the desk behind the computer beforehand.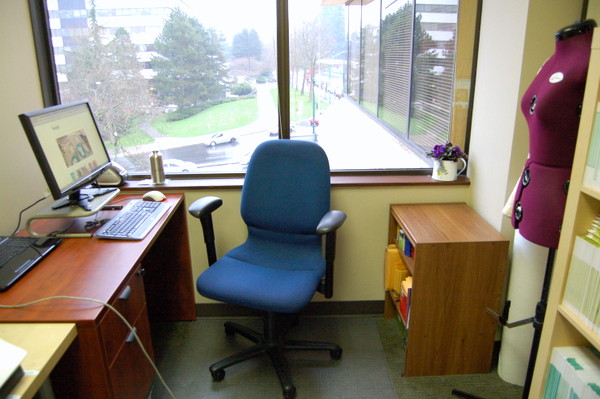 Added a cutting table. I did this a while back, when Corinne first started coming, but never took a photo to show you. It's awesome! A higher table is way more comfortable to cut on.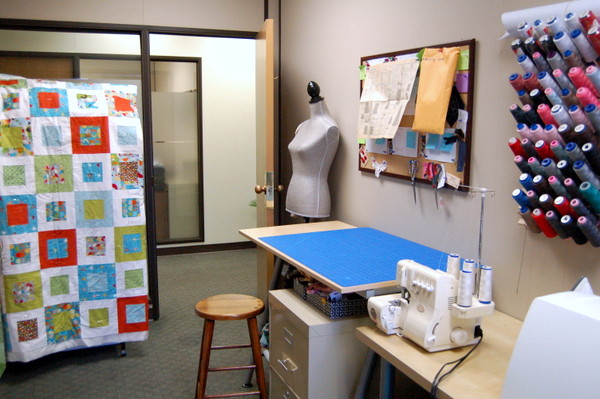 Added stools to both the sewing table and the cutting table. I used to roll my office chair over to the sewing table to sew, but it was too tall, so I'd lower it to sewing height. Then I'd roll it back to the computer and end up slouching. This way, both chairs stay at the proper height. Plus if people visit the office, we're not standing awkwardly. Come on in and grab a stool!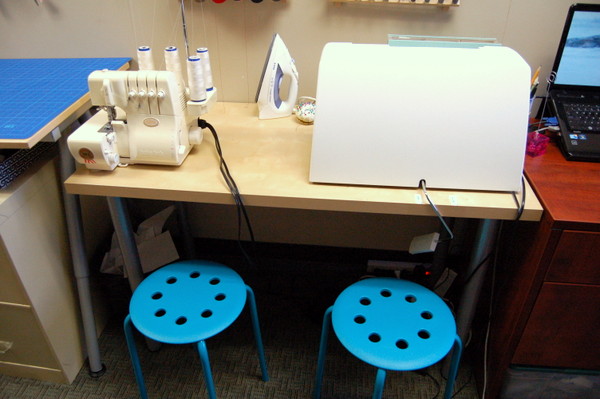 Having Corinne in my office weekly has made me realize how unwelcoming my space has been, or rather, how it was set up for one person alone. The sewing stools are cheapo Ikea stools for about $8 each. The cutting table stool is a nice solid wood one that I bought from a pile on the side of the road. Actually, it was a tool supply shop, and they had a bunch of tools and this stool out on the sidewalk. I pulled up the smart car and was like, 'sold!' And ended up having a nice conversation with the tool shop guy about smart cars and how they just don't make furniture like they used to.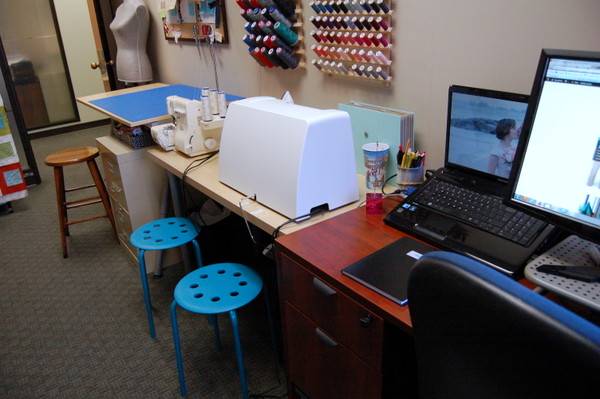 All of my work surfaces are in a straight line along one wall, so it's easy to move from one to the other.  I can cut on the cutting table and let it hang on to the sewing table. Both of those tables are easily moved if I want to pull them out from the wall.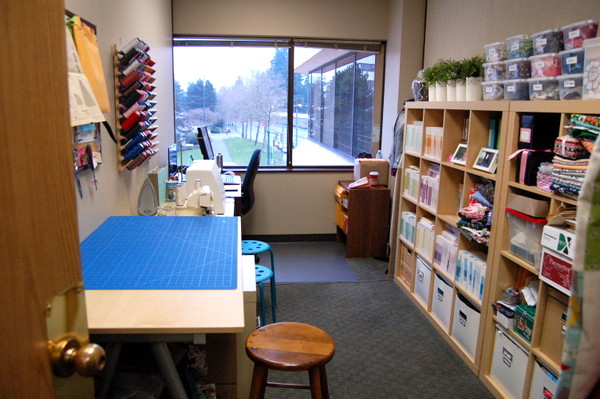 I can sit on this mini-bookshelf and stare out the window. Or knit. Or eat my lunch. Or talk on the phone. I'm trying to get away from being glued to the computer. It's so easy to be distracted online. Hopefully this helps!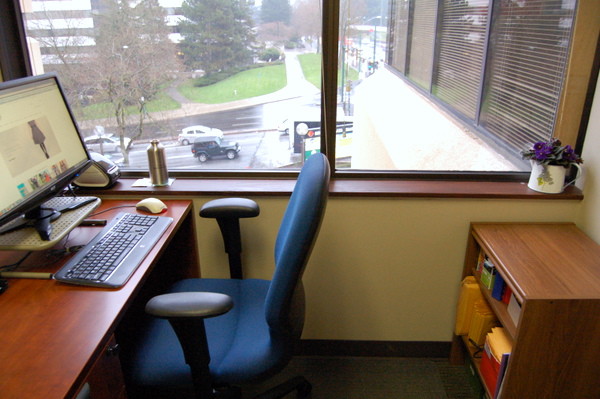 The iron now plugs in on the other side of the room, which makes it easier to remember to unplug the iron as I leave. The ironing board is stored upright, so I have to take it all down. No possibility of burning down the office with my forgotten iron. (Yes, it has the auto-off, but what if it fell down? What if the cleaners knocked it over and didn't know it was plugged in? Safety first.) I also took these photos on two different days so things might look a little different from photo to photo.. but the general idea is the same!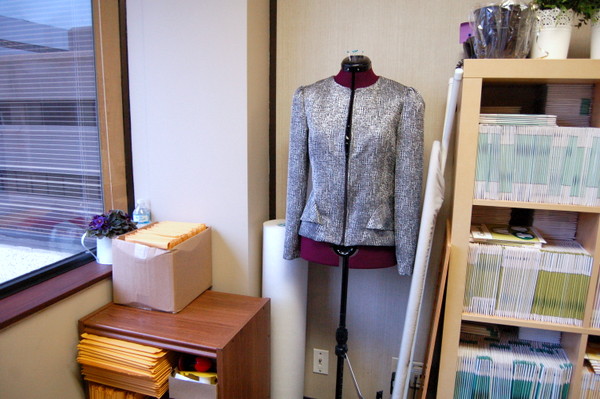 That's also my shipping station, the mini-bookshelf. It's quick and easy to turn around from the computer to pack up orders.
I put my thread racks back up. I probably didn't mention they were down, but I noticed them getting dusty, so I took the threads all down and organized them in little boxes. Like so.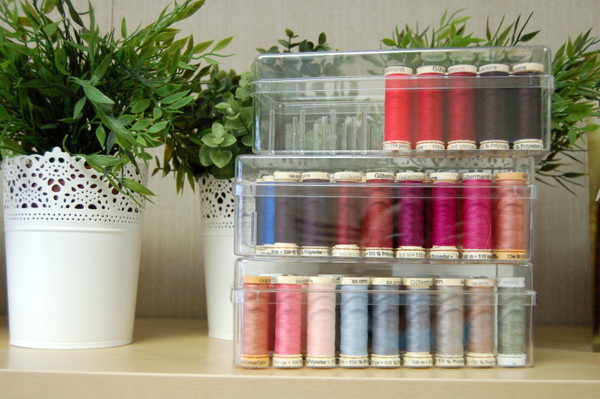 Then, I realized I missed the thread rack. It was so convenient to see what threads I had on hand, find the right shade of blue among my blue threads, and know what colours to stock up on during a thread sale. I had to look through several thread boxes to find the colour I needed, and when you look from the top down, you see the label not the thread colour, so you have to keep looking from the side to find the right shade. So the racks are back.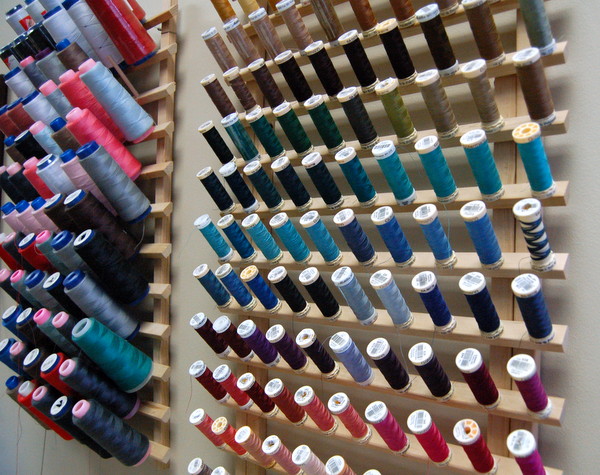 Added a tackboard above the cutting table with my plans for the year! I covered our new pattern designs with pattern instructions for secrecy. It makes it really easy to add ideas when I think of them. Just a quick post-it tacked on the board, then the idea is recorded, and I can move on without worrying about where to put the idea. Then when it comes to making up samples of the new designs, all of my ideas are right there as an easy visual reference. I also have special buttons, appliques, and fabric swatches so I remember to use them!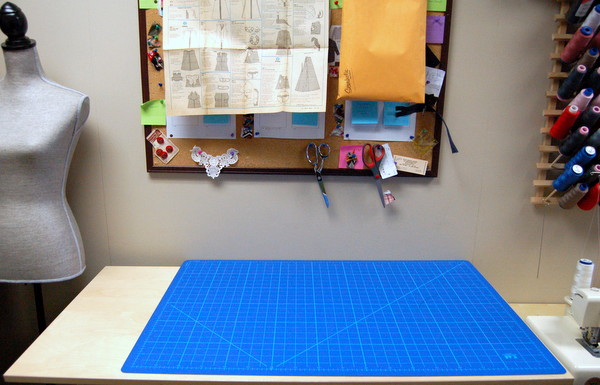 Easy is key, I think I've said it so many times in this post. In any workspace, you want to be able to find your tools, ideas and supplies easily so you can get back to creating!
You may have noticed the big bright quilt covering up the clothes rack – it's my second quilt! (First quilt here.) It's queen size, so it's big, and heavy, but looks really fresh and colourful. And hides the secrets that are hanging on the clothes rack. More on the bed quilt when I get it finished. It needs to be quilted, and binding added, then it will be complete!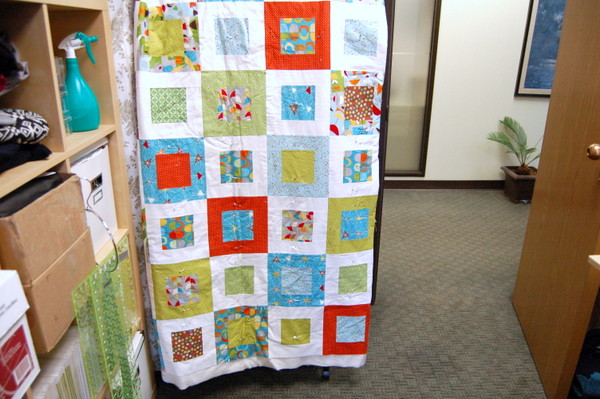 Workspace organization tips:
Plan before you start moving furniture! Here's my little, very basic floor plan. Trust me, you want to know if things will fit before you start hauling furniture around! Allow room to open doors and to pull out chairs to sit down. (Don't assemble furniture in the doorway with the door open – did that last time!)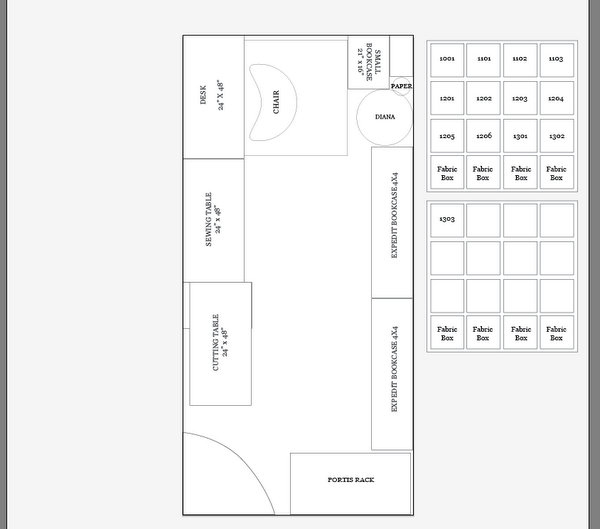 Have a place for everything. The things that always end up cluttering my space are the ones that have no definite home.
Label things. If you're like me, you might think 'of course I'll remember what's in this box!' but then have to look in every week to remember. Just write a label on it and save yourself the extra minutes.
Next steps:
Reorganize the filing cabinet. It's become a bit of a junk cabinet and needs to be sorted out! I also don't really like it under the cutting table. Ideally, I'll clean it out, realize I don't need it anymore and move it out.
Sort and organize fabric. What do I have in my fabric stash? Who knows anymore! Time to sort by colour, by season, by fabrics that would work well in the upcoming new designs, and give away fabric I no longer love. Look at that scary under-the-cutting-table pile.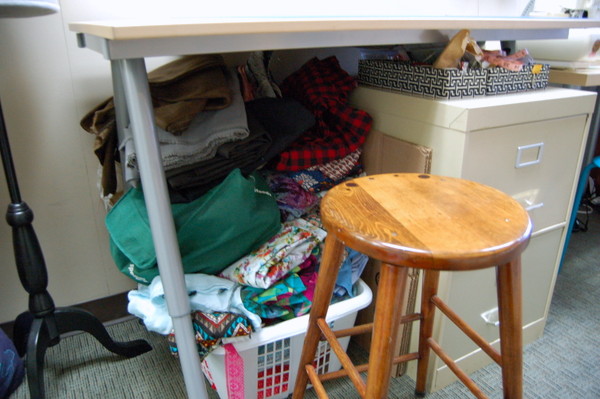 I love having everything clean, organized and tidy. I'm a little obsessive about having everything in straight lines, so this is excellent for me. (I'm excited that I can clean the windowsill easily, how strange is that?) This is a great way to start off the New Year!
Who else is reorganizing for the start of 2014?