Since we've been talking about vintage patterns this week, I thought I'd talk about vintage re-issue patterns today. Recently, my mom picked up a few Vintage Vogue patterns she thought I'd like. Thanks, Mom! Does she know me or what?
I love these! The detailing on the dress is fabulous, and the suit is oh-so-elegant.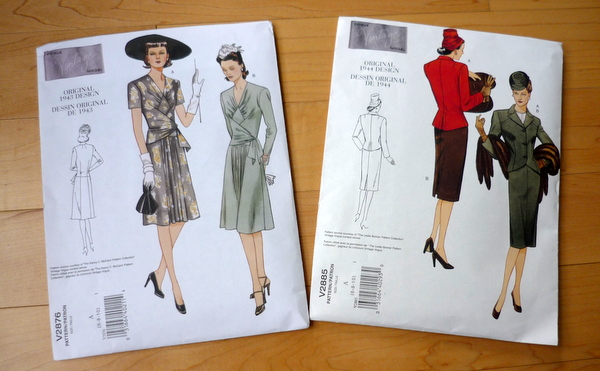 The beautifully draped-and-gathered forties dress is what I imagine I'd wear if I ever took dancing lessons. With some low-heeled pumps, very classy. I picture the dress floating out and the hemline swirling around my knees as I sweep across the dance floor, dramatic and elegant.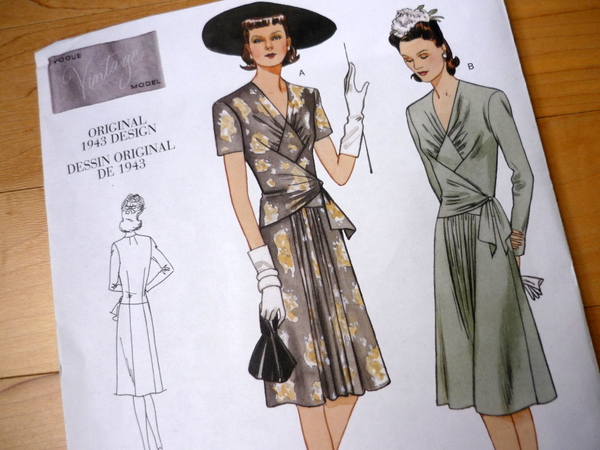 Of course, that's very different from my real life. I've never taken dance lessons as an adult, and I'm incredibly clumsy. (Evidence of clumsiness in this post here.) That won't stop me from fantasizing about it though! I'm a sucker for dance movies, my favourite is Strictly Ballroom. Has anyone seen it?
Basically, awkward beginner Fran with frizzy brown hair, falls for handsome ballroom dancing champion Scott. Scott's a rebel who wants to dance his own steps, tossing tradition out the window, which of course makes Fran even more into him and his badass dancing moves. I won't ruin the rest of the story for you, but I totally related to Fran. Frizzy hair, clumsy dance moves and having crushes on dark and handsome men. Well, I have the dark handsome man now. I just need him to take me dancing!
Right, back to the dress. Crazy-looking pattern pieces! Just like the dress I'm working on now, part of what attracts me to patterns is figuring how they go together.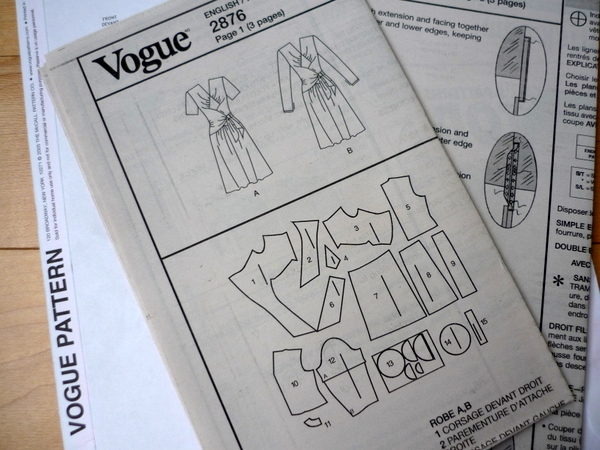 Think how gorgeous this dress would be in my favourite fabric, rayon. Yes, please!
The suit looks very fitted and slim in the illustration, but on the back it's described as loose-fitting. Wonder which is closer to the truth?
The skirt looks very slim on the cover, with a straight silhouette, but when you look inside the drawing is quite different. It looks almost A-line, and what a great waistband detail! Look how fitted the jacket drawing is on the inside, too. I bet it's fitted. I want it to be, anyways!
A rich loden green would be lovely in the suit. With fabulous T-strap platform pumps and nude fishnets. And curled hair. How fun would it be to suit up and strut around town in this outfit? People would surely open doors for me dressed like that.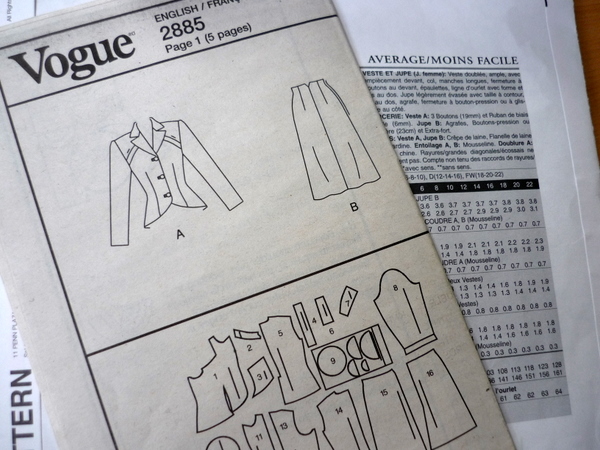 I'm curious, what do you think about the Vintage re-issue patterns in general? Are they as good as buying original vintage patterns?
The new versions don't have the cute, mystic instructions that assume you're a seasoned dressmaker – which could be a pro or a con depending on your skill level. I'm drawn to the authentic vintage illustrations and old-style fonts and wording in the older patterns. Although, I appreciate that the re-issues come in full size ranges.
What's your thought on re-issue patterns: interchangeable with the original patterns, or just not the same as the real deal? Do you trace these, too?