It's back from printing! The newest pattern from Sewaholic Patterns is back from the printers and nearly ready to announce. Here's a shot of the pattern envelope coming off the printing machine – you can just barely see the cover!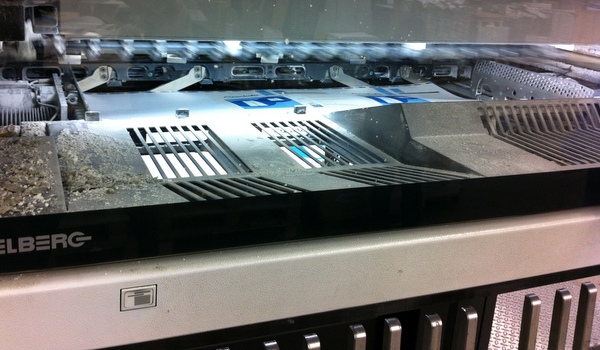 This printing machine is the size of several cars placed end-to-end. It's massive! The paper goes through the whole machine, from end to end, and the different colours are layered on the paper. If you look very closely at the envelope, through a magnifying glass, you can see that the background colours aren't a solid colour but made up of tiny dots in magenta, yellow, and cyan. (Turquoise blue, hot pink and yellow if you aren't sure what those colours look like.)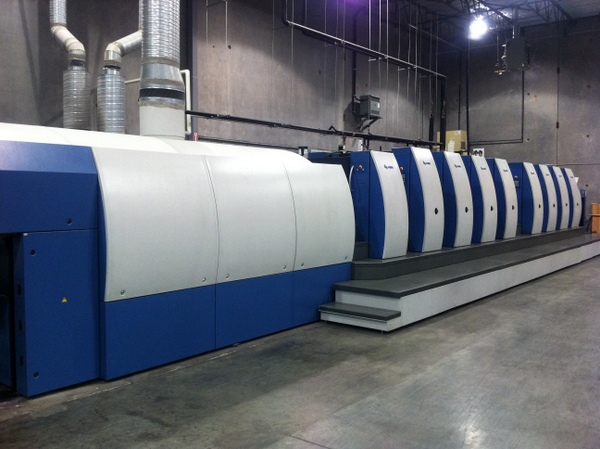 (here's how big the printer is – those steps are the size of normal steps!)
There are four envelopes printed on one sheet of paper, which is then cut apart and assembled into envelopes at the printer. (This is why it makes sense to print two different patterns at once, 2+2, or four different patterns at once, 1+1+1+1, but not three or five.)
Instruction sheets are also printed at the same printer, on huge machines like this. I'm very happy that they arrive at my door pre-folded, so all I have to do is slip the tissue into the folded instructions, slide the instructions into the envelope and then fold the top tab in.
Which is what I'll be doing all weekend! Busy stuffing envelopes for Monday's big launch. Stay tuned for the new pattern announcement on Monday!